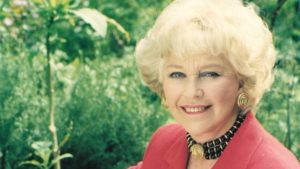 It was with shock and sadness today that Eurovision fans learned of the death of Katie Boyle, arguably the greatest Eurovision presenter of all time.
Katie hosted four Eurovision Song Contests, in 1960, 1963, 1968 and most famously in 1974, the year Abba won with Waterloo.
Waterloo has been an enduring favourite of mine, and by 1988 I felt I was the only Eurovision fan in Edinburgh. That summer I saw an advert in a local paper that there was to be a Eurovision convention in the English seaside resort, Morecambe.
I was driven to the event by a fellow Eurovision fan from Edinburgh. In the car, he asked if I was shocked as to who they'd booked as the special guest. Special guest said I – who? The answer Katie Boyle and we have to dress for formal dinner tonight.
Thinking it was just a casual Eurovision weekend, the only items I had were a T-shirt and shorts. Imagine my embarrassment when Katie Boyle walked in like the Eurovision royalty she was, in a regal powder blue chiffon dress. I wanted to sink into a hole.
However, despite her regality, Katie was a down to earth approachable lady, and best of all a Eurovision fan. What we watched and presumed the truth behind the scenes, she knew it first hand.
She told stories of how her assistant and she spent Eurovision afternoon in 1974 dying ostrich feathers orange to match her dress. At one Eurovision she wore a dress so tight, she could not wear panties. She said she spent the whole show hiding behind the podium, but when she had to step out from it, her cards and hands were strategically placed to hide her private areas.
She also revealed that since 1963 she has been accused of cheating when Denmark won over Switzerland, after a callback vote and was challenged for not doing anything about it.
The next morning Katie arrived for breakfast in another glamorous white gown. Sharing breakfast with her fans, we all went outside to watch one more regal wave as she was driven off.
Today Katie turned and gave us all her last wave, as she leaves us all behind. Katie was a classy lady, a big Eurovision fan, and a much-loved TV personality and agony aunt.
She will be sadly missed. Katie died peacefully at home at the age of 91.
Below relive the glorious days of Eurovision long ago with Waterloo, the winner of the final Eurovision Song Contest, that Katie hosted.
This reflection article is based on the author's own personal experience. Views expressed belongs to him or her, and are to be seen as unrelated to EuroVisionary.com.