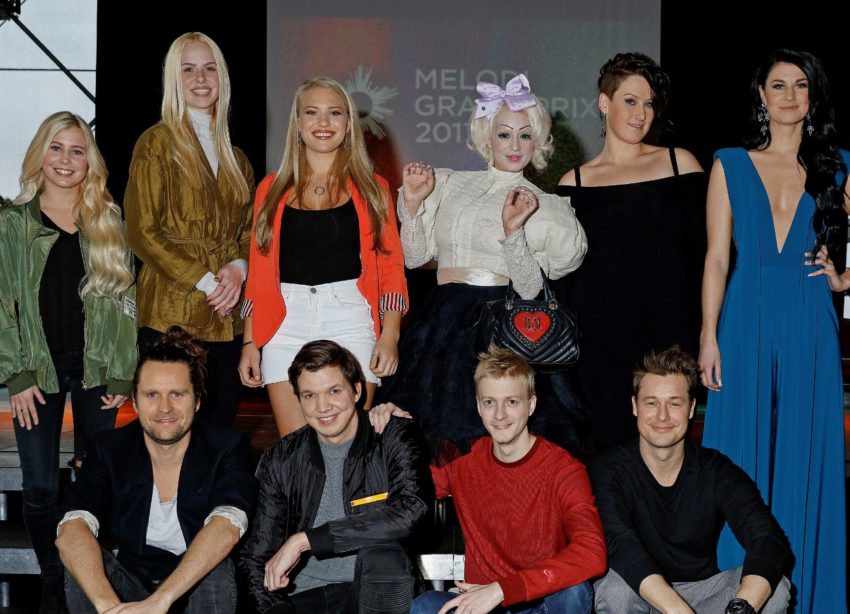 Denmark is probably going for a new direction. After two years in a row with a band failing to reach the final, it will most likely be a solo singer who takes up the challenge of bringing Denmark into the top of the scoreboard at the final of the 2017 Eurovision Song Contest.
Anti Social Media failed to reach the Eurovision final in 2015. Last year Lighthouse X failed as well. Two groups which didn't live up to the Danish expectations. Today the 10 acts eager to prove that they can do better were presented, and it is clear that broadcaster DR took the immediate consequence by only going for one single group in this year's Danish final.
As usual Denmark is going for a mix of established names and up-coming talents for their national final. This is shown for both artists as well as songwriters. Several of the participants is known from the talent show X-factor, and one of them, Sada Vidoo, even from the latest edition of X-factor UK. Worth noticing is also Anja Nissen who was last year's runner up in the Danish final, and René Machon who also took part back in 2015 as a duo together with Tina singing Mi Amore.
Johanna Beijbom is another interesting name as she was backing singer for Loreen at the 2012 Eurovision Song Contest, but also for Denmark's Anti Social Media in 2015 and Georgia's entry in 2013 and for Malta in 2007.
Stay tuned on EuroVisionary as we will later take a closer look at each of these 10 participants, just as we'll be present in Herning for the national final to bring you all the latest news on rehearsals as well as interviews.
The 10 finalists for the Danish Melodi Grand Prix 2017 final
Song no 1: One
Participant: Ida Una
Songwriters: Peter Bjørnskov og Lene Dissing
Song no 2: Vesterbro
Participant: Thomas Ring
Songwriters: Thomas Ring
Song no 3: Color My World
Participant: Rikke Skytte
Songwriters: Mads Løkkegaard, Joël Pagiël MacDonald, Mohamed Alitou og Laura Kloos
Song no 4: Where I Am
Participant: Anja Nissen
Songwriters: Anja Nissen, Angel Tupai og Michael D'Arcy
Song no 5: Big Little Lies
Participant: Calling Mercury
Songwriters: Thomas Sardorf, Rune Braager og Martin Luke Brown
Song no 6: Smoke In My Eyes
Participant: Anthony
Songwriters: Kim Nowak-Zorde, Kasper Larsen, Hans Petersen, Ollie Marland og Phil Plested
Song no 7: Warriors
Participant: René Machon
Songwriters: Astrid Cordes, Alexander Grandjean, Hans Petersen og Lars Andersen
Song no 8: Northern Lights
Participant: Sada Vidoo
Songwriters: Christoffer Lauridsen, Andreas Öhrn og Alessandra Günthardt
Song no 9: Hurricane
Participant: Jeanette Bonde
Songwriters: Jeanette Bonde, Alexander Grandjean, Jeppe Pilgaard Ulrichsen og Nermin Harambasic
Song no: A.S.A.P.
Participant: Johanna Beijbom
Songwriters: Peter Wallevik, Daniel Heløy Davidsen, Patrick Devine, Dimitri Stassos og Freja Jonsson Blomberg
Melodi Grand Prix 2017 facts
Denmark will chose its Eurovision 2017 participant in the final held on the 25th of February. The show broadcast from Herning, will be shown live on TV as well as internet.
Hosts of the show will be Annette Heick and Johannes Nymark. Annette has hosted several times before, taken part herself and then she is grown up with Melodi Grand Prix as the daughter of Keld Heick who wrote an almost uncountable number of entries, and represented Denmark 9 times as a songwriter. Johannes is hosting for the first time, but he was part of Lighthouse X who won last year.
Melodi Grand Prix was first time held in Denmark in 1957, and despite a break from Eurovision and the national final in the period 1966 until 1978, the 2017 contest is considered the 60′ years anniversary for the show. That will be celebrated in this year's final, although in what way is not yet known.
Denmark at the Eurovision Song Contest
As they were too late to join for the 1956 contest, Denmark joined the Eurovision Song Contest in its second year in 1957. With the song Skibet Skal Sejle I Nat (The ship has to sail tonight) Birthe Wilke and Gustav Winckler finished third and secured Denmark a great debut.
Their first, of until now three victories came in 1963 with the now classic entry Dansevise (Dancing song), but only a couple of years later, Denmark pulled out of Eurovision. In 1966 Ulla Pia represented the country with the song Stop Mens Legen Er God (Stop while the game is good), and that was exactly what Denmark did – stopped its participation while they were still doing rather good.
In 1978 Denmark joined the Eurovision Song Contest again, and a glory period was just about to start. Several of their entries in the 1980's are considered classics today. In 1984 Kirsten and Søren (Hot Eyes as they called themselves internationally) finished 4th, and in their third Eurovision participation in 1988 they improved that with a third position. The country got another third position in the following year by Birthe Kjær and her Vi Maler Byen Rød (We paint the city red – an expression for a good night out, EDT.)
Denmark's last victory came in 2013 by Emmelie de Forrest and Only Teardrops. The past two years the country however has failed to reach the final. Below you can see a video with a medley from Kirsten and Søren (Hot Eyes) including their three Eurovision entries from 1984, 1985 and 1988. This is from a performance in relation to the Eurovision Song Contest held in Copenhagen in 2014.