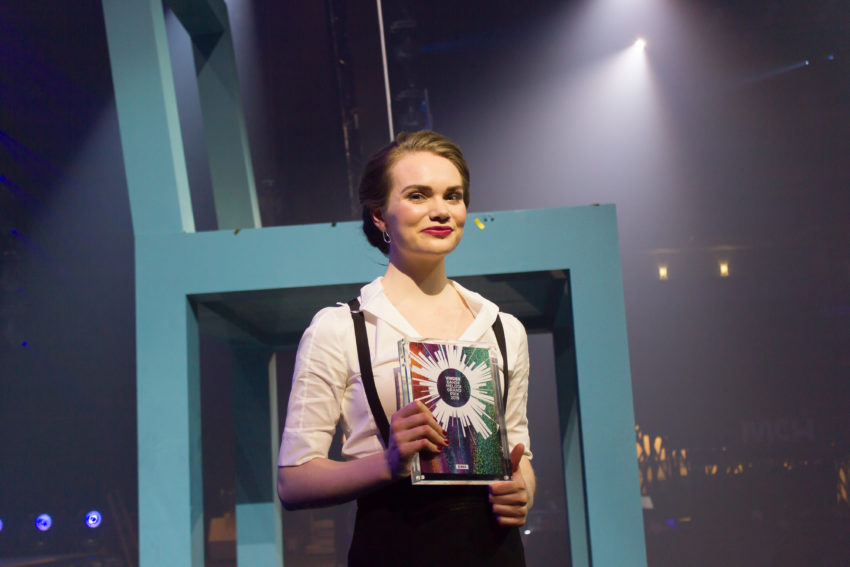 Leonora will represent Denmark at the 2019 Eurovision Song Contest. The Danish population decided that the song "Love Is Forever" is the one that should make them proud in Tel Aviv, Israel in May.
After three years with disappointing results, Denmark got back on track last year. The juries didn't appreciate Rasmussen's Higher Ground and placed it very low. The TV viewers however did love the energetic viking song, and reduced the jury disaster so much, that it finished as a combined 9th. Denmark was back in the top 10 they hadn't been in since 2014 on home soil in Copenhagen.
The songs
(Read about the participants in our Get To Know article).
Simone Emelie – Anywhere (Written by Jeanette Bonde, Fred Miller og Fredrik Sonefors)
First up on stage was Simone Emelie. She is alone on stage, dressed in a cute short yellow dress. Near the end of the song, pyrotechnics rain down. She moves around a little, but not much. It's a simple performance, which fit to a simple song.
Jasmin Gabay – Kiss Like This (Written by Lise Cabble, Clara Sofie Fabricius, Fredrik Sonefors)
Sparkling colours on the backdrop in purple, pink and blue sets the atmosphere for this latino song. She starts alone on stage dressed in a pink outfit. Soon one dancer joins her, then the next and before we know it, she has five dancers with her on stage. Jasmin herself doesn't move around a lot so it is up to her dancers to give the latino vibe.
Rasmus Faartoft – Hold My Breath (Written by Martin Skriver, Tim Schou, Thomas Agerholm, Sebastian Owens, Benjamin Rønn, Marcus Elkjer)
Here we have a musical kind of song, which matches with that Rasmus delivers a simple, but stunning performance where all attention is on the song. He is alone on stage in a very blue set. Lightballs floods around in the background, sometimes they are up, sometimes they are down.
Marie Isabell – Dancing With You In My Heart (Written by Greg C. Curtis, Miguel Garcia, Petrus Wessman, John Ballard)
Just like Jasmin, Marie Isabell also use plenty of colours in her performance. This is more simple though. She is alone on stage dressed in a dress which is short at the front and long at the back. A wind machine bakes the long sleeve moves as she walks around.
Sigmund – Say My Name (Written by Christoffer Stjerne, Abigail F. Jones)
Where other performances so far have been quite simple, that is not at all the case for Sigmund. He starts laying down on a bed, he is raised up and five dancers – in bondage – are revealed. Sigmund himself is dressed in white outfit with colourful striped. The backdrop for this one makes one think of the tunnel used in the video to Michael and Janet Jackson's Scream. This song will do well with the younger audience in particular.
Humørekspressen – Dronning Af Baren (Written by Christian Kroman, Søren Schou, Chang Il Kim, Peter Lützen)
How much do the Danes love a good beer? In a campaign, Tuborg promised free beers on bars all across the country if this song would win the Danish final. Humørekspressen however didn't actually need the extra attention in order to stand out. The band are in their band formation with instruments. In the background you see a woman – their queen?. As she turns around and walk to the front, we see that the woman is a drag queen!
Julie & Nina – League Of Light (Written by Julie Berthelsen, Nina Kreutzmann Jørgensen, Marcus Winther-John, Joachim Ersgaard)
Wind machine is used a lot for this performance where they are both dressed in blue dresses. They walk around and meet each other – like a classic Eurovision duet. It's a solid performance and their vocals are spot on, yet something seems to be lacking… or perhaps it is just because it is too classic Eurovision that one misses that little twist. Nevertheless, it's hard to put a finger on anything as it is all perfect. A sure super finalist.
Teit Samsø – Step It Up (Written by Christoffer Stjerne, Lise Cabble, Nanna Larsen)
Starting in the middle of the arena, Teit makes a long walk to the stage. He interacts a bit with the audience on the way. On stage, he is joined by a bunch of dancers in colourful outfits. He himself is dressed all in black – until he gets a golden jacket on. Very solid performance. Could he be a surprise for tonight?
Leonora – Love Is Forever (Written by Lise Cabble, Melanie Wehbe, Emil Lei)
The top favourite starts on the floor next to a gigantic chair. Later she is lifted up on the chair where she sits down. She looks very tiny on that big chair – the world certainly gets big around her. She is joined by two backings who joins her via latters on each their side of the chair. They end sitting on the chair all three together with Leonora in the middle. A stylistic performance which we will certainly remember. Again, a sure super finalist.
LeeLoo – That Vibe (Written by Laurell Barker, Ludvig Hilarius Brygmann, Maria Marcus)
We end with LeeLoo. She provides her uptempo song in a club atmosphere. She has four female dancers with her and a DJ in the background. All of them – including LeeLoo is dressed in purple glittering outfits. A good ending soon, but it lacks something to beat other songs which actually stand out.
The show
Host city for this year's Danish final were the Jutland city Herning. It's the 5th time the city hosts the national final. The city was also in the run to host the 2014 Eurovision Song Contest. The arena, Boxen, has a capacity of around 10,000 spectators for such shows creating a fantastic atmosphere. Remember when Emmelie de Forest won the Danish final in 2013? That was also here in Boxen. Contrary to most other Danish finals, the weather almost created spring. No snow in sight.
With Greenland represented tonight, let's just make it clear: Yes, televoting also included Greenland. At 20:00 CET when the time kicked off, it was 16:00 afternoon on Greenland.
Our hosts for tonight's show were Johannes Nymark (Former Eurovision participant from Lighthouse X) and Kristian Gintberg. As performance consultant (a kind of backstage hosts) we had Stig Rossen and his assistant. Stig Rossen took part in the Danish final in 1988 and 2007, and is Denmark's biggest musical star known internationally from his role as Jean Valjean in Les Misérables. In the clips shown before each performance, we learned that his assistant got his job because he knew that Stig Rossen in 1997 played that performance for the 1000th time in London – in total he managed to get into the skin of prisoner 24601 more than 1500 times.
As interval acts, all four hosts took part in a Melodi Grand Prix medley where they were joined at the by Chanée and N'evergreen (Denmark 2010) and it course resulted in everyone singing In A Moment Like This. Only two of the songs in this medley weren't Danish winners, but instead 80's classics; Stig Rossen's Rock og Rul og Danse I Måneskin.
Rasmussen later performed his winning entry from last year; Higher Ground.
As small clips, two Danish politicians also took part in the entertainment. These were the Prime Minister and the Minister of Finance.
The result
In Denmark the result was made up by a combination of televoting (both SMS and APP voting) and jury. The four persons fan jury used in recent years was replaced by a 10 people mixed jury. Another change in voting was introduced as well as in both rounds, a 50/50 combination were used, instead of 100% televoting in the second round.
Beforehand, it seemed like Julie & Nina and Leonora would reach the super final, and then it was harder to predict the third one.
The three acts, which after the first round of voting made it to the super final were:
Say My Name (3rd place with 23%)
Love Is Forever (1st place 42%)
League Of Light
Denmark at the Eurovision Song Contest
When Emmelie de Forest won the contest in 2013, she secured Denmark their third victory after Grethe and Jørgen Ingmann's Dansevise from 1963, and Olsen Brothers' Fly One The Wings Of Love from 2000.
After the 2013 victory, the Danish fans didn't have much to cheer for. Both Anti Social Media (2015) and Lighthouse X (2016) failed to reach the final, and in 2017, Anja Nissen came 20th in the final, although it has to be added that in the running order, she was sandwiched in between the two favourites Italy and Portugal.
Denmark has taken part 47 times – with a break from 1966 to 1978. Since the introduction of televised semi-finals one could be eliminated from in 2007, the country has missed the final four times. Their 43 appearances in the final has resulted in 26 top 10 results.