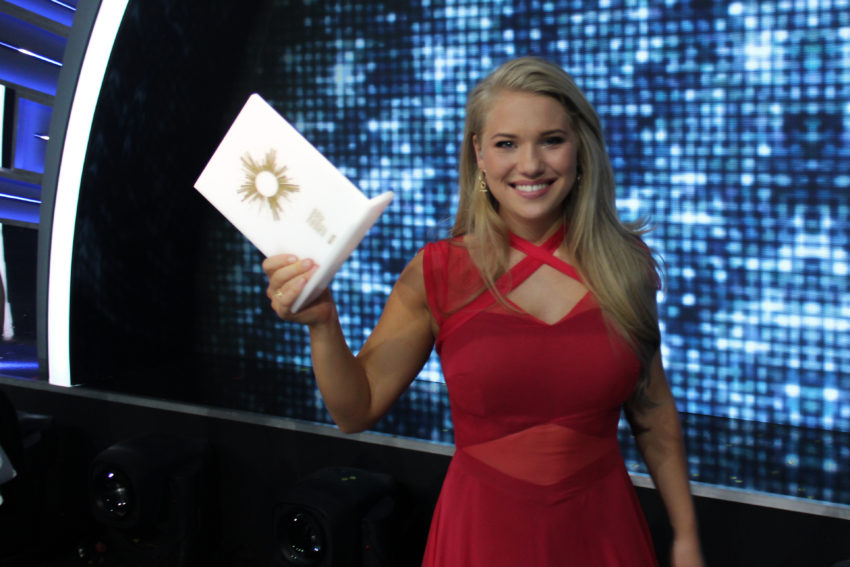 10 songs with an overall higher quality than seen in recent years. That's what the Danish broadcaster promised. At a glamorous press conference today, the Danish national finalists were presented. One of them will be given the chance of changing Denmark's lack of success lately.
For fans, today's press conference held at DR's headquarter in Copenhagen, was quite glamorous. Several former participants were there to present this year's acts – and to wish them good luck. The list included triple Eurovision participants Kirsten Siggaard and Søren Bundgaard (1984, 1985 and 1988), Gry Johansen (1983), and also Jørgen de Mylius and Keld and Hilda Heick.
Melodi Grand Prix 2018 participants
The acts will compete in the national final which will be held in Gigantium, Aalborg on the 10th of February 2018. Annette Heick and Johannes Nymark will once again host the show.
A few names, such as Ditte Marie and Swedish Albin Fredy have taken part before, but most interesting name is Sannie. She had a big international hit, under the name Whigfield, in the 90's with the song Saturday Night.
Ditte Marie – Riot (Written by Lise Cabble, Theis Andersen and Chris Wahle)
Anna Ritsmar – Starlight (Written by Lise Cabble)
Rasmussen – Higher Ground (Written by Niclas Arn and Karl Eurén)
Sannie (AKA Whigfield) – Boys on Girls (Written by Sannie Carlson, Domenico Canu and James Reeves)
Sandra – Angels to My Battlefield (Written by Lars' Chief 1′ Pedersen, Ronny Vidar Svendsen, Anne Judith Stokke Wik, Nermin Harambasic and Sandra Hilal)
Lasse Meling – Unfound (Written by Lasse Meling, Kim Nowak-Zorde and TheArrangement
CARLSEN – Standing Up for Love (Written by Thomas Thörnholm, Michael Clauss and Dave Rude
KARUI – Signals (Written by Annelie Karui Saemala, Jeanette Bonde, Daniel Fält and Jonas Halager )
Rikke Ganer-Tolsøe – Holder fast i ingenting (Written by Rune Braager, Clara Sofie Fabricius and Andrea Emilie Fredslund Nørgaard)
Albin Fredy – Music For The Road (Written by Rune Braager, John Garrison and O. Antonio)
The 10 songs will be released in full length on the 5th of February 2018.
Denmark at the Eurovision Song Contest
After a 12 year's break, Denmark returned to the contest in 1978. Since the return, the country won twice making its total victories three. Since 1978, they scored a top 10 position a total of 16 times, but also failed to qualify for the final four times.
In recent years, fans have been rather disappointed though. Anti Social Media in 2015 followed by Lighthouse X in '16 both didn't manage to reach the final. In 2017, Anja Nissen did qualify for the final, but scoring only 77 points and a 20th position wasn't quite enough to bring the hope back into the Danish eyes.
While waiting for the 2018 entry, let's take a look at our video from Dansk Melodi Grand Prix 1978 – the national final which brought Denmark back to the Eurovision Song Contest.