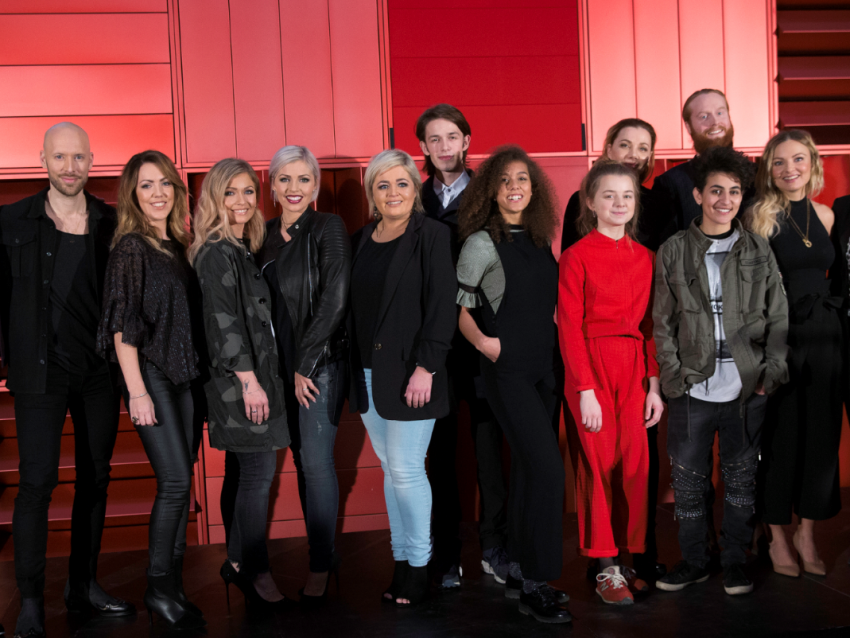 Will it be the woman behind the 90's world smash hit "Saturday Night", a Faroese sister trio, a blogger singing in Danish, a viking rock singer or maybe a Swedish show man that will represent Denmark? Get to know the 10 participants taking part in the Danish national final on Saturday.

10 very different acts are ready to battle it out in Melodi Grand Prix 2018. The winner will represent Denmark at the Eurovision Song Contest in May in Lisbon, Portugal.
Let's take a closer look at the participants:
1. Ditte Marie – Riot
34 year old Ditte Marie is no stranger to Melodi Grand Prix as this will be her third participation. In 2011 she took part as front singer on Le freak. Their entry 25 Hours A Day finished third. The following year, Ditte Marie returned as solo singer with the song Overflow. Lately there has been more than music in her life, as just back in December she gave birth to a little baby boy.
The song is written by three very experienced song writers; Lise Cabble, Theis Andersen and Chris Wahle. With three winners in the Danish final, Lise Cabble is the most experienced one when it comes to Eurovision. Theis has previously released music in his own name and Chris Wahle has been writing songs for, among others, Ruth Lorenzo who represented Spain at the 2014 Eurovision Song Contest.
2. Anna Ritsmar – Starlight
17 year old Anna is the youngest in this year's heat, but she is no stranger to the Danish TV audience. In 2016, she took part in X-Factor where she reached the so-called 5 Chair Challenge. She is a high school student, but has put it on hold to focus on her music projects, the Danish final and two bands she sings in.
Starlight is written by Lise Cabble. She is also involved in song number one, but contrary to her 13 previous Danish final entries, this is the first time she is taking part with a song completely written by her. Three of Lise's 13 songs have won Melodi Grand Prix and made it to Eurovision – and all finished in top 5. First one was Fra Mols Til Skagen in 1995 (5th place), then New Tomorrow from 2011 (5th place) and Emmelie de Forest' Only Teardrops winning entry from 2013.
3. Rasmussen – Higher Ground
Behind the name Rasmussen, we find 32 year old Jonas Flodager Rasmussen. He is leadsinger in the band Hair Metal Heröes, which performs classic rock songs from the 1980's. Jonas has also taken part in musicals like West Side Story and Les Misérables.
His entry, Higher Ground is written by Niclas Arn and Karl Eurén, who have written several songs for the Swedish Melodifestivalen over the years. Among their Swedish hits, we find Timoteij's Kom that reached the final in Sweden in 2010, and finished 5th, but afterwards became quite a hit on the charts. Niclas has previously also tried his luck in Denmark as in 2014, he was one of the songwriters on Rebekka Thornbech's Your Lies that came third in the Danish Melodi Grand Prix final.
4. Sannie – Boys On Girls
Sannie Carlson is by far the most well known name in this competition, although it is under the name Whigfield she had her biggest success. Her debut Saturday Night from 1994 became an international smash hit, and signed her into Guinnes book of Records as the first female to go straight into the top of the charts in the UK. Her last name as Whigfield was released in 2012. After that, her style became more house oriented, and the now 47 year old woman, went for the name Sannie. Under that name she has had a few hits on the dance charts in the UK, but nothing really commercial as Saturday Night.
Boys On Girls is written by Sannie herself together with Scottish singer and songwriter James Reeves, and the Italian producer and songwriter Domenico Canu. Sannie herself has been living in Milan, Italy since 2004.
5. Sandra – Angels to My Battlefield
20 year old Sandra Hilal is from Brønshøj, outside Copenhagen. She is a rather unknown name, but music is her passion so she uploaded several of her own cover songs to YouTube – videos that were discovered by songwriter and producer Chief 1.  Sandra has enjoyed singing and playing the guitar since she was a little girl, and is now ready to take the next step.
This collaboration between Sandra and Lars 'Chief 1' Pedersen also got Ronny Vidar Svendsen, Anne Judith Stokke Wik and Nermin Harambasic on as songwriters. In the production company Dsign Music they have written music for big international artists like Kylie Minogue, Blue and Ricky Martin. In Melodi Grand Prix and Eurovision connection, it is however Chief 1 we know. He has written four songs, which made it to the Danish final – and three of them won and represented Denmark at the Eurovision Song Contest: Kølig Kaj's Stemmen I Mit Liv from 1997, Should've Known Better by Soluna Samay from 2012 and finally in 2015 Anti Social Media's The Way You Are.
6. Lasse Meling – Unfound
Almost on home field, we find 19 year old Lasse Meling who is born and raised just 45 minutes from Aalborg where the Danish final will be held this year. He was spotted on YouTube at the age of 13 by producer Jesper Sidelmann. Lasse's debut single All About You came in 2013, and was followed up by the EP RElations released in 2014. His latest single was released last year, and is a cover of UK's 2017 Eurovision entry Never Give Up On You.
The song Unfound is written by Lasse himself together with Kim Nowak-Zorde and the producer team TheArrangement. Kim is no stranger to Dansk Melodi Grand Prix as this is his fifth Danish final entry. One of his songs has won. That was in 2014 where Basim sang Cliché Love Song and represented Denmark on home field at the Eurovision Song Contest.
7. CARLSEN – Standing Up For Love
From North Jutland to Faroe Islands. The sister trio (Did anyone say O'3GNE?) are from Thorshavn, Faroe Islands, and contrary to many other artists from the small island, who goes to Denmark, they still live there. The trio consist of Vanja (43), Laila (39) and Barbara (32).  They sisters have sung together under the name CARLSEN (their last name) since 2000. Melodi Grand Prix and Eurovision have been a big part of their lives and they grew up listening a lot to names like 80's names like Herreys (Sweden 1984), Kirsten & Søren (Denmark 1984, 1985 and 1988), Nicole (Germany 1982), Carola (Sweden 1983, 1991 and 2006) and Tommy Seebach (Denmark 1979, 1981 and 1993).
Standing Up For Your Love is written by the Swedish songwriters Thomas Thörnholm and Michael Clauss, plus American Dave Rude. Thomas and Michael has taken part as songwriters several times in the Swedish Melodifestivalen selection, and David is member of the rock band Tesla who he also writes songs for.
8. KARUI – Signals
Behind the name KARUI we find 19 year old Annelie Karui Saemala. She has tried various music genres despite her young age; Gospel, classic choir, lead singer in several cover bands and also performed with an Opera. She is also teaching school pupils in singing.
Annelie has written the song together with Jeanette Bonde, Daniel Fält and Jonas Halager. Should she get too nervous, Jeanette can probably help her as she took part herself singing in last year's Dansk Melodi Grand Prix with the song Hurricane. She was also co-songwriter on one of the songs in this year's UK selection. Daniel Fält also have previous Danish final experience, but only as a songwriter. Signals is his third Melodi Grand Prix entry. He won once, in 2014 with Basim's Cliché Love Song.
9. Rikke Ganer-Tolsøe – Holder Fast I Ingenting
31 year old Rikke does not yet feel comfortable being on a big stage simply as she isn't use to it. Three years ago, she hadn't sung publicly, but a friend sharing a video with her on Facebook changed that. Since that she has gained followers by own songs as well as cover songs, and frequently is hired for events like weddings etc. Music isn't everything however as she is a blogger and started her own Woman's platform in 2015.
This is the only song, which is performed in Danish at this year's Melodi Grand Prix. Holder Fast I ingenting translates to Holding on to nothing, and is written by Rune Braager, Clara Sofie Fabricius and Andrea Emilie Fredslund Nørgaard. Rune has written several songs to the Danish final before, and also Le Teva Decisio, which was the Andorran 2009 Eurovision entry. Both Clara Sofie and Andrea are singers. Clara Sofie has released four albums in her own name, the latest in 2016.
10. Albin Fredy – Music For The Road
Albin is 36 years old, born and raised in Sweden, but has lived in the Danish capital Copenhagen the past ten years. This isn't his first time in the Danish final as he also took part in 2013 with the song Beautiful To Me. Last year, Albin released the EP Falling For The First Time, on which he sings a duet with American Alexis Grace. Albin is a show man and works now, on his 11th year, with Wallmans Dinnershow in Copenhagen.
The last song in this year's Danish final is also co-written by Rune Braager, who is also behind some number 9. This is his 10th Melodi Grand Prix entry. He wrote Music For The Road together with John Garrison and O. Antonio. John is a British singer and songwriter who has released music as himself, but also in the rock group Budapest.
This year's Danish Melodi Grand Prix final will be held on Saturday the 10th of February, live from Aalborg in the North Jutland part of Denmark. Stay tuned on EuroVisionary as we will be there to bring you fresh updates and reports.
Hosts of the show will, just like last year, be Annette Heick and Lighthouse X's Johannes Nymark.
Poll
Who of these 10 acts do you think can give Denmark the best result at the 2018 Eurovision Song Contest?