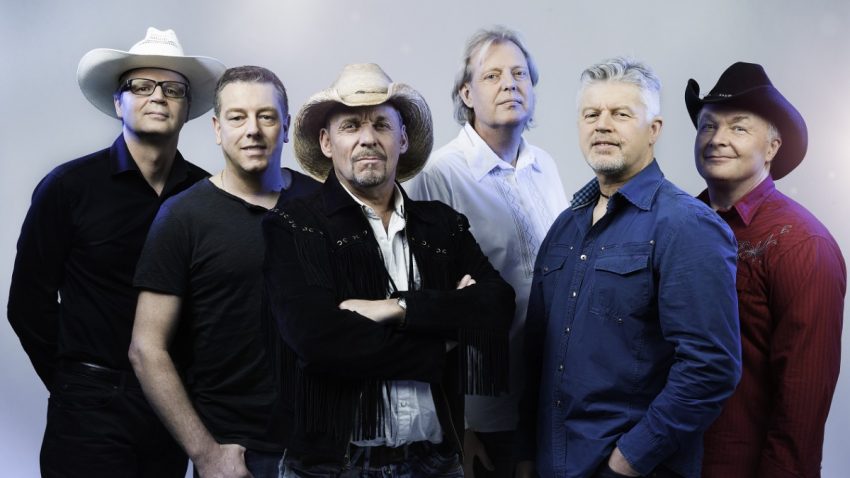 A record number of entries were submitted to the NRK for this year's Melodi Grand Prix. 1,035 acts have been whittled down to just 10. Included in the line up is 5 times national competitor Rune Rydberg and former Wig Wam singer Åge Sten Nielsen. Could the winner of the Eurovision Song Contest 2017 be amongst the 10 shortlisted acts?
After failing to qualify for the Grand Final last year, Norway will be hoping to impress. They started out with over 1,000 songs and now just 10 acts remain. Included in the line up are multiple MGP finalists along with talent show competitors and some newcomers. Let's take a closer look into the artists and the songs which will be hoping to win the golden ticket to Kyiv.
Song no 1: Ammunition – Wrecking Crew
Åge Sten Nielsen is hoping to return to the Kyivan Eurovision stage. He first took part in the Eurovision final in 2005 when he was part of the Norwegian progressive rock band Wig Wam. Their song In My Dreams came in 9th position. Wig Wam had tried to represent Norway at the contest the year before, but came runner up to Knut Anders Sørum.
Ammunition describe themselves in their song as the Wrecking Crew. It has the sound of a typical glam rock song and we should expect a lot of energy from their performance in the final.
Song no 2: Ulrikke – Places  
Ulrikke Brandstorp is an experienced performer. She participated in the Norwegian version of The Voice in 2015 and has also particpated in Idol. In addition to this, Ulrikke has worked as a backing singer is Norway's Got Talent and Idol Jnr. She co-wrote her entry Places with fellow Idol competitor Tony Alexander Skjevik.
Places is a mid tempo pop song which should do well in the final.
Song no 3: Amena Sewali – Masterverk
Amena Sewali is a versatile artist with experience as a musician, composer, writer and actor. She has been on stage as Solveig in the National Theatre's production of Peer Gynt. She is participating in the final with a self-composed song Masterverk.
Materverk is a soft and gentle song which is very easy to listen to. Could it get lost in some of the other big performances of the night?
Song no 4: JOWST – Grab The Moment
JOWST are musicians Joakim With Steens. He will be featuring in the national selection show with Aleksander Walmann. In addition to being an artist, Steen has worked as a sound engineer since 2011. Will the duo be able to grab the moment and win the chance to represent their country at the 62nd Eurovision Song Contest this year?
Song no 5: Kristian Valen – You & I
Kristian Valen was a surprise announcement to the final. The performer and comedian is making his debut to the world of Eurovision with his self penned song You & I. Valen was one of the performers at the 2010 Michael Jackson memorial show that took place in Beverley Hills. He was invited to perform at the event by Michael's mother Katherine.
His song You & I is a gentle ballad about love and loss.
Song no 6: Elin & The Woods – First step in faith/Oadjebasvuhtii
Elin & The Woods consists of singer Elin Kåven and music producer Robin Lynch. Elin She has released three critically acclaimed solo albums on a German record label, and has toured in 12 countries over the past 10 years.  between Kåven and Lynch joined forces in 2015. First step in faith/Oadjebasvuhti is probably one of the most unique sounding entries in this year's final. It has an ethnic feel to it which could make it stand out from the other entries.
Song no 7: Jenny Augusta – I Go Where You Go 
Jenny started her career performing classical music. I Go Where You Go is another rather unique sounding entry which has a gypsy music sound to it.
Song no 8: Ella – Mamma Boy
Ella is a big fan of the Melodi Grand Prix, so much so that she says that she follows the contest every year. Her song Mamma Boy was self written. Her song is full of angst and attitude as she tells her beau to man up.
Song no 9: Rune Rudberg Band – Run Run Away
Run Run Away is the only country inspired song of the selection and appears to be an early favourite amongst fans. Rune Rydberg has tried to represent Norway in Eurovision 5 times. His career started in 1998 and he has since sold 200,000 records. Rune Rudberg has since joined the band with the hope of representing his country in Kyiv with the song Run Run Away which was composed by Peter Danielson along with Åsa & Mars Larsson.
Song no 10: In Fushion – Nothing Ever Knocked Us Over
Nothing Ever Knocked Us Over is the only pop sounding song in the final. It was rather surprising to hear this sound as the trio In Fushion don't look like your typical pop singers. In Fushion consists of Miriam LaBreche ( aged 28), Nina Grødahl (aged 26) and Saima-Iren Mian (aged 26)
You can listen to snippets of all of the songs participating in the final by visitingg the NRK official website.  The Melodi Grand Prix will take place on 11th March at the Oslo Spectrum. There has been some changes this year, an international jury will be present at the final to help the public decide their victor. The show will be hosted by Line Elvsåshagen and Kåre Magnus Bergh.
Norway at the Eurovision Song Contest.
Norway has competed 55 times in the Eurovision Song Contest. They have only missed out on 2 shows, once in 1970 and the second in 2002. They have won the contest 3 times, the most recent was in 2009 when Alexander Rybak was awarded with the highest scoring entry of all time (up to 2015). As well as their 3 victories, Norway have also failed to score at all on 4 occasions (1963, 1978, 1981 & 1997).
Agnete represented Norway at the contest in Stockholm, Sweden last year. She hoped to impress Europe with her song Icebreaker, but unfortunately, she failed to qualify for the Grand Final.
You can see Agnete's performance of Icebreaker in the second semi final by watching the video below.