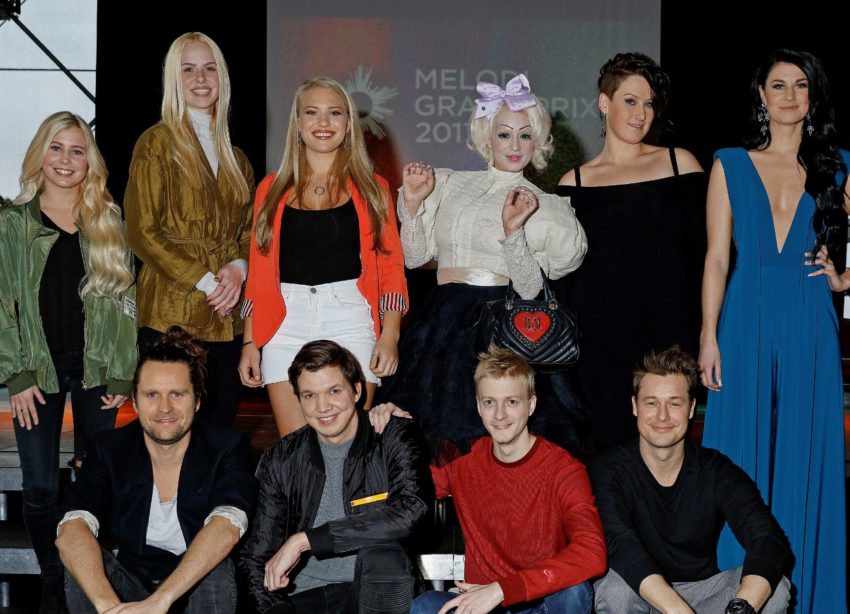 Two X-Factor winners, Two former national finalists, a living doll and a duo that has only performed together once. That is just some of the acts competing to represent Denmark at the 2017 Eurovision Song Contest. We introduce you to all ten Melodi Grand Prix participants.
A very strong line-up with a mix of well established names and talented new comers, that's what is waiting for us when Denmark chose its winner on Saturday the 25th. 10 acts are fighting in the national final Melodi Grand Prix and via two rounds of voting, one will end up winning the trophy and the honour of defending the red and white Danish colours at the 2017 Eurovision Song Contest.
Let's take a closer look at the participants:
Song no 1: Ida Una – One (Written by Peter Bjørnskov and Lene Dissing)
19 year old Ida is one of the talented new comers. She was discovered as one of the songwriters spotted a few videos of her and her boyfriend singing cover songs on YouTube. Ida is a high school student, but has always loved to sing growing up in a family where it has been natural to sing on a regular basis.
The songwriters are well established with both Melodi Grand Prix and Eurovision experience. Together they are behind two runner up's in the Danish final, Sleepless by Anne Noa in 2011 and Unbreakable by Mohamed Ali from 2013. Peter also co-wrote Bryan Rice's Breathing from 2010 which also finished second. Lene made it to Eurovision as she was one of the songwriters behind the entry representing Andorra in 2009 which was sung by Danish Susanne Georgi (One half of the duo Me & My).
Song no 2: Thomas Ring – Vesterbro (Written by Thomas Ring)
Back in 2010 Thomas won X-Factor Denmark. He has released three albums, the latter just a few days ago, and managed a day time job as a teacher. His latest album is his first in Danish, just like he also sings the only song in Danish in this year's national final.
Thomas, who is 36 years, mainly sees himself a songwriter, and the song Vesterbro is also 100% written by himself. (Vesterbro is a vibrant part of the capital Copenhagen and centrally located, EDT.). He is used to working alone and has previously also said that he is most comfortable with that.
Song no 3: Rikke Skytte – Color My World (Written by Mads Løkkegaard, Joël Pagiël MacDonald, Mohamed Alitou and Laura Kloos)
Just being 18 years old, Rikke is the youngest of the Melodi Grand Prix participants this year. She is a high school student at a music line, and just like Ida she has also uploaded several videos of herself to YouTube, although this has been self composed songs. Last year her first single My Vibe was released.
Behind the song Color My World is quite an international team. Mads is Danish, Joël and Mohammed Dutch and Laura is German. Only one of them, Mads Løkkegaard has before had songs in the Danish final. Last year he wrote To Stjerner to Muri og Mario, but his best result was achieved in 2007 where James Sampson finished second with Say You Love Me.
Song no 4: Anja – Where I Am (Written by Anja Nissen, Angel Tupai and Michael D'Arcy)
Anja needs little introduction despite the fact that she has dropped her last name Nissen for the 2017 Melodi Grand Prix final. She was runner up in last year's Danish final with the song Never Alone which was the big fan favourite. Anja is Australian, but with both parents being Danish. She won the Australian edition of The Voice in 2014 and released an album following that success.
The song is completely Australian written. Anja was part of the songwriting production, and this is the first time one of her own songs will be released. Where I Am is written together with songwriter Michael D'Arcy who previously worked together with Jessica Mauboy, the Australian interval act for the 2014 Eurovision Song Contest, and former X-Factor Australia participant Angel Tupai.
Song no 5: Calling Mercury – Big Little Lies (Written by Thomas Sardorf, Rune Braager and Martin Luke Brown)
It is rare you have a duo with so little experience as Calling Mercury. The participation in the Danish national final will only be the second time they perform together, the first time was for only 200 people. They are both 25 years old, met each other in high school and has been making music together before, mainly electronic, and done just by the use of a laptop with vocals being recorded on the computer's build in microphone! They are eager to learn new things, both professionally and personally, so a professional TV production like Melodi Grand Prix will sure teach them a trick or two.
Big Little Lies is written by British singer and songwriter Martin Luke Brown and the two Danish producers and songwriters Thomas Sardorf and Rune Braager, both with previous Melodi Grand Prix experience. Thomas co-wrote the 2015 Danish finalist entry Manjana and for Rune, Big Little Lies is his 8th participating song, just as he also was a part of the songwriter team behind the 2009 Eurovision entry from Andorra.
Song no 6: Anthony – Smoke In My Eyes (Written by Kim Nowak-Zorde, Kasper Larsen, Hans Petersen, Ollie Marland and Phil Plested)
The name Anthony might not ring a bell with that many Danes, but as soon as you say Anthony Jasmin many will know that you are talking about the duo that became the first group to win the Danish X-Factor. That happened in 2014, and now Anthony is trying his solo career, as was originally the plan as both him and Jasmin auditioned as solo singers, but was put together as a duo by the judges. They released the EP Stick Together, but split up just after that. Anthony is 22 years old and have the past few years been living in Miami, US where he has been a part of starting up the Danish café chain Dr Smood. For him the Melodi Grand Prix participation is a way of saying Hey, I am still here, and I still want to do music.
It is a team of British and Danish songwriters who is behind Smoke In My Eyes. Kim was a part of the team that wrote Cliché Love Song which Basim brought to Eurovision in 2014. One of the two Brits on this Melodi Grand Prix for Anthony, Ollie Marland is well known for his participation in X-Factor UK in 2015 where he caused controversy for already being a professional.
Song no 7: René Machon – Warriors (Written by Astrid Cordes, Alexander Grandjean, Hans Petersen and Lars Andersen)
Just like Anja, René is back at Melodi Grand Prix for a second attempt. He took part in 2015 as a duo together with Tina singing Mi Amore, which unfortunately didn't manage to live up to being a fan favourite. This time René is solo and he is looking forward to another go at showing what he got. He has a day time job as a teacher, a girlfriend and four children – and then he has for 20 years been lead singer in the cover band Cruise. In 2011 he released his debut album titled Puls.
The song is written by the four Danish songwriters Astrid Cordes, Alexander Grandjean, Hans Petersen and Lars Andersen.
Song no 8: Sada Vidoo – Northern Lights (Written by Christoffer Lauridsen, Andreas Öhrn and Alessandra Günthardt)
Sada Vidoo is probably the most noticeable acts in this year's Danish Melodi Grand Prix final. She is hard to miss as she has chosen to live is a doll. It is not just an act, but her life style. She lives in London, and took part in the recent edition of X-Factor UK, but she is not unknown to the Danish audience as she in 2014 released her first album, and wrote Infernal's 2006 smash hit Ten Miles, and in 2000 she was vocal on DJ Aligator's Lollipop. She has also taken part in a TV musical competition in Denmark under her birth name Nicole Stokholm. Sada Vidoo is Arabic and means named princess, and it was a name which just came to her, as she previously explained it.
Northern Lights is written by Danish Christoffer Lauridsen and the two Swedes Andreas Öhrn and Alessandra Günthardt. Christoffer also wrote Sophia Nohr's entry in last year's Danish final Blue Horizon. Alessandra wrote Azerbaijan's Eurovision entry from 2014 Start A Fire.
Song no 9: Jeanette Bonde – Hurricane (Written by Jeanette Bonde, Alexander Grandjean, Jeppe Pilgaard Ulrichsen and Nermin Harambasic)
It is a professional and trained singer, yet unknown to most TV viewers, we find performing the song Hurricane. Jeanette is a freelance musician, and a well established backing singer. She has a master degree in singing, rhythmic choir conducting and songwriting, and finished her studies in 2014. Jeanette also performs as a part of her own trio Jeanette Bonde TRIO and she is a conductor for a gospel choir. For the 30 year old singer, Melodi Grand Prix 2017 will be her debut as a solo singer.
The song is written by Jeanette herself together with Alexander Grandjean, Jeppe Pilgaard Ulrichsen and Nermin Harambasic. Nermin is a part of the Norwegian songwriter- and production company Dsign Music, which has big success with songs for K-pop artists like Girls' Generation and Red Velvet.
Song no 10:  Johanna Beijbom – A.S.A.P (Written by Peter Wallevik, Daniel Heløy Davidsen, Patrick Devine, Christian Fast, Dimitri Stassos and Freja Jonsson Blomberg)
Swedish Johanna, 29, is very familiar with the Eurovision concept. She has been backing singer a total of four times – for four different countries: Malta in 2007, Sweden in 2012, Georgia in 2013 and finally Denmark in 2015. Already at the age of 14, she was hired as regular backing singer by Swedish songwriter legend Thomas G:son.
A.S.A.P is written by a team of six songwriters from Denmark, Ireland and Sweden, with Dimitri Stassos being most known in Eurovision circles as he composed Soraya's 2009 Spanish participation song as well as the Greek 2012 entry Aphrodisiac sung by Eleftheria Eleftheriou. Dimitri also worked together with Freja Jonsson Blomberg in relation to last year's Danish final where Veronica's Illusion sang their song The Wrong Kind.