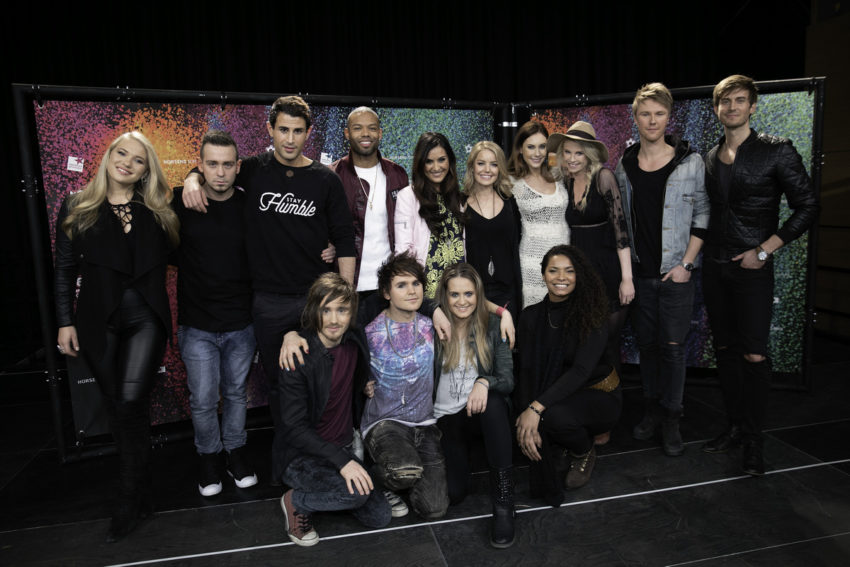 The past two times Sweden hosted the Eurovision Song Contest, Denmark won, so pressure is high on the 10 acts that in a few days will battle to win the Danish final. We take a closer look at this year's Melodi Grand Prix participants.
As usual the Danish finalists are a good mix of well established names and new upcoming talents. One of them will represent Denmark at this year's Eurovision Song Contest with the baggage that tradition says that Denmark wins in Sweden.
Among the participants this year we find ABBA grandchildren, a Danish superstar in China who no one heard of at home ground, some X-factor participants and not the least some well established songwriters with both Melodi Grand Prix and Eurovision experience.
Let's take a closer look at this year's 10 Melodi Grand Prix participants:
David Jay – Rays Of Sunlight
On as first in the Danish final is David Jay. He is not one most will know, but he is an experienced singer and his tour schedule reveal that he in particular tours a lot in Germany at the moment.
The song Rays Of Sunlight is written by Christoffer Stjerne and Bryan Rice, the latter being quite an experienced singer and songwriter who has taken in the national selection several times with his runner up entry Breathing being the most successful.
Simone – Heart Shaped Hole
We continue with Simone who is the only one of this year's singers who have been on a Melodi Grand Prix stage before. Simone took part in both 2010 and 2013, but she shot to fame in Denmark already at the age of 12 in 2004 when she won a TV talent show. Simone came third on both her previous attempts to win the Danish final.
The song is written by Carl Ryden and Andrew Love, both being established songwriters who have written to well known international names.
Bracelet – Breakaway
Here we have a Danish-Swedish band consisting of Danish Rebecca Krogmann and the Swedish brothers Charlie og Felix Grönvall. For those who recognise their last name, Grönvall, they are indeed sons of Swedish Nanne Grönvall who came third in the Eurovision Song Contest in 1996. Their grandfather is ABBA member Benny Andersson, who won Eurovision in 1974 with Waterloo. Charlie and Felix took part in Melodifestivalen 2014 with the band Little Great Things. A year ago, they met Rebecca who had been touring with different bands and use to being on stage, and Bracelet was born.
The song is written together with their producer Jimmy Jansson who has written several songs for Melodifestivalen in the past.
Sophia Nohr – Blue Horizon
26 year old Sophia took part in the Danish X-Factor 2015 edition so she isn't an unfamiliar face to the Danish TV viewers. She is a young mother of two so music isn't everything in her life. Sophia tells that her and her friend as children always watched the Danish finals and made themselves the promise that one day, they will be on that stage – that dream is now coming true as her friend will join her on stage on the song Blue Horizon.
The song is written by Marie Keis Uhre and Christoffer Lauridsen, the first one being a familiar face to followers of the Danish final as she took part herself in 2005 where she came second with the song Make A Wish.
Veronicas Illusion – The Wrong Kind
Behind the name Veronicas Illusion we find Veronica Jensen. She is not a well known name in Denmark, but in China the situation is quite different. Both under her own name and as Aycan her two albums have had great success, and in 2013 her single Indestructible went into top 10 on the American dance chart.
The Wrong Kind is written by Freja Jonsson Blomberg, Dimitri Stassos, Peter Boström and Tobias Stenkjær. Boström was co-writer on the Swedish 2012 Eurovision winner Euphoria.
Lighthouse X – Soldiers Of Love
Here we have a boy pop band that consist of three men. Johannes Nymark is a 30 year old actor and singer, married to Silas Holst who took part in the Danish final in 2010. Johannes took part in the Danish edition of Strictly Come Dancing in 2014. Martin Skriver is also actor and singer. He graduated from the Danish musical academy in 2013. Søren Bregendal is a 32 year old singer known from the Danish boyband C21 which split up in 2004. Just like the other two, he is also an actor with film and TV series on his CV. In 2007, he released a solo album.
The song is written by the band themselves plus Sebastian F. Ovens, Daniel Lund Jørgensen and Katrine Klith Andersen. The latter took part in X-Factor in 2012.
Kristel Lisberg – Who Needs A Heart
We continue with Kristel who is from Faroe Island where she is a known singer. She is 26 years old, has toured with her dad since the age of 12, and in 2012 she took part in the Danish X-Factor edition, but didn't make it to the live shows.
The song, which is one of the bookmaker favourites, is written by the two Swedes Sara Ljunggren and Jonas Gladnikoff. The later being a known songwriter for various national finals all over Europe, and for three times having written the Irish Eurovision entry.
Jessica – Break It Good
24 year old Jessica tells that she grew up watching the Danish final and dreamt to be a part of it one day. Well, here she is. Her style though isn't the most common in Melodi Grand Prix nor in Eurovision, but it is a genre she is comfortable with, and has performed with both in Denmark and abroad.
Break It Good is written by Engelina Andrina (the singer on I See Right Through to You by DJ Encore), Tommy Gee and David Todua.
Muri & Mario – To Stjerner
The only one in the Danish final singing in Danish is the Danish/Italian duo Muri & Mario. They gained massive success in Denmark in 2012 with the song Hun Tog Min Guitar. They music is traditionally latin inspired, but they admit they went in a slightly different direction this time. They say that a Melodi Grand Prix entry have to catch you within the first six seconds, and that their entry live up to that.
To Stjerner is written by the duo themselves together with Italian songwriter Gianluigi Fazio and Danish Mads Løkkegaard.
Anja Nissen – Never Alone
20 year old Anja is Danish, and yet not. Both her parents are Danes, but Anja is born and grown up in Australia. Two years ago she won The Voice of Australia with Will.I.Am, from the group Black Eyed Peas as her mentor who she has continued working with after the show. Up to the Danish final, Anja has lived in Denmark for a month, which is helping her to improve her Danish.
The songs is written by Rune Westberg, MoZella and Denmark's 2013 Eurovision winner Emmelie de Forest. The latter had sung herself at several concerts including at a 25,000 audience festival, but on request of DR, the European Broadcasting Union looked into it, but cleared it.
The Danish final will be held Saturday the 13th of February at 20:00 CET live from the Jutlandic city of Horsens. The show will be hosted by TV host Jacob Riising together with mother and daughter, Hilda and Annette Heick.
Denmark will at the Eurovision Song Contest 2016 compete in the second half of the second semi-final, and with Denmark's history of winning in Sweden, a lot of focus will be on whether they can repeat that or not.
Stay tuned on EuroVisionary as we report from the Danish final from tomorrow morning already, and in the meanwhile place take a look at our video of Danish highlights at the Eurovision Song Contest 2008 – 2015. We digged deep into the achieves to find clips which you might not have seen before.