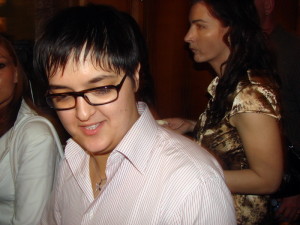 Marija Šerifović who is the first ever winner from Serbia has released a new single called Pametna I Luda which means Smart and Crazy in her native language. Is she really smart and crazy?
The new video of Pametna I Luda takes place in a small, untidy house in which there are no people. The camera goes back to the house from the window and takes a tour during the whole video. This type of shooting reminds us virtual tours at the museums. Some household articles stand out such as: Smile on the door of living room, Nisi Tu (You Aren't Here) on the refrigerator door, Vidim Te Svuda (I See You Everywhere) on the mirror etc. At the end of the video, we get that the house isn't empty actually, because Marija sits in her French balcony with her dog and she broods.
When she published her new video on her official Facebook page, she had a message for her fans as well:
It took 7 years to record a song which is totally mine! At first, I didn't want to publish it but then, I liked it and I hope you also will! Enjoy it! I love you!
The song is about missing the ex-lover whom she argued with. "You fall in love with me in the best way, you will get me in the worst way / Every life can be submitted / I was an evil to someone, to everyone who were awaken / Pearls are easy, try to fall in love with a shell!" are the lyrics of the chorus when we translate them into English. It explains why they had argued and separated.