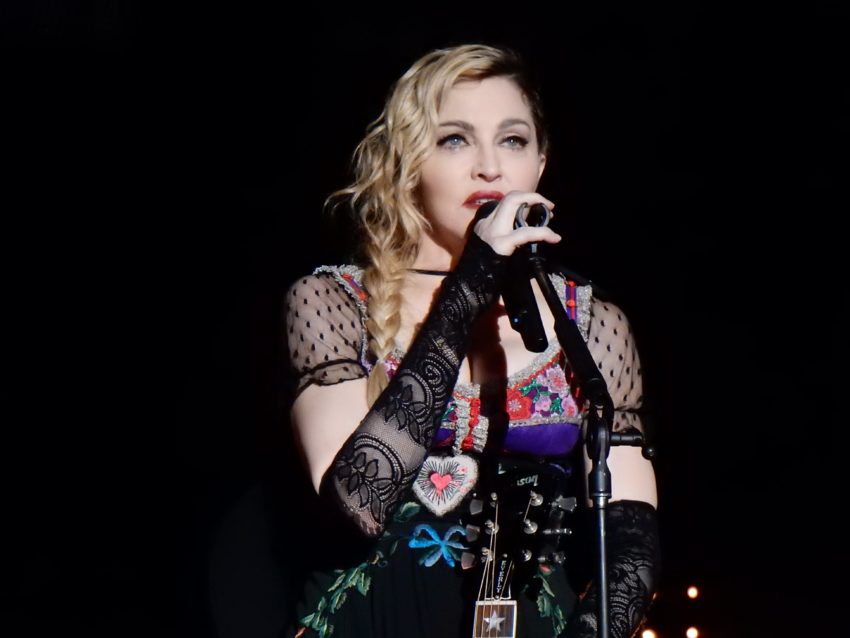 Is Madonna Coming to Eurovision? EBU along with host Broadcaster KAN gave a joint press conference where they discussed some details about this year's live shows, postcard ideas, as well as tackling tough questions over rehearsal schedules, the increasingly frustrating ticket debacle and whether Madonna will show up on Saturday night.

Jan Ola Sand Executive Supervisor of the EBU along with Zivit Davidovitch and Yuval Cohen from KAN held a press conference at Expo Tel Aviv on Monday evening albeit all too brief, highlighting some aspects of this year's contest as well as tackling some difficult but all too relevant questions from disgruntled journalists.
Postcards
Editor in Chief and Lead director of the contest Mr Cohen started the press conference praising the work of the producers behind this years postcards, the outcome has been nothing short of incredible. The press room was treated to two exclusive viewings of the French and Portuguese postcards. Bilal was found wondering the hallways and rooms of the Museum of Art in Tel Aviv, while Conan Osiris was seen taking in the majesty of The Dead Sea from on top of a rock formation on the body of water. The theme of this years postcards is 'Dancing Israel', with each of the participants dancing with some of the Israel's most celebrated dancers, such as Batsheva Dance Company, Rona Lee and the Israeli Ballet.  Each postcard sees a contestant enjoying the sights and sounds of some of Israel's finest historical buildings and landscapes before stumbling upon a floating triangle, which is actually a Play button, once pressed dancers join them and they perform either something traditional to their country, Israel or something more contemporary.
Live Show Details
Talking about tonight's First Semi Final, we were given details on Netta's show opener, which is a revamp of her winning song
Toy
and Dana International's interval act which will include a kiss-cam and a message about free love as well as a cover of the Bruno Mars song
Just The Way You Are
. In the final we will be able to hear the first live performance of Netta's newest single.
The final will also see a sort of re-enactment where all finalists will perform together, similar to what happened at the closing of the 1999 contest in Jerusalem when Charlotte Nillson (at the time) was joined by all the rest of the participants to sing a rendition of the 1979 Eurovision Winner Hallelujah.
Madonna Confusion
After months of speculation and then weeks of what seemed like actual possibility, Jan Ola Sand stated last night that the situation with Madonna performing at the contest is a strange one. While he openly welcomes the idea, the simple matter of the fact is that no contract has been signed with the EBU, and if no contract is signed, no infrastructure is in place for the artist to perform at the contest. He hasn't ruled a performance by 'The Queen of Pop' out, but if a contract is not signed on time, it is not possible for it to happen. Time will tell if Madonna will perform, but as off now it is looking less and less likely.
Ticket Debacle
Ticket sales for this years contest have been hit with controversy after controversy.  First tickets were not put on sale until late in the day, once they were, the prices were extortionate.  Tickets for the final cost upwards of 1,400 ILS, a cost that is eye-watering to many Eurovision fans, who have in the past seen ticket prices at high rates.
To add insult to injury, KAN have seen that ticket sales are unsuccessful, and the broadcaster has taken strategic measures to get 'bums on seats' by selling tickets at a reduced price to groups of over 30 people. Zivit Davidovitch, the contests Executive Producer stated that, it is common for broadcasters to provide bundles of tickets to groups like this, and "due to the size of the groups, they were able to reduce the prices for these packages". This was met with some dismay at the press conference were one member of the press asked if fans who paid full price will get some sort of compensation or consolation for this.
This is on top of recent news that the audience for the Green Room was cancelled and tickets for both semi-finals would be refunded as well as a reduction in the amount of tickets for the golden circle for the shows. KAN are obviously struggling to get people to fill the Expo Centre, but with Israel's continued political situation and recent air strikes on Tel Aviv, it is of no surprise that many fans have stayed away from the contest this year.
Rehearsal Schedule
Rehearsals for the contest usually begin approximately two weeks before the Final, this is usually determined well in advance by both the EBU and the host broadcaster. It is to give those travelling to the contest to cover it the chance to book flights and accommodation as well as getting the best coverage possible. To many journalists this year, their experience of covering the contest has not been smooth, a definitive rehearsal schedule did not come out until the start of May and by that stage many had to predicted when the rehearsals would start. Traditionally rehearsals start on a Sunday, but to provide a mark of respect to religious Israelis, the broadcaster decided to start a day earlier so that holy days would remain sacred. This was met with some disgruntlement from journalists, but on the whole people understood the importance of respecting people of faith.
Every year, Eurovision is a challenge for even the most experienced of broadcasters, and with this being KAN's second year as a broadcaster, they are continuing to work hard to produce a show that both they and fans can be proud of. Jan Ola also stated that the EBU have been working hard with KAN since Lisbon last year and he believes that they will put on 3 fantastic shows on May 14, 16 & 18.