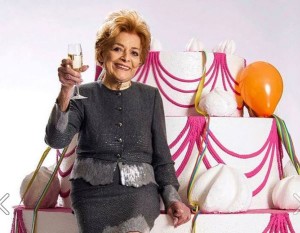 Today, Lys Assia revealed her personal top 20 over this year's Eurovision entries. The very first winner of the Eurovision Song Contest back in 1956 have Ira Losco as her favourite ahead of the songs FYR Macedonia and France. 
As the very first winner of the Eurovision Song Contest, Lys Assia is still very active around the contest, and despite her high age, she is still a woman with opinions she isn't afraid to share. This morning her personal top 20 over the 2016 Eurovision Song Contest was revealed.on her Facbeook profile. She puts the Maltese entry Walk On Water by Ira Losco in first position followed by the entries from FYR Macedonia and France. Also Serbia, and the bookmaker favourite from Russia made it to her top 5.
In a press release, Ira Losco speaks about being Lys Assia's personal favourite: "I am touched to have been chosen as Lys Assia's favourite song in this year's Eurovision Song Contest. I means a lot coming from the competition's first winner".
Lys Assia won the Eurovision Song Contest in 1956 representing Switzerland. She also took part in 1957 and 1958, and have since tried several comebacks to the Eurovision stage, the last being in 2013. Lys Assia recently turned 92.
See below the embedded Facebook post where she reveals her top 20, and also the fact that she will be in Stockholm for the contest.
In the video below, you can listen to the entry which is Lys' personal favourite, Ira Losco's Walk On Water. This performance is from Saturday's Eurovision In Concert.