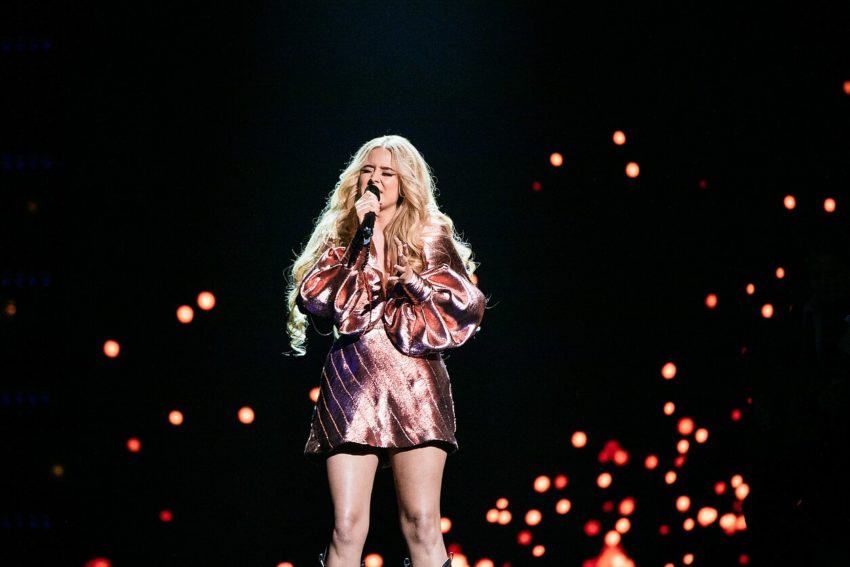 Everyone's favourite Atranka returned tonight as Lithuania started its search for its Eurovision 2020 representative. New for this year is the slogan Pabandom Iš Naujo, which means Let's Try Again.
Indeed, the contest that keeps on giving, is back with a new format, a new green room hosted by Ieva Zasimauskaité, and best of all, no sign of musicologist Ramūnas Zilnys who has yet to pick a winner for Lithuania in all his years as a sombre panelist. Twelve acts performed tonight with six going through to a semi final in either three or four weeks time. The final will be held on February 15.
The Hosts
One thing that hasn't changed from last year are the hosts. Giedrius Masalskis and Gabrielė Martirosianaitė  have returned to guide the viewers through three weeks of 36 songs. Gabrielė wore a silver dress while Giedrius was all in black. They introduced Ieva, who was in a white and black dress and alas the We Are The Winners tag was still here. Then we were ready to go with a new electronic scoreboard. No expense spared this year, better keep some money though incase they win and have to host next year.
The Judges
For the first broadcast, the judges commented after the fourth, eighth and last songs were performed.  They were musician and radio presenter, Darius Užkuraitis, singer, songwriter and vocal lecturer Giedrė Kilčiauskienė, pianist, musician, Director of cultural shows and events, Gerūta Griniūtė, music producer Leon Somov, and head of the music agency M. P. 3, producer Suresh Stackevičius. After every four songs they were allowed to chat with our hosts, probably to make sure they were still awake.
The Songs
Glossarium – Game Over
First up then was a bit of hard rock with Glossarium making a return after dropping out at last years semi final with the song Anyone. Let's just say this isn't really Eurovision but if you're into this type of music you'd have loved it. All in black this quintet are all good at working together but it's all a bit of a noise. Banging drums, screaming guitars and vocals, a good one to make your ears bleed.
Baltos Varnos – Namų dvasia
Next up were the lilting twin sisters Milda and Theresa Andrijauskaitė or white crows in their lacy see through light purple dresses. This couldn't have been more lilting or sleep inducing had they offered us a sleeping pill. Two acts in and already one is wondering if Lithuania have ever been watching past Eurovision winners. What a bore.
Justinas Lapatinskas – Highway Story
This has a nice country style introduction and you could see that the backing singers were itching to get stuck in. Justinas has a nice voice and this was certainly very melodic. The biggest shock was that it took so many people to write this. There seemed to be about ten names. Good enough but not a likely winner. Oh wait though what about Run With The Lions.
Aistay – Dangus man tu
Drawing influence from two year's ago Monika Marija in the fashion sense, Aistay was all in lace black. There wasn't a lot of movement in this number, again the highlight being the backing singers. A slow mournful number, it's hard to see what type of audience this is aimed for. Prediction – all four first songs will be gone by the end of the night.
Petunija – Show Ya
After a chat with the judges which seemed to go on forever, it was time for a bit of musical theatre from red head Petunija. Aside from the screaming from Glossarium, this song was the first one of the night to have a bit of a beat about it. However it was just a little beat and the backing singers were in full swing again. This was like a tepid version of Last Night A DJ Saved My Life. Passable at best and no Rotterdam here either.
Lukas Norkūnas – Atsiprašyk
Lukas had a gem of a song two years ago with Tegu so expectations were high for him tonight, after vowing he wouldn't return to the contest. Fortunately he lived up to it with another folky type number that's certainly been the best of the night so far. Some interaction with the backing singers, Lukas was all in black and made good use of the stage. Maybe a little too quirky for Eurovision.
Donata Virbilaitė – Made of Wax
Donata was all in purple singing to a wax model although in a bit of TV magic he came to life to dance around to the song. This has a bit of a Toyah feel about it and while quite entertaining it doesn't have what is needed to win Eurovision. Good though for three minutes of entertainment,
Andy Vaic – Why Why Why
Nerdy cool is in these days and Andy depicted a classic model for this. The electronic music introduction gave the song a more appealing feel. In fact the backing was by far the best bit of this very repetitive song. At this point with only four more acts to go, it's hard to imagine who is going to qualify to the next round. The judges gave their opinion after this. They are looking a bit bleary eyed.
Aika – Paradas
More electronic music but this was a little less amateur than some of the previous performances. Lots of the acts which have qualified in the past are usually a lot better in subsequent heats so there could be some potential here. Aika was dressed in a kinda monk like black robe and with fire burning behind her, this was probably the best of the night so far. Eurovision winner? No
Meandi – DRIP
Meandi have been the most colourful of the night in their yellow jackets and blue track suit bottoms. This is a monotonous piece of white rapping with a repeated electro beat running through it. Meandi mentions the aforementioned clothes over and over towards the end of the song. Colourful, fun but another one going nowhere.
Monika Marija – If I Leave
The problem here is Monika is back with the worst of four excellent songs, The Truth, Criminal and Light On, but the oohing at the beginning of the song is to date the best thing tonight. Monika has a world class voice and although not as good as her previous entries this will sail into the final for her again. This year we have a country feel in the song complete with a red dress and good ole country boots.
Gabrielius Vagelis – Tave čia ranu
Starting seated in the audience, Gabrielius looked as if he was still in his dressing gown. He has in the past made quite some fashion statements. This is a very good entry again for Gabrielius and again this should have no problem getting to the final. In its favour was a tune and excellent singing. Maybe too much in the Run With The Lions vein, but still a worthy entry.
The Results
Below is the video for tonight's winning song.