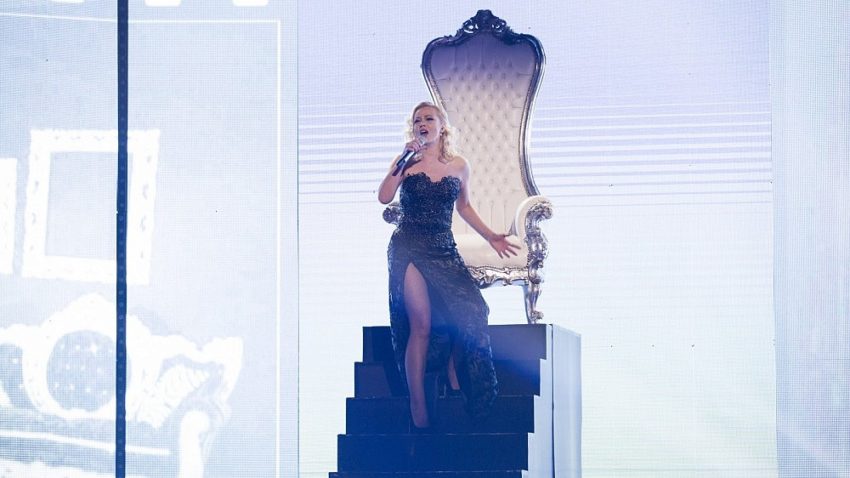 The second week of Lithuania's contest to find their Eurovision 2017 entry, saw more acts qualifying to the next round. However as the music standard remained high, the judges grew more confident and ruthless.
Thirteen acts show cased their songs this week, with more than half of them being eliminated. Six more acts continued to the next heats which will start in three weeks time.
The Songs
Grupe E.G.O – My Story
Having the misfortune to open the show, E.G.O are now a trio. As a quartet, with the catchy Long Way From Home, they were knocked out before the finals last year. This year, Karolis, Mantas and Mažvydas are back with a more complex tune. With no popular boy band around at this time, why can't E.G.O fill the void. The judges correctly compared the band to One Direction, with the All My Life line being exactly the same note for note as in Drag Me Down. There was more to the performance though, than being a mere copy. The group all dressed in black were very impressive, with their modern pop song. The judges said they would be happy to see E.G.O in the final, one even going as far as to say the band gave them hope after last week.
Monee – Nnn
Next up we have some dramatic music from Monee. Praised for using Lithuanian composers, Monee was also complimented for her vocals. In a telling comment about future shows, the panel announced that if Aistė Pilvelytė was watching, she should be worried. A tip for Monee was that she should polish up the background video. A tip for the judges is that if they want to see a polished video, giving the act 3 points won't make that happen. The song should have been called Running. Dressed all in black, this was a powerful performance, of a song that could be a real grower.
Varietė – My Story     
Yes you read right, a second song called My Story, but hold on. This time the judges were scathing. First, the song was not nearly as good as E.G.O's. In fact, scolded the judges, the song was not even worth any attention. As the five girl band took their criticism, it was topped by one judge saying that if this was all Lithuania had, and all the other contestants got sick, they should withdraw from Eurovision this year. To be fair, the girls, all dressed in black were not that bad and the harmonies were pretty tight.
Gabrielius Vagelis – Feel Myself Free     
Gabrielius was next and after the attack of the judges, there was plenty pressure. Fortunately the song was praised for its creativity. So creative in fact, that it was compared to OneRepublic's If I Lose Myself. The modern feel of the song drew judge Justė, to declare it her favourite so far. The song is a very slow heart felt melodic ballad. Gabrielius was backed by a male female duo, and was very listenable. So far, black is this weeks costume choice. There were a few flat notes but they can be worked on. His singing partner from 2013 awaited back stage to perform next.
Ieva Zasimauskaitė – You Saved Me
Unfortunately, Ieva had the horrible task of following up a treasure of a song from last year in Life (Not That Beautiful), with, had the stars aligned better, we could have been heading to Vilnius this year for Eurovision. The judges pointed out that Ieva's voice is filled with warmth. She looked regal in her white dress. However on the negative side, the judges all agreed that the performance needs to be a little more dynamic. Surely a safe qualifier for the next round, let's hope Ieva takes the advice. The song is a mid tempo inspirational ballad. Ieva's singing is world class. Wonderful.
Rugilė Daujotaitė – Perkūne ugniaveidi 
A confusing stage show left the judges declaring the performance a bit of a  shambles. While Rugilė impressed with her high notes, it was likened to an episode of Game Of Thrones. The song was described as like a plate of porridge. The judges are warming up. To top it off, the tune was described as seven songs in one. This means that Rugilė could take all the qualifying slots but would need to drop a song, as only six will be getting through. The word frantic was invented for this type of stuff. Dressed in a white robe and red cloak, she looked like a Greek goddess.
Mia – Sacrifice
Mia appeared on a very comfortable looking white throne, all dressed in black. This year she's decided there's no one going to stand in her way. As she descended the staircase, the judges feared that she would take a tumble. The song and presentation impressed. Mia was warned not to lose momentum towards the end. It was suggested Mia lose the dancers as her vocals are impressive enough on their own. This is another really good modern bombastic pop song. Again the vocals were perfect. Lithuania is going to have a very difficult decision to make this year.
Deividas Žygas – Only You 
With the judges in full throttle, a brave Deividas was next. He didn't receive the best review for his song last year so must have wondered what was going to come. He didn't have to wait long till the judges asked if it was possible for him to write a good song. Lashing it on they added that he really has a long way to go even with the vocals. Our musicologist suggested that after this cheesy and tedious performance, Deividas should give up singing. The three female backing vocalists also looked as if they wanted to run away. The backing video with the stick men was very good though.
Rasa Kaušiūtė – Fly
Raven haired Rasa must have breathed a sigh of relief when a smiling quartet of judges, praised her song as beautiful and magnificent. It was described though, as a little black and white and needed more colour. Nevertheless her voice was described as lush, giving the impression she had a good chance of making it to the next round. This is another empowering song which with a little work could do well at Eurovision. The black stage costume was back. The fire like backdrop was very like Conchita's in 2014.
Gabrielė Vilkickytė – Jūra
This song of the sea was also praised for its excellent arrangement and performance. But as waves go up and down, so too must the critique. It was described as totally unsuitable for Eurovision. In fact it was barely suitable for Lithuania, agreed the judges. The song is a slow mournful number. Certainly not something you'd want to be lost at sea with and have nothing else to listen to. Bleak.
Lawreigna –  Freedom
The singing here was well praised, but not for Lawreigna, no, it was for the backing singers. Her look received high compliments, but Lawreigna was told to get a bit more crazy on stage and not hold back. The whole package was described as formulaic. The song is a nineties housey housey disco number which would have benefitted from a more pounding backing. Lawreigna did well in her white and gold costume with two male dancers. The most up tempo song of the evening.
Kotryna Juodzevičiūtė – Love Shadow 
This performance was described, visually as the best of the evening. The song though, was considered a grower and needed more listens. The judges are correct. All dressed in white the ensemble is a visual treat. It was very similar to Loic's Rhythm Inside staging. Who noticed the song. It was a slow song with a number of melody changes with a banging synthesizer in the verses which disappeared during the chorus. The lack of a memorable tune will surely be its downfall.
Valdas Lacko – It's So Unfair
Valdas's song was described as very dramatic. The judges reminded Valdas, that as last years breakout star, he was to return this year with a better song. However the judges did not think that he has done that. On a positive note though, they thought that the song had a feel of twenty years ago and radio listeners will love to hear it played. It was felt that Valdas' singing is better than the song. Valdas was also dressed in black and had a large clock as his background. The singing was very good and the ballad had a certain powerful feel.
The Show
The hosts, Ievai Stasiulevičiūtei and Gabrielei Martirosianaitei, tonight wore red and black respectively. Similar to last year, they are very good hosts. They opened by introducing the judges, who looked as if they were out for blood. E.G.O opened and led the interviews back-stage. Each act also commented as they left the stage. After Monee had performed, there was a video from behind the scenes of last weeks show. After the ripping apart of Varietė, even our hosts were worried but jumped for joy at the good review for Gabrielius.
Before Mia performed, we were treated to another behind the scenes video about the costumes and staging. A commercial break followed. When we came back Te Deum was playing. The final acts performed and then it was time for the scores after one final recap.
The Results
Tonight the judges were singer Darius Uzkuraitis, musicologist Ramunas Zilnys, female singer, Justė Arlauskaitė-Jazzu and music critic Kazimierz Šiaulys. After they had voted, the top five seemed as if they'd qualify leaving E.G.O and Rasa fighting for the sixth slot.
You can see who qualified in the score board below.
| | | | | | |
| --- | --- | --- | --- | --- | --- |
| Artist | Jury | Public | Total | Place | |
| E.G.O | 5 |  6 |  11 |  6 |  qualified |
| Monee | 3 |  5 |  8 |  7 | |
| Varjetė | 0 |  0 |  0 |  12 | |
| Gabrielius Vagelis | 8 |  7 |  15 |  3 |  qualified |
| Ieva Zasimauskaitė | 10 |  3 |  13 |  5 |  qualified |
| Rugilė Daujotaitė | 2 |  4 |  6 |  9 | |
| Mia | 12 |  10 |  22 |  1 |  qualified |
| Deividas Žygas | 0 |  0 |  0 |  13 | |
| Rasa Kaušiūtė | 5 |  2 |  7 |  8 | |
| Gabrielė Vilkickytė | 4 |  1 |  5 | 10 | |
| Lawreigna | 1 |  0 |  1 |  11 | |
| Kotryna Juodzevičiūtė | 7 |  12 |  19 |  2 |  qualified |
| Valdas Lacko | 6 |  8 |  14 |  4 |  qualified |
Lithuania In The Eurovision Song Contest
After their debut in 1994, Lithuania went back into hiding and did not come out again until 1999. This year, the country ended up with the opening slot in the contest. On the last day of 1998, Aistė Smilgevičiūtė beat out Aistė Pilvelytė amongst others to be chosen to represent her country with the song Strazdas (Song Thrush), sung in the Samogitian dialect. A powerful opening performance,  Aistė sang alone on stage hoping to receive her countries first points in the contest. The Croatian spokesperson, Marko Rašica became the first to ever announce a point for Lithuania at Eurovision, when they awarded Strazdas, 2 points. Cyprus gave the song its highest points on the night, giving it 5. In total Lithuania was awarded 13 points. placing the country 20th out of 23. Not great, but at least Lithuania had finally arrived at Eurovision.
While performing solo in the contest in 1999, Aistė was also a member of the group Skyle. They have been together since 1996 playing folk and jazz all over Europe, releasing the 20 track double CD Dūšelės, only last year.
Due to not receiving enough points in 1999, Lithuania had to withdraw again in 2000, but they were soon to return as you will learn, if you continue to follow our Lithuanian 2017 coverage.
For now here is the winner of last weeks competition, Edgaras Lubys with Could It Be. He will compete again against tonights qualifiers and the other five winning acts from last week.