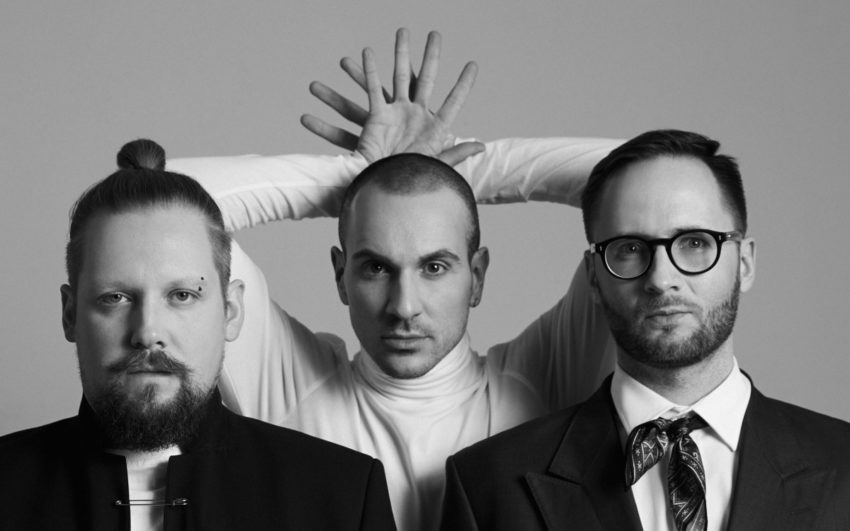 This week saw the third and last week of the initial rounds of the Eurovizijos Atranka 2020 to find Lithuania's entry for the Eurovision Song Contest 2020 to be held in Rotterdam, The Netherlands in May.
In the last two weeks, twelve acts proceeded to next week's semi final stage and they were joined by six more acts tonight.
The Hosts
The pair with the greatest job in Europe at this time, Giedrius Masalskis and Gabrielė Martirosianaitė returned with help from, past Lithuanian representative Ieva Zasimauskaité joining them in the green room. Gabrielė was in a black pant suit like dress, whereas Giedrius had white trousers and a black jacket. Ieva was in a tan coloured suit tonight.
The Judges
The silver haired fox Ramūnas Zilnys, returned to offer his opinion. In an unusual move this week he actually cracked a smile. Joining the talent finder was Jievaras Jasinskis singer and composer of the Eurovision favourite "In Culto" group, one of the most famous producers In Lithuania and LATGA representative Leonas Somovas, ex Eurovision participant Monika Linkytė and music agency producer Vaidas Stackevičius.
The Songs
The Backs – Fully
It appears that the Mamas from Sweden are not the only previous years backing singers vying for Eurovision glory as its claimed The Backs were the backing singers for Jurijus last year. Justina isn't in the group so not sure if this is totally true. Anyway a well sung song , dressed all in black with Trilby hats, was a decent choreographered number with pleasant singing.
Bernardas – Dad, Don't Be Mad at Me
Accompanied by a female cello player this was a heartfelt song  dedicated to Bernardas's father,. He played the piano on the song with lyrics that meant a lot t him but perhaps it is too personal for Eurovision. You will either love it or think it's too corny.
Justina Žukauskaitė – Breathe In
Justina returns and she's been doing her homework. This is a moody easy on the ear song which she perfoms really well without any bells or whistles. This needs s few listens but its very good indeed in a Melanie Martinez kind of fashion.
Rokas Povilius –  Vilnius Calling
This is a great song for all students who once had to live in a bedsit. If not that's what is sounds like and it's actually very good and moody. Quite Elton John like to be honest and its also original despite being not original at all. Moody and atmospheric. Oddly it was inspired by LT United,s We Are The Winners.
KaYra – Alligator
This has just the right amount of novelty without heading into satire. In fact this would be a very good entry for Lithuania. Hardly ground breaking but the song has a catchy hook and begs repeated listening. This week more than six songs deserve to go through. What a pity they hadn't been interspersed in the last two weeks groups.
Lukas Bartaška – Where Is That Change?
Lukas has a very soulful voice in the style of Mick Hucknell of Simply Red fame. The backing singers were also very good and the message is excellent. Unfortunately the melody of this song was hugely disappointing and totally wastes Lukas's voice.
Evgenya Redko – Far
This is a bit more like it with a song that wouldn't be out of place in the R and B charts. In her white costume, Evgenya is very influenced by Jennifer Lopez and actually has better songs than this submission. Nonetheless this is very modern and seems a little out of place in this years contest.
Ruslanas Kirilkinas – Soldier's Heart
This song is very much from the era of Modern Talking and F.R David, very nineteen eighties. There is a mid tempo dance beat and Ruslanas is here to sing as good as he always does in his flashy black suit. Shame it belongs in a prior decade.
Nombeko Augustė – Reikia man
Nombeko  is another singer with a terrific voice let down by the song. This is a soulful little song which should get another turn due to the fabulous singing, but she is way better than the material she's been given to work with.
Vitalijus Špokaitis – Nemušk savęs
This song has a sunny beach feel about it and could easily have been Spain or Portugal's entry this year. This is another that would have gone to the semis in the last two weeks but with so many better ones this week it may just miss out. If it gets through though that'll be just fine. The English translation is Don't Kill Yourself. The staging was a bit of playing silly buggers.
Aistė Pilvelytė – Unbreakable
Can we just send this song and be done with it. Poor Aistė has been trying to represent Lithuania since before Eurovision was even invented and its her time this year. The judges described the song as old-fashioned which makes you wonder if they've been listening to any of the other entries this year. Also fans will be able to vote for a Swedish song without having to vote for Sweden. This probably won't win Eurovision but who knows, euro trash for sure and it needs to be in Rotterdam.Written of course by Euphoria's Thomas G:Son.
THE ROOP – On Fire
Lithuania have kept the only song that could make in roads into the charts with this Maroon 5 influenced song, to the end of the show. This is a catchy little song definintely destined for the semi finals and probably the final, but since we have Aistė they may need to be happy with second place. There also was a bit too much nonsense going on with this performance too.
The Results
| | | | | | |
| --- | --- | --- | --- | --- | --- |
| | Jury | Public | Total | Position | |
| The Backs | 2 | 7 | 9 | 6 | Qualifier |
| Bernardas | 0 | 6 | 6 | 9 | |
| Justina Žukauskaitė | 1 | 1 | 2 | 11 | |
| Rokas Povilius | 6 | 5 | 11 | 5 | Qualifier |
| KaYra | 7 | 8 | 15 | 3 | Qualifier |
| Lukas Bartaška | 0 | 0 | 0 | 12 | |
| Evgenya Redko | 10 | 4 | 14 | 4 | Qualifier |
| Ruslanas Kirilkinas | 4 | 3 | 7 | 8 | |
| Nombeko Augustė | 6 | 2 | 8 | 7 | |
| Vitalijus Špokaitis | 3 | 0 | 3 | 10 | |
| Aistė Pilvelytė | 8 | 10 | 18 | 2 | Qualifier |
| THE ROOP | 12 | 12 | 24 | 1 | Qualifier |