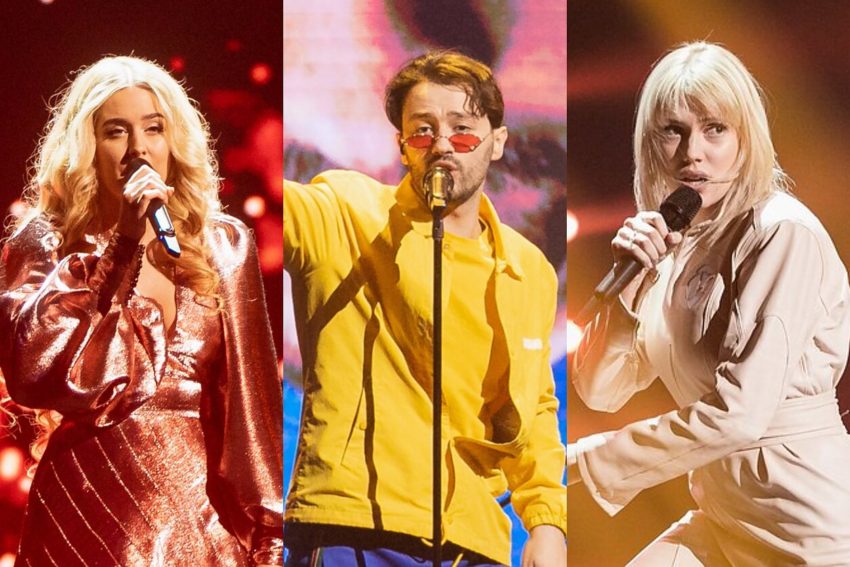 Next week will be the Eurovizijos Atranka 2020 final, when the act and song that will represent Lithuania at the Eurovision Sing Contest 2020 will be chosen. Eight acts are in the running for that honour.
However, for this week, before the second semi final takes place the only question needed to be answered is which act , whose name does not begin with the letter M, will be the fourth song to make the final. It seems Monica, Meandi and Monique are the sure things, but then stopping for a minute, remember this is Lithuania so anything unpredictable can happen. Iev
For example, nine songs should have been performed tonight, but due to illness, Evgenya Redko, with the song Far has been withdrawn. Unlike in Sweden, no replacement singer was looked for or found.
The Hosts
Giedrius Masalskis and Gabrielė Martirosianaitė returned to delight as always. This week with one song short, they were left with the difficult task of how to make a show run way overlong. Extra rambling on forever obviously ensued, leaving the viewers looking at their watches, aware that Samanta Tina, now a Lithuanian resident, and Edgars Kriellis, a voice Lithuania contestant this year, were fighting it out in Latvia at the same time.
Nonetheless the pair looked extra smart tonight with Giedrius in an overly expensive suit and Gabrielė all in green. Ieva in the green room, was dressed in shocking pink tonight.
The Judges
After being absent for the first two heats, silver fox expert Ramūnas Zilnys, has planked himself down on one of those comfortable white seats and is refusing to move. Let's hope he's not there to choose yet another non winning entry for the country. Surie's grandmother, Giedrė Kilčiauskienė is also refusing to budge. Vocal lecturer, no less, Jievaras Jasinskis, had nothing to lecture about tonight so offered to join our favourite commission. Leon Somovas,  Lithuanian rock god made up the numbers with journalist, television, radio presenter and all round can do it all  Gerūta Griniūtė.
The Songs
Meandi – DRIP
What a piece of total nonsense this is to start the show. Unfortunately its nonsense that you can't help revisiting. This wouldn't have a hope of winning Eurovision, but due to the lack of competition in tonight's show, this will probably make the final. Yellowblue pants and a brand new yellow jacket will gnaw into your brain. The visuals for the song are pretty amazing which makes it more of a performance that you need to see, rather than just listen to.
Petunija – Show Ya
Petunija has added three female singers in black dresses to her act this week. This still has that Last Night A DJ Saved My Life feel to it and that might be enough just to get it to the finals. The song is not remarkable in any way, but it has a certain groovy feel about it. Pets performs it really well. Addictive.
Germanas Skoris – Chemistry (Breaking Free)
Germanas has to be commended for showing up today despite suffering from a sore back. A pity though that his pain won't mean he will be heading to Rotterdam for his effort. The song gets started but then it stops while it decides where it's going to go. Then a verse in a high pitch before it starts up again. No hope.
Moniqué – Make Me Human
This song has become a real favourite, though heaven knows why. The video is a little stronger than the stage performance,which is way too minimalist. However if fans like it, we'll see it through to the final and then let's see how it goes. Tonight was much the same as it was in the semis.
Rokas Povilius – Vilnius Calling
This self penned song has something going for it in a light American rock way , but it probably isn't a Eurovision winner. Watch Lithuania go and send it. Tears For Fears would be glad of it in the eighties.
Monika Marija – If I Leave
A powerhouse of a vocalist singing a rather mediocre song. Sure it's miles better than the other songs but for Monika it is a real disappointment. The performance tonight was very similar to the earlier heats which means it has been polished as much as it can and therefore there is nothing more that Monika can do but wait and see,
Andy Vaic – Why Why Why
Teeth grittingly awful. Thanks goodness Andy will have an alternative career after he graduates from Oxford, providing its not music he is studying. Andy was accompanied by five backing singers and dancers tonight, including his brother. The best thing about the whole performance was the great clothes, but Lithuania need to veto their entries more carefully in future. Standing up against Ieva in the green room, they looked like twins.
The Backs – Fully
And finally the appropriate named The Backs as they have been backing singers for quite some time. They superbly backed Jurijus last year with Run Like A Lion, but let's just say this is no Mamas with Move performance. A better song would have helped.
The Results
| | | | | | |
| --- | --- | --- | --- | --- | --- |
| | Jury | Public | Total | Position | |
| Meandi | 8 | 6 | 14 | 3 | Through To The Final |
| Petunija | 4 | 3 | 7 | 7 | |
| Germanas Skoris | 7 | 5 | 12 | 5 | |
| Moniqué | 10 | 12 | 22 | 2 | Through To The Final |
| Rokas Povilius | 5 | 7 | 12 | 6 | |
| Monika Marija | 12 | 10 | 22 | 1 | Through To The Final |
| Andy Vaic | 3 | 4 | 7 | 8 | |
| The Backs | 6 | 8 | 14 | 4 | Through To The Final |
You can view Monika Marija's If I Leave in a previous article. Below is the video for Make Me Human, by Monique, heading into next week's finals.