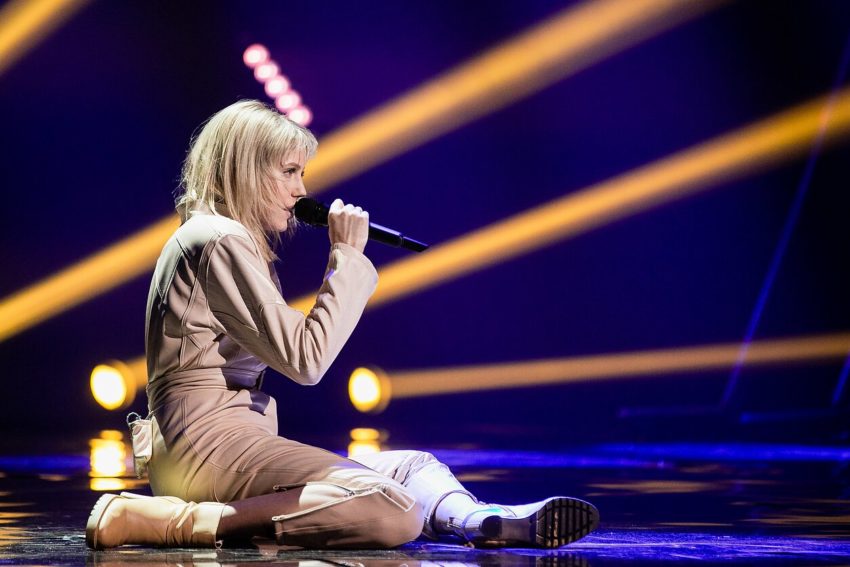 Eurovizijos Atranka or whatever its new name is continued tonight with a further six acts proceeding to the semi finals, hoping to represent Lithuania at the Eurovision Song Contest 2020. After last week's low quality let's see what happened tonight.
Monika Marija topped the public and jury votes last week and along with the five other contestants from last week, six more were selected tonight.
The Hosts
Braving a second week were hosts Giedrius Masalskis and Gabrielė Martirosianaitė. They were joined in the green room again by Ieva Zasimauskaité who is probably now wishing she'd entered the contest again after hearing last week's submissions. Gabrielė was dressed like a meringue while Giedrius had a houndstooth suit. Anyway chin up and let's delve into this week's contenders.
The Judges
Tonight's judges included 1999 entrant Aistė Smilgevičiūtė who placed 20th with Strazdas, so she know how to pick a winner. Equally, novelty singer LT United member Viktor Diawara should be able to spot a good old knock about number. They were joined by Jievaras Jasinskis producer of the band Inculto, another musical triumph who were left in the semi finals in 2010. Rounding out the motley crew were musician Darius Užkuraitis who has 4000 CD's in his home, and Gerūta Griniūtėwho likes playing the piano.
The Songs
Rūta Loop – We Came from the Sun
Rūta opened tonight all in black. The song is nice enough but too bland to really win Eurovision. She was joined by two female dancers during the beginning of the song and two male dancers later. Despite being a little ordinary, Ruta is a decent enough singer and with a better song could well represent Lithuania one day. During the interview with Ieva, you could see that Ruta came from the sun, as it had melted her eye liner in one of her eyes. We should see this in the semis.
Soliaris – Breath
Too much attention was paid to a male dancer all in gold, whether this was an attempt to hide some of Soliaris's flat vocals. Despite that though this was quite a nice soulful song. Soliaris didn't do much moving but the song didn't require it. He was all in black and sang the song plain and simply. Another which might just get through to the next round.
Kristina Jure – My Sound of Silence
This reject from Frozen actually had quite a nice tune but it was very made for Disney. Apparently it was conceived as a song that was dedicated to blind people. The sentiment is very nice and well-intentioned so its hard to say anything negative about the song. Plain and simple.
Alen Chicco – Somewhere Out There
Alen was dressed in a batman like cat woman suit with heaps of red eye make up. The appearance was better than the song which once again had only one dimension and never really took off. In fact dreary was the perfect word for it, which is a shame as  Alen is usually better than this. Four monk like characters joined him for the end of the song and the studio audience loved it.
Indraya – You and I
This was another song that was forgotten as soon as it was over, although while it was on it was a decent enough listen for one time. Indraya was dressed in a mauve dress which really didn't have that much shape to it. Sweet, pleasant and inoffensive but nothing spectacular.
Germanas Skoris – Chemistry
There are no words to describe this entry so here they are… No Words and yet it qualified
Viktorija Miškūnaitė – The Ocean
A little bit of pop opera next but not quite up to Il Volo or Eleni standards but certainly good compared to the standard tonight. Vicky was in a black lacy dress with hints of red flowers. Good enough singer but this won't win Eurovision either. Glasses were shattered at the end.
Antturi – I Gotta Do
Borrowing Benjamin Ingrosso's Dance You Off backing, this entry made a bit more of a go of it with some rap singing. However the song was another that never really took off, though the lighting definitely shone here. Hit or miss whether it passes through.
Abrokenleg – Electric Boy
Broken said that she was waiting for the right song before entering Eurovision, but after hearing this, she must have changed her mind. The costume was eye catching and this had a bit of a Siouxsie And The Banshees feel about it. It burst into a punky type chorus which broke up the verses a bit. Electric boy sure, but Eurovision winner hardly.
Twosome – Playa
Oh well Lithuania may as well send this of to Rotterdam. Even though it was a piss take it's been the best entry of 22 so far. All about the Lithuanian basketball player, Donny Montell anyone, this was a bouncy little number just as you'd expect from Justin and his mates.
Moniqué – Make Me Human 
There was lots of hopes for this song written by the same writer as When We're Old but it turns out this was another slow paced song and the plain tan costume that Monique wore did nothing for her. She made a few robotic like movements during the song and in the end a light shone on her heart, so a bit of a selling point there, but that was it. Very disappointing.
Voldemars Petersons – Wings of Freedom
A plain song to end the evening from Voldemars and thoughts of Run Like The Lions from last year come to mind, so this could be in the running. Again this week the judges will have a hard job in selecting six songs to go through to the next round. No idea what Lithuania are playing at this year.
The Results
| | | | | | |
| --- | --- | --- | --- | --- | --- |
| | Jury | Public | Total | Position | |
| Rūta Loop | 10 | 7 | 17 | 3 | Qualifier |
| Soliaris | 5 | 1 | 6 | 7 | |
| Kristina Jure | 6 | 12 | 18 | 2 | Qualifier |
| Alen Chicco | 8 | 6 | 14 | 5 | Qualifier |
| Indraya | 0 | 2 | 2 | 11 | |
| GermanasSkoris | 4 | 4 | 8 | 6 | Qualifier |
| Viktorija Miškūnaitė | 7 | 8 | 15 | 4 | Qualifier |
| Antturi | 1 | 3 | 4 | 9 | |
| Abrokenleg | 3 | 0 | 3 | 10 | |
| Twosome | 0 | 5 | 5 | 8 | |
| Monique | 12 | 10 | 22 | 1 | Qualifier |
| VoldemarsPetersons | 2 | 0 | 2 | 12 | |