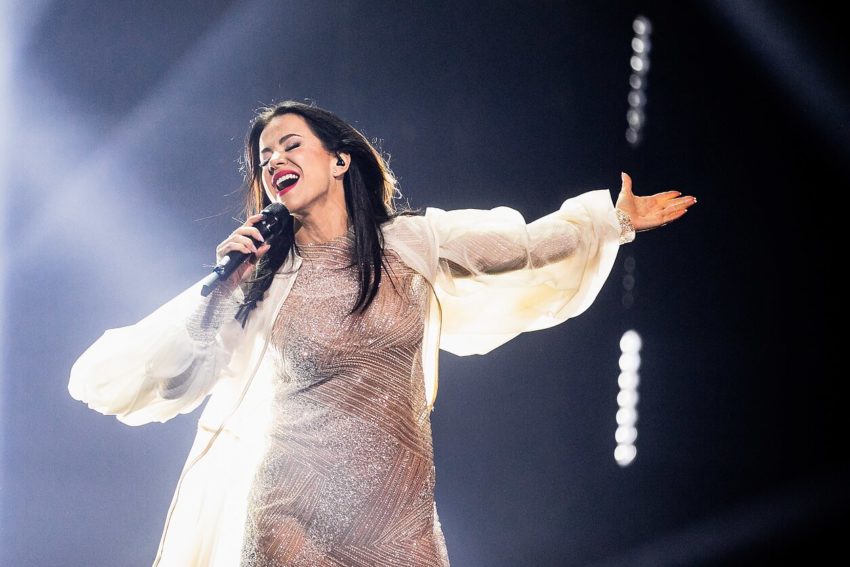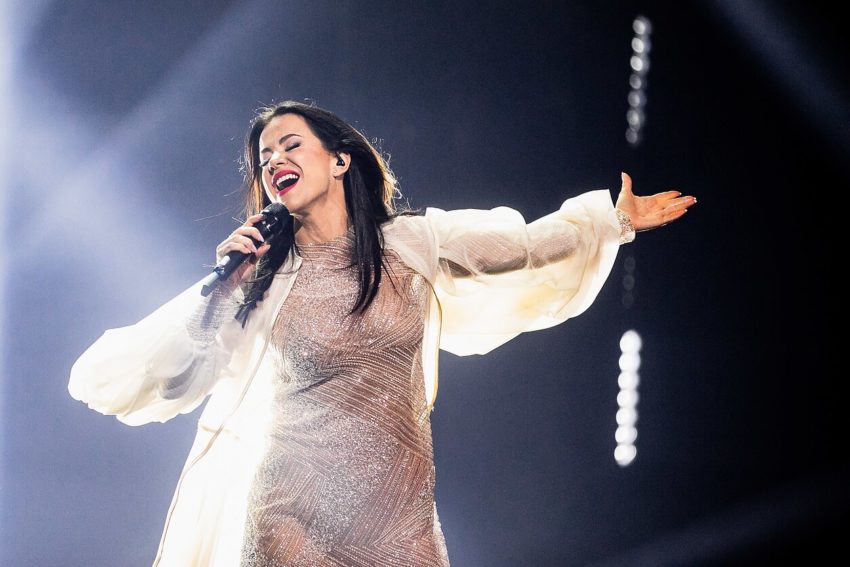 Tonight, as the Spice Girls used to say, nine became four as Lithuania ruthlessly dumped five more acts from the Eurovizijos Atranka 2020, and four lucky acts went to the final, to be held on February 15 2020.
Hard to believe but in only two weeks time Lithuania will choose their representative for the Eurovision Song Contest 2020, and four acts have stepped closer to reaching that goal.
 The Hosts
Giedrius Masalskis and Gabrielė Martirosianaitė ensured that tonight's show flowed with excitement as they welcomed back what may have seemed an average bunch of songs during the first heats. However due to poor splitting of the semis by LRT, tonight, seven songs are good enough to go to the final.
Gabrielė practically popped out of her lilac top, which stopped just a little too early. Giedrius was in a dark blue suit, or was it green, with totally unmatched white trainer shoes, watching proceedings like a cross between a basketball player and a college professor.
Ieva Zasimauskaité was looking stunning in an all black number tonight, as she greeted each artist after their performances.
The Judges
Tonight's esteemed judges again included serial 'never find a winner' silver fox Ramūnas Zilnys, who for the second week in a row cracked a smile, which must really hurt him. He was joined by LT United's, Andrius Mamontovas, who may not want to send a winning song, should he lose the record of his band's entry We Are The Winners still being, unbelievably the best Lithuania has done in the Eurovision. Yes, Lithuania despite having the longest selection process in all of Europe, still has that albatross round its neck. Monika Linkytė, who tore up the stage in 2015 with This Time, also merits having experience to choose a Eurovision winner. Vocalist Giedrė Kilčiauskienė , an old wax model look alike of Surie was the fourth judge, completed by the head of the music agency MP3 Vaidas Stackevičius
The hapless five, collectively known as the Commission got to give their opinions of the songs after every three performances. When seeing them altogether you realise that the reason, a newly stubbled Ramūnas is smiling. The judges have been given much more comfortable white chairs to sit in. Perhaps the old sedias were sore on his bottom. Still there was no less rambling taking place than in the past, so perhaps next year LRT can keep the Commissions views to a sentence each. We don't get this with Melodifestivalen and they can have seven songs, a reprise, an interval act and two winners in the bag in an hour and a half.
The Songs
KaYra – Alligator
In the preview video, KaYra showed that this song can be performed as a romantic ballad. However for tonight dressed as a clown and in cream suit it was back to the knock a bout. Despite its cheesy sense of humour this is surprisingly catchy and inoffensive that while it may not get 12 points (apart from, from Ireland and the U.K) would pick up a few middling points. Her backing dancers, who looked like underage showroom dummies, were similarly dressed in over sized cream suits but without the clown make up. They were however plastered in foundation. KaYra's biggest mistake is that she gave a shout out Labas Vakaras during the song, which Eurovision fans should know is a big no no. In fact respected judge Monika should know you don't shout out to the audience, as it helped place her This Time at Number 18 in 2015.
Viktorija Miškūnaitė – The Ocean
Viktorija began this operatic number singing in English but changed to Lithuanian half way through. It did not help the song one bit and the judges scolded accordingly. Now in the semis it is easy to say that this should have been gone already and this will hopefully be fixed tonight. As an opera song it came nowhere near any of the similar type songs that made it to Eurovision and Lithuania will do itself no favours if it thinks this is a winner. Ten out of ten for the red lipstick though.
Baltos Varnos – Namų dvasia
Where have all the top ten barbers from Lithuania gone this year. The Baltos twins were badly needing a new hairdo, though hats off to them for both equally having a matching birds nest on their head. Maybe to live up to their name the White Crows. This is a song you need if you have a child who won't fall asleep. No-one can get to the end of this without feeling a little drowsy. The girls were dressed in similar charcoal shades. Hard to believe this comes in at under three minutes and with a bit of luck the crows will fly home and won't bother Eurovision again this year.
Rūta Loop – We Came from the Sun
This song is actually a real grower and Rūta actually looks and sounds like a pop star. The thing is this song is so understated it takes a few listens to gnaw into your brain – once it's there though it doesn't let go. The beat in the song gets stronger as the song goes along. So this week it's time to pick on the dancers. Lady on the right side looks as if her life depends on the dancing, and she still has the Roop to come. She'll be exhausted. If this gets to represent Lithuania, Rūta would do well to think about pumping up some backing singers instead. In the end though if this can make it to the final, this could be the under the radar winner. Fingers crossed.
Gabrielius Vagelis – Tave čia randu
Why oh why is Gabrielius trying to sabotage his entry when the truth is he has a fantastic song that really deserves to go to Rotterdam. Get a stylist man if you make the finals and don't start the song in the audience. Get yourself into a nice suit, ask if you can borrow one from Giedrius cause this needs to be sold at its best, not dressed like a scruff. The song is perfect, Gabrielius is singing great as always so get this fixed and perform the song standing still with a microphone next time or rue the day.
THE ROOP – On Fire
This song comes into the semi finals with the appearance of being the clear favourite, having won the Commissions and the public's votes last week. It's easy to see why as it's got instant appeal – then it starts to get annoying and that's where it is now. If this gets to Rotterdam it will become very sickly very fast. The song is very monotone all the way through and the dancing would have been thrown out by Madonna way back in 1983. Actually very irritating. It's very like Telex with Eurovision in 1980 and it finished last. Be warned!!!!
Kristina Jure – My Sound of Silence
If C'est La Vie can make the Eurovision finals for Lithuania, then there is hope for this too. It would have been a certainty in 1975 and that's the problem – also it would have represented Luxembourg,not Lithuania. There's nothing wrong with this very sweet, very old school ballad, but it's not of the standard of Arcade and therefore needs to be put out of its misery.
Alen Chicco – Somewhere Out There
Alen, all in black, started the song of with a bit of dark drama, but you can't fix a rotten song no matter how much a talent you are, and this is a non starter pure and simple. What a pity as Alen would be great at Eurovision, at the club and parties. Guess he will need to try again.. and speaking of…..
Aistė Pilvelytė – Unbreakable
G:Son of course has written yet another Euro song by numbers that's impossible to hate even it they are all the same. Aistė surprisingly wore the same outfit as last week. It'll be great if she finally gets to represent Lithuania, even if only for sentimental reasons.. but at the moment the odds are not yet in her favour.
The Results
Below is tonight's jury winner, although it only came second with the public.