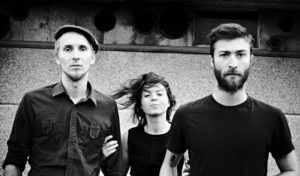 The second quarter final of Lithuania's Euovizijos was transmitted tonight, with four more acts qualifying through to the semi final. They will join Greta Zazza, Sasha Song, Ieva Zasimauskaite and Aistė Pilvelytė from last week.
Lithuania will perform in the second half of the second semi final on May 11th.
The Songs
Alanas Chošnau – 7 Days
This techno number was criticized for not having backing dancers, which would have fit in well with the song. However Alanas said that he wanted people to hear the song and not be distracted by dancing. The judges wanted more energy in the song and felt Alanas has left it too late. Nevertheless, Alanas has the power to carry the song alone on stage and that's what he did.
Paula – Let U Go
The judges were not impressed in the way Paula was dancing, being so young. They said they would not want their sixteen year old doing that. Did they forget this was staging and that Paula doesn't behave like that off the stage. The judges ages shone through, bringing into question whether they really should be making the decisions. How is Eurovision supposed to develop if young people don't get to choose their song. Very modern, very today, the public will save Paula.
Gabrielius Vagelis – Feel Myself Free
The judges felt that Gabrielius had really been working on his vocals, and this impressed them. The song was described as delicate. A slightly different arrangement of the song seems to have helped. Gabrielius wore a very fetching red jacket tonight. The song is probably just too slow to make a huge impact, but it's a relaxing listen. The backing singers shone again.
Queens of Roses – Fisherman
The wacky style of this song amuses the judges each week. They acknowledged that even if they give the song a low score, it has a good chance of moving on, as it has really clicked with the public. The ladies have lost the tin foil dresses this week, and look amazing. They seemed to be enjoying themselves this week a bit more, with some wry smiling shining through. Party on.
Kotryna Juodzevičiūtė – Love Shadow
Kotryna returned to white this week, because despite the darkness of the song, it is the light that will guide the future. The judges observed that this performance was more relaxed. The singing also was much stronger. It's hard to tell what the fate of this song will be, as Kotryna sings it really well, but is up against such tough competition.
Mia – Sacrifice
Mia skipped the stairs tonight, having her throne placed in the middle of the stage. The judges just seem to have suddenly lost love for this song. Mia was told to dump the throne out with the trash and just perform with no gimmicks. Mia is a fantastic singer and is having a hard time getting to represent Lithuania. She should look towards her neighbours, this has a real Scandinavian sound.
Fusedmarc – Rain of Revolution
Fusedmarc have returned to the judges favour. The song was described as the best in the contest. However the judges acknowledged that the group were struggling to win the public's approval. The song is reminiscent of Sub Sub's Ain't No Love Ain't No Use with a more frantic rhythm. First week only Cilia was on stage, last time they were a trio, this week a duo, nothing like mix and match. Cilia had a long red rain coat on to stop herself getting wet.
Valerija Iljinaitė – You Made Me Glow
The judges thought this was a beautiful song, which was so easy to vote for. Valerija's voice was highly complimented. This is a great way to end tonight's show, such a pure song. The lack of any gimmicks lets the song shine through and its positive message just does what the song says. It make you glow. So uplifting.
The Show
Our hostesses went for banana yellow tonight. The audience kept expecting the Italian gorilla to jump out. Tonight the judges were Dalia Ibelhauptaite, opera soloist Nomeda Kazlaus, Darius Uzkuraitis and  Ramunas Zilnys.The graphics were again more professional than the first six weeks. The show is a treat every week.
The international jury was made up of William Wells, Denis Ingoldsby and Sasha Baptsite.
The top four acts go on to next weeks semi final.
The Results
| | | | | | | | | |
| --- | --- | --- | --- | --- | --- | --- | --- | --- |
| | Lithuanian Jury | International Jury | Total | Converted Jury | Public | Total | Place | |
| Alanas Chošnau | 7 |  3 |  10 | 5 |  5 | 10 | 7 |  OUT |
| Paula | 6 |  10 |  16 |  8 |  10 | 18 | 3 |   |
| Gabrielius Vagelis | 10 |  12 |  22 |  12 |  8 | 20 | 2 |   |
| Queens of Roses | 4 |  6 |  10 | 5 |  6 | 11 | 6 |  OUT |
| Kotryna Juodzevičiūtė | 8 |  8 |  16 | 8 |  7 | 15 | 4 |   |
| Mia | 5 |  7 |  12 |  7 |  4 | 11 |  5 |  OUT |
| Fusedmarc | 12 | 5 |  17 |  10 |  12 | 22 |  1 |   |
| Valerija Iljinaitė | 7 |  4 | 11 | 6 |  3 | 9 |  8 | OUT |
Lithuania At The Eurovision Song Contest
In 2012, Lithuania scored their highest ever placing in a semi final when Donny Montell took Love Is Blind to third place, gaining 104 points. No country gave Donny twelve points, but he did receive 10 points from four nations. In the final, performing fourth, the Georgian jury thought that Donny had the best song. Gaining a total of 70 points in the final, Love Is Blind, finished in 14th place – the third best position for Lithuania at that time. Of course Donny returned in 2016 with I've Been Waiting For This Night, which gave Lithuania their second top ten placing.
Andrius Pojavis, won the right to represent the country in 2013. His song, Something pleased the Italian jury enough in the semi, that they awarded it ten points. With a total of 53 points, Andrius finished in 9th place, which was enough to gain an appearance in the final. Drawn in second place, the Italian jury still liked it enough to award 6 points. However with a grand total of 17 points, Lithuania ended up placing 22nd.
You can watch Fusedmarc's performance below.