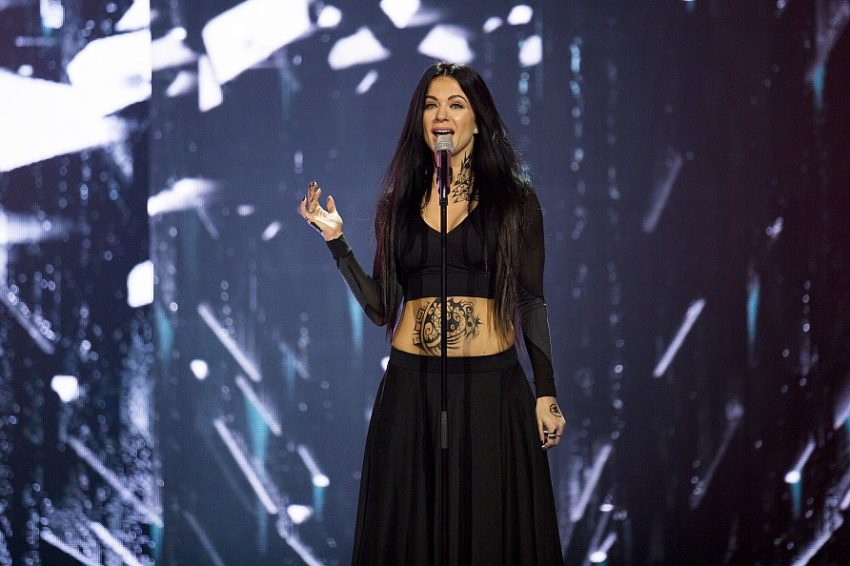 The fourth and final week of the preliminary heats was broadcast tonight in Lithuania. The final six contestants qualified for the next round. Eleven contestants took part, instead of thirteen, due to the withdrawal of Soliaris and Ruslanas Kirilkinas.
The final week was won by Aistė Pilvelytė, with the Aminata written, I'm Like A Wolf. Her winning performance was marred by illness. The judges even had the audacity to call her an old-timer.
The Songs
Elvina Milkauskaitė – Try
This opening number did not impress any of our judging quartet. They thought the song was OK but lacked something. Thought maybe to be a radio friendly song that you forget quickly. Elvina was dressed in a black lacey dress and sang her heart out, with a video wall of the man she was singing to. The chorus packed a punch but wasn't enough to get Elvina through to the final.
Julija Jegorova – Higher   
More criticism was thrown at Julija. This time the song was considered too simple for someone of her talents. It was considered pure fantasy that this would be Lithuania's song this year. The song was catchier than Elvina's with a slight dance beat that again would do well in the discos of the nineties. Julija sang her heart out in her silver jacket and black skirt. Lithuania have some very good singers.
Evaldas Vaikasas – Fire Kisses 
Evaldas gained a favourable reaction. Look at the score has was awarded though. The camera work was the star attraction this time.This song was partly talked and of course he was wearing Ieva's red jacket. A slow paced song, Evaldas did well.
Neringa Šiaudikytė – One More Night (Running Out of Time)
By now the judges had decided that the first three songs were very similar. Neringa, while also singing a similar sounding song, gained extra points for her charisma. Hopes were high for an appearance in the next round. Dressed in black, this is a slow passionate ballad, which grows with each listen.
Vlad Max – I'll Never Let You Down  
Oh dear, Vlad was the next victim of the judges, due to his high amount of bad notes. Vlad had the confidence but not the voice. The mix of the two are needed for Eurovision. Our musicologist felt very upset at Vlad's show. Vlad looked shocked at the critique. He was the best dressed though in a nice suit.
Shiny Raia – All You  
This song left the judges fascinated and amused. The song was considered too alternative to go to Eurovision. It was a slow paced number, with a very niche appeal. Shiny or Raia was dressed in a short gold lame type dress.
Alanas Chošnau – 7 Days
This was considered one of the strongest performances of the night. The summery feel of the song drew great praise and was considered a hit even outside of Eurovision. It sounded very like Modern Talking from the eighties. A catchy disco dance song. it could have wide appeal.
Valerija Iljinaitė – You Made Me Glow 
Another song being described as very standard. Guess what though, Valerija has a lovely voice.However it was suggested that the listener may burn out hearing too many of her vocal stunts. Dressed like a chess board, there was a lot of screaming and shouting, and simple dance moves.
Queens of Roses – Fisherman 
This group were called 4 Roses last year, even although there is only three of them. The judges liked that the song contained the word fish, but thought the lyrics were complete nonsense. The ladies dressed like three oven ready turkeys, had their harmonies down to perfection. This song led the score board with the public, even before it was heard. A very unusual tune, the more listens, the better it gets.
Audrius Janonis – Run 
This song was described as acceptable but no more. It's main issue was that it was too old for the young singer. Audrius need to go and practice more. It was a very social aware song but had a good melody and was well sung.
Aistė Pilvelytė – I'm Like a Wolf
Intriguing was the key word for this song. Obviously Aistė has been hanging out with Aminata for girls sleepover. Here they've swapped tattoo designs that Aistė featured heavily on her neck and stomach. Don't do that again.Aistė was also complimented on how she's climbed back on that stage again and again and deserves to go to Eurovision. Aistė got off to a bad start and had to restart the song, but it didn't affect the scoring. The thumping synthesizer backed song blew away all the competition tonight.
The Show
Tonights judges were musicologists Ramunas Zilnys and Darius Uzkuraitis, singer Povilas Meškėla and the Lithuanian State Symphony Orchestra Chief Conductor,Gintaras Rinkevičius. Our hosts were Gabrielė Martirosianaitė and Ieva Stasiulevičiūtė  Tonight Gabrielė wore a classy white dress, while Ieva wore red trousers, a black top and a black and white coverall. The jacket that went with the trousers, she lent to Evaldas.
The Results
| | | | | | |
| --- | --- | --- | --- | --- | --- |
| | Jury | Public | Total | Place | |
| Elvina Milkauskaitė | 1 |  1 |  2 |  10 | |
| Julija Jegorova | 4 |  3 |  7 |  9 | |
| Evaldas Vaikasas | 3 |  7 |  10 |  6 | qualified |
| Neringa Šiaudikytė | 8 |  4 | 12 |  5 |  qualified |
| Vlad Max | 0 |  0 |  0 |  11 | |
| Shiny Raia | 6 |  2 |  8 |  7 | |
| Alanas Chošnau | 10 |  8 | 18 |  2 |  qualified |
| Valerija Iljinaitė | 7 |  6 |  13 |  4 |  qualified |
| Queens of Roses | 5 |  10 |  15 |  3 |  qualified |
| Audrius Janonis | 2 |  5 |  7 |  8 | |
| Aistė Pilvelytė | 12 | 12 |  24 |  1 |  qualified |
Lithuania In The Eurovision Song Contest
After missing out in 2003, Lithuania returned in 2004 with the duo, Linas Adomaitis and Simona Jakubėnaitė. This was the first year that a semi final was held. The song What Happened to Our Love, was not judged to be good enough to reach the final, placing 16th in the semi. The duo parted ways in 2007, after recording a live album.
The following year, 2005, saw Laura & The Lovers with Little By Little. Despite a competent  performance, things went from bad to worse, as Laura Čepukaitė and her lovers, found no love, ending up in last place in the semi final. The song was written by Swedish writers, starting a close relationship between the two countries, as many other Lithuanian Eurovision songs have a Swedish connection. Laura was awarded 17 points this year, eight from friends Latvia, and then five from Ireland and four from United Kingdom. Both countries had seen an increase in the Lithuanian populace that year.
The following year, Lithuania saw an up tick in its fortunes, but that needs to wait until next week.  For now enjoy the  winning performance of this week I'm Like A Wolf.