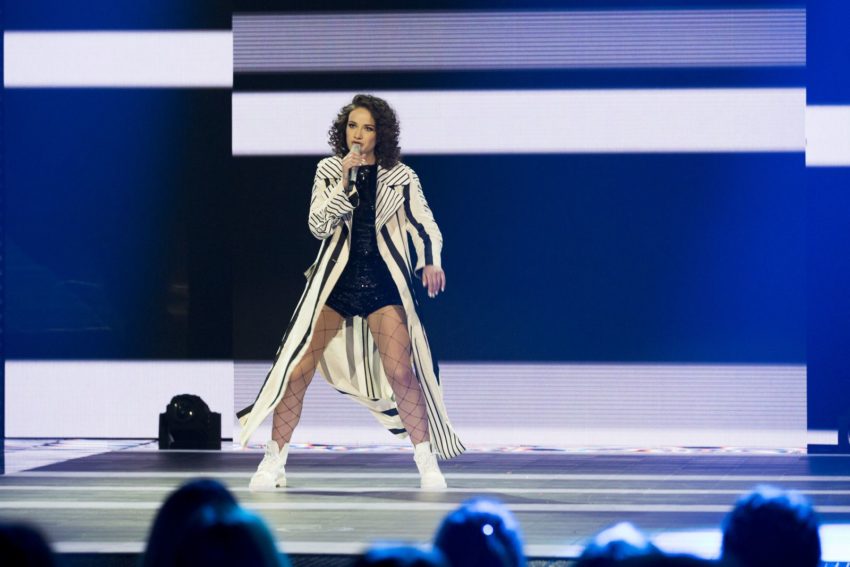 The third week of Lithuania's competition to find their Eurovision entry for 2017, saw Vilija, the 2014 entrant kicked out. A new favourite will be joining the lucky twelve acts from the previous two weeks, in a further showdown.
Greta Zazza became the heroine of this evening, receiving top marks from the judges and good scores from the public. She joins five other acts from tonight, in the next rounds.
The Songs
Gražvydas – Paint the Sky Blue    
Gražvydas's crystal like voice made the judges forget that he was singing a song. The audience reaction indicated that he had a big hit on his hands. Gražvydas is wearing what nearly all the male acts wear. This consists of a black jacket and an overlong T-shirt with a triangle shape covering the top of the trousers. Obviously Lithuania's new fashion choice. The song is a very nice ballad but like too many others to really be chosen as the country's entry.
Fusedmarc – Rain of Revolution   
The alternative rock band's sound was seen as competition for Aminata. It was a surprise to the judges that they would take part in the competition. They raved about the act and called them the trump card for Lithuania. All dressed in black, the female singer, Cilia, means business. This is a very modern sound with a trumpet belting out throughout the song. The stops and starts of the song need polished up a little. Oh, and although it's a group only Cilia was seen on stage.
Marius Petrauskas – She's My Universe  
Marius was the first to be called out tonight for singing a predictable song. The alternative sound of Fusedmarc preceding him did not help matters. Marius's voice though was given high compliments, though it did not erupt enough. The song was a slow slightly plodding number that really sounded much the same as Gražvydas.
Dovydas Petrošius – Love is Free 
The judges were not impressed with Dovydas. Well, they were impressed with his charisma. However Love Is Free was told that it belonged more in a club. The song did have a light club feel to it, Dovydas however made the mistake of not wearing the token black jacket. Nor was his T-shirt shaped like the triangle. He is in the wrong final. There was potential here though and with a better song, the future is bright.
Strėlės – Bastard  
The judges were surprised at how good this tune was despite its title. They were expecting something insulting but found it very feminine. The song was admired for the rhythm changes. It sounded very much like Dolly Parton and Emmylou Harris. All dressed in black the female duo sang a beautiful melody. Their pronunciation of the title was quite amusing. In fact the title will be its downfall. Hope they weren't calling out the judges remarks. Very nice.
Virgis Valuntonis – Victorious
Conversely Virgis was complimented for his song title, but lack of tune to back it up. In fact it was described as a tragedy, and not a song they wanted to see again in the next round. The song was a throw back to the old Lithuania, before they became cool. Not even the yellow and red back drop could save it.
Vilija Matačiūnaitė – I See the Lights 
Vilija's new song was described as creative but lacking soul. Vilija's Eurovision experience, though, saw her bring the best video wall. After thinking about it for a minute the judges decided the song was chaos. Vilija disappointed tonight by wearing a sensible cream dress, making up for it with the blue lipstick. She has also dyed her hair blonde. The visual experience was very enjoyable, but Vilija has better tunes than this one. Vilija did not look happy.
Milda Martinkėnaitė & Saulenė Chlevickaitė – Paperheart 
Our second female duo of the night, were chastised for being too simple, yet delicious. There were some dodgy notes which led one judge to comment not bad, not good. They reminded the judges of Kylie Minogue. At times the harmonies were really good, but the song plods along a little. Dressed like two white wedding cakes, the ladies worked well together. With another song, they should team up again, as its been a while since a female duo won Eurovision.
Gytis Ivanauskas – Get Frighten
Wacky Gytis impressed the judges with song, stage and flaming horned costume – a complete package. Lolita is a ray of light. However, scolded our musicologists, novelty does not do well at Eurovision. At this point, watching at home, LT United looked at each other bemused. This, at times was a throw back to Kate Bush, yes really. The pulsing electronic song's music was better than the singing. Five male dancers gyrated around Lolita as he strutted his stuff. This got the loudest applause of the night.
HIT – I Wanna Love You Tonight 
The judges aren't liking the girl groups this year. The whole performance was described as average. The girls heaved a sigh of relief that they were better critiqued than poor Variete last week. The girls dressed in black boots and shiny silver costumes, clearly are just starting out. The harmonies were not as good as our two other female duo's tonight. The song again was the issue. A sort of dance number which just didn't quite break out. More potential for the future though.
Vidas Bareikis & Ieva Zasimauskaitė – I Love My Phone
Ieva was told last week to go and make You Saved Me  more dynamic, so what is she doing back tonight when she should be home practicing. This week, her duet with Vidas was described as very vivacious, stylish, and of a very different genre. The judges did question how wide the songs appeal would be. That golden voice can sing anything though, so let's hope Ieva puts this energy into You Saved Me. Despite its novelty value though, this was the best performance of tonight so far. The glittery costumes were a bit off the wall though.
Erika Astrauskaitė – No More   
When the song is described as not bad but not special, you know you're in trouble. Further trouble comes also when you're voice is described as strong, but the song thin. The blonde tigress was a vision in black leather and actually does have a very good voice. She looks very much like Kim Wilde. The song was a bit like an album filler for Heart or Cher.
Greta Zazza – Like I Love You
Let's be honest, the name Greta Zazza screams Eurovision before we even hear the song. Let's also be honest when your song is written by last years songwriters, it screams Eurovision. And yes, the judges knew it. The song screams Eurovision, the costume screams Eurovision. Somewhere in Kyiv, you can hear Greta screaming "Eurovision Here I Come". The dance number pushes all the right buttons. Greta will need to polish up the vocals though. When if finishes you want to hear it again. How are they going to choose only one song this year. It will be very difficult.
The Show
The hosts, Ievai Stasiulevičiūtei and Gabrielei Martirosianaitei, sexed it up tonight. Ievai was dressed in a short sparkling black number with knee high black boots. Gabrielei was all in black with a short body suit, fish net tights that went on for miles, and a green stole accessory.
This weeks judges were musicologists Darius Uzkuraitis and Ramunas Zilnys. For those of you who don't know, a musicologist is a person who participates in musical research. Joining the researchers were Juste Arlauskaitė-Jazzu. Juste has been jazzing it up since she was thirteen years old. She was a member of the electronic group Milky Lasers.  Rounding up the Motley Crew was opera soloist Sigutė Stonytė. Sigutė is also a professor at the Lithuanian academy of Music and Theatre – so now you know. Also shout out to Juste for wearing the Scottish tartan shirt tonight.
Score board shown and judges introduced, the show began with Gražvydas opening the show. As a show opener, it was not as good as Justin3 or E.G.O from previous weeks. After Dovydas, there was a video of the backing singers and rightly so. The job they are doing cannot be underestimated. They are doing a fantastic job for all the acts.
The Results
The judges results were announced first as usual. Greta and Fusedmarc were their favourites. Would the public agree?
| | | | | | |
| --- | --- | --- | --- | --- | --- |
| | Jury | Public | Total | Place | |
| Gražvydas | 6 |  7 |  13 |  5 |  qualified |
| Fusedmarc | 10 |  5 |  15 |  3 |  qualified |
| Marius Petrauskas | 3 |  3 |  6 |  8 | |
| Dovydas Petrošius | 1 |  0 |  1 |  12 | |
| Strėlės | 6 |  4 | 10 |  7 | |
| Virgis Valuntonis | 1 |  0 |  1 |  13 | |
| Vilija Matačiūnaitė | 4 |  1 |  5 | 10 | |
| Milda Martinkėnaitė & Saulenė Chlevickaitė | 5 |  6 |  11 |  6 |  qualified |
| Lolita Zero | 8 |  12 |  20 |  2 |  qualified |
| HIT | 3 |  0 |  3 |  11 | |
| Vidas Bareikis & Ieva Zasimauskaitė | 7 |  8 |  15 |  4 |  qualified |
| Erika Astrauskaitė | 3 |  2 |  5 |  9 | |
| Greta Zazza | 12 |  10 |  22 |  1 |  qualified |
Lithuania At The Eurovision Song Contest
Following on from last weeks article, the low score in 1999 meant that Lithuania missed the 2000 contest. However they returned in 2001 with the group SKAMP and the song You Got Style. The trio, Erica Quinn Jennings, Vilius Alesius and  Viktoras Diawara, were the first act to sing in English, for Lithuania, albeit partly.This entry did much better for Lithuania, and at the half way mark they were well inside the Top 10, buoyed by 10 points from Russia. However in the end they finished in 13th place with a score of 35. The best placing so far. Erica came second in Lithuania's final last year.
In 2002, the country closed the contest with the colourful, Happy You by Aivaras. Mr Stepukonis had just split from his band, Pėdsakai, when he tried out for Eurovision. He nearly didn't make it as he placed second in the pre-selection that year. The winners B'Avarija, though were disqualified, under the age old rule, that a song must not be released before a certain date. It was discovered that theirs had been, so Aivaras was back in.
Finishing with only twelve points, four from Russia, two from Estonia and six from best friend, Latvia, the country put its hands up in despair as it meant they wouldn't be allowed to enter in 2003.
Will Lithuania be able to get a grip on Eurovision? Find out in next week's review. In the meantime enjoy last weeks winner Mia, with her song Sacrifice.