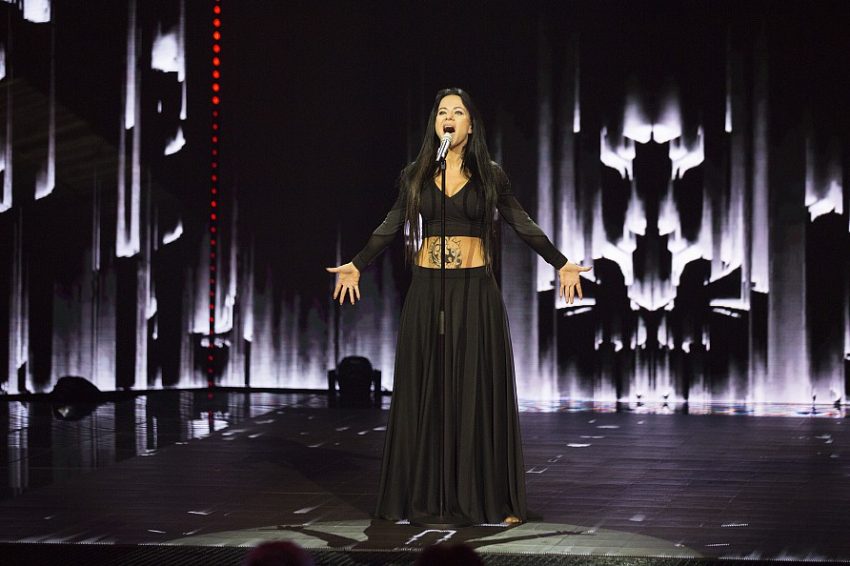 While some countries struggle to find a song for Europe, Lithuania held its first quarter final tonight, with eight songs, all good enough to represent the country.
It seems though, at this stage, that nothing is going to stop Aminata being back, as Aistė Pilvelytė  wins her heat for the third time in a row.
The Songs
Ieva Zasimauskaitė – You Saved Me
The perfect opener to tonight's show, Ieva wasn't feeling well tonight. Nevertheless, the judges were impressed with the new arrangement of the song. Looking lovely as always in a black dress, Ieva sang the best she could tonight. It's a perfect song to represent Lithuania.
E.G.O.- My Story
The lads get better each week too. This is as good as any boy band song and deserves to be heard outside Lithuania's borders. The chorus is simply uplifting when the backing singers join in. If they can just catch a break E.G.O should be the next big boy band.
Greta Zazza – Like I Love You
Greta kept to the same arrangement as last week, but then why change a winning combination. This pop dance song is so made for the charts of 2017. The whole presentation is so appealing and Lithuania has another winner on its hands here.
Gražvydas – Paint the Sky Blue
While not as gimmicky as the first three entries, this is still a well formed pop sung with a catchy hook in the chorus. This will probably drop out this week, but that doesn't mean it isn't a worthy entry either.
Gytis Ivanauskas – Get Frighten
This extravaganza is so well loved by the Lithuanian public, that the judges placed it bottom, which will ensure it won't make it to Kiev. It will become a future dance club hit, and its inclusion in a movie, will ensure it has a life outside of Eurovision.
Aistė Pilvelytė – I'm Like a Wolf
At this stage it's beginning to look like game over for everyone else. This song has only topped the score board since its first appearance in week four and it doesn't show any sign of stopping. This should do well for Lithuania in Kiev, providing people aren't sick of Aminata.
Edgaras Lubys – Could It Be?
The most original song in the competition, this would be out of place in the Eurovision Song Contest, but would be a step forward for future acts who want to be more innovative. The judges seem to have lost the initial love they had for this song, and the public haven't taken the time to embrace it.
Sasha Song – Never Felt Like This Before
What looked liked a sure thing a few weeks ago, Sasha is still standing, but it looks like he is just going to fall short. This is another good pop song, which hopefully with Sasha's name, will find life outside of the contest. The public were more on his side this week though.
The Show
By now the show has become an audio delight. It is such a shame that the end result will be just one winner. All the songs can be listened to over and over again, and Lithuania have to be complemented for such a high standard of songs. Next weeks songs are also just as good.
Hosts, Gabrielė Martirosianaitė and Ieva Stasiulevičiūtė  chose to wear white and a flowery cream dress tonight. The graphics used tonight to introduce the songs was also much improved.
The lucky judges who have been able to critique these songs are Ramūnas Zilnys, Darius Užkuraitis, Nomeda Kazlaus  and Gediminas Zujus.
This week, the international jury was also used. It consisted of William Wells, Denis Ingoldsby and Sean-Poul de Fre Gress.
The Results
| | | | | | | | |
| --- | --- | --- | --- | --- | --- | --- | --- |
| | Jury | International | Jury Total Converted | Public | Total | Place | |
| Ieva Zasimauskaitė | 8 | 5 | 7 |  7 |  14 |  4 |   |
| E.G.O | 5 | 7 | 6 |  4 | 10 | 7 | out |
| Greta Zazza | 10 | 8 | 10 |  8 |  18 |  3 |   |
| Gražvydas | 4 | 4 | 5 |  3 |  8 |  8 |  out |
| Gytis Ivanauskas | 3 | 3 | 4 | 10 | 14 |  5 |  out |
| Aistė Pilvelytė | 12 | 6 | 10 |  12 |  22 |  1 |   |
| Edgaras Lubys | 6 | 10 | 8 |  5 |  13 |  6 | out |
| Sasha Song | 7 | 12 | 12 |  6 |  18 |  2 |   |
Lithuania At The Eurovision Song Contest
In 2010 it looked like Lithuania would be another victim of the lack of funds. However, the TEO LT company provided the funding and Inculto arrived with Eastern European Funk. The five piece band were made up of members Jurgis Didžiulis, Aurelijus Morlencas, Sergej Makidon, Jievaras Jasinskis and Laurynas Lapė. Despite the shiny silver shorts, only dear friend Ireland, found the song worthy of 12 points. Lithuania were left in the semi again.
In 2011 Lithuania sent what was initially perceived as a dreary old fashioned song which stood no chance of qualifying. However come the night, Evelina Sašenko presented the song with a degree of class, the use of sign language and a powerful voice. The end result was that Lithuania received 81 points in the semi final and finished in 5th place. In the final the song gained 63 points finishing in 19th place. This was Lithuania's third best placing at that time.
Below enjoy the song that all Lithuania is voting for this year, I'm Like A Wolf by Aistė Pilvelytė.