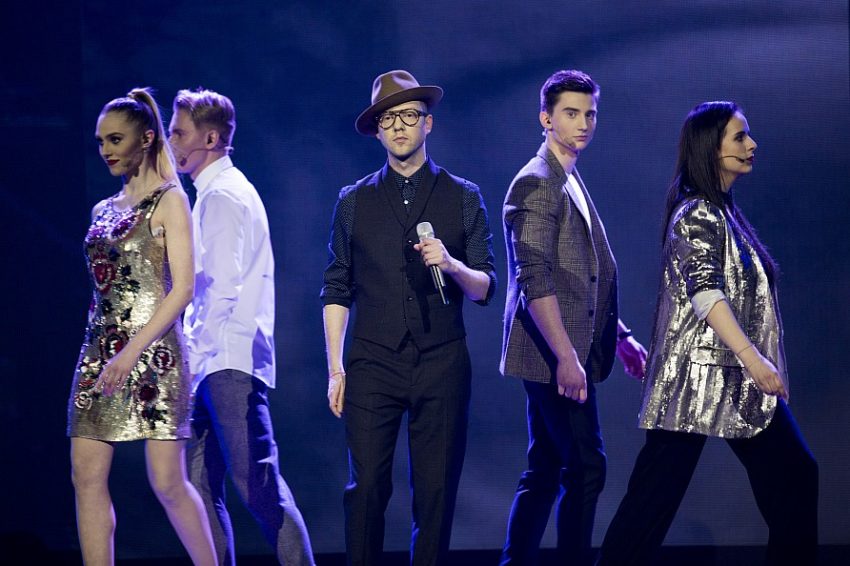 The second round of qualifying heats continued tonight with a line up of such strong songs. Similar to last week, EuroVisionary talked to the writers of the songs which could possibly be the Lithuanian Eurovision entry 2017.
Tonight's contest was so full of powerful performances, that it has become very difficult to predict which song will be the Lithuanian Eurovision entry 2017. Lithuania will perform in the second half of the second semi final on May 11th.
The Songs
Sasha Song – Never Felt Like This Before (Dmitrij Šavrov, Caleb Sutton, Justin Marcellina)
Eurovision royalty opened the show tonight, with flawless vocals and renewed confidence. The ending of the song simply soars, ensuring that his time round, performing first, is not going to be Sasha's downfall. The song has this 'joie de vivre' feel, which is best explained by one of the co-writers of the song.
Lyricist Caleb Sutton explains "Oftentimes people dream of doing something spectacular at a very young age. I am personally from a small town in the United States, yet I have always dreamed of being something phenomenal. I never knew that I would get the chance to write a song for a contestant at Eurovision, certainly I could recall so many people doubting the potential to change the culture that is around me. Well, Never Felt Like This Before. is an expression of the emotion while you live out your dream. The moment you get your dream job, visit your dream country, meet your dream artist or even win your dream competition, there is a feeling that is ignited that you have never before engaged. This is the essence of this song. There will be a moment in your life.. if you truly believe in who you are and the gifts that have been given to you, that you will reach your dream and that is a moment that denotes a feeling that you have never felt before. Even love is an elusive dream that is hard to grasp but once you do, you want to tell the world. That is what I had the pleasure of expressing in the lyrics of this song".
Valerija Iljinaitė – You Made Me Glow (Hans Olov Furberg, Karolina Furberg)
This song is just meant to be part of a Disney movie soundtrack. It just soars and soars until it reaches the end. Valerije is a gifted violin player, who we would have loved to talk to, but unfortunately she was hospitalized just before this show. EuroVisionary sends get well soon wishes. Despite this, Valerija managed to impress the judges with her powerful voice.
Co-writer Karolina Furberg is a beautiful upcoming Swedish actress. She composed the song with her father, Hans Olov, who is a rector in the town of Kramfors. Karolina told EuroVisionary "First of all I think it is safe to say, that my father and I, are both very happy that the reception to the song has been so positive, as that is never a guarantee. The song is about someone who brings out the best in you, even when you're at your worst, and we all need a person like that on your side. It doesn't matter if it's a parent, partner. friend or a neighbor. I think what we are trying to say is that it's O.K to be vulnerable and that we all have people that care about us".
Alanas Chošnau – 7 Days (Alanas Chošnau, Marco Lo Russo aka Rouge)
Marco Lo Russo is an Italian producer, who owns his own label, described as a music laboratory, Rouge Sound Productions. He met Alanas in 2015 and they have been collaborating on this song since. Of 7 days, Marco says "7 days describes the love affair that until it disrupts our lives we continue to live peacefully but from that point on, it becomes absurd not to think about the person who fills the thoughts and soul. The heart continues to beat, night flying with thoughts of love and the message we want to convey is: take it easy! Because the healthy love does well and makes us better people. The message of the song 7 days want to be simple but it is actually a metaphor to describe the inner search that every one of us has to make.To love a person we must  be free from conditioning. Love is not possession is not imposition is freedom."
Alanas gave another good performance of this retro techno dance number which is sure to be a big hit in the clubs of Europe this year.
Greta Zazza – Like I Love You (Jonas Thander)
Sometimes a song is just a song. An audio delight with no deep hidden meaning. Super Swedish writer, Jonas Thander co-wrote Lithuania's beloved entry last year, I've Been Waiting For This Night by Donny Montell. So – you say – what else – check out the introduction to Fifth Harmony's That's My Girl. That saxophonist giving it some blow is Jonas. It doesn't stop there. Jonas was involved with Taylor Swift's Shake It Off and Ariana Grande's Greedy, Focus and Bang Bang. The list goes on – he's worked with Eurovision favourites Pastora Soler, Sergey Lazarev and Magnus Carlsson.
So to this song, he told EuroVisionary "I really just wanted to make a three minute really modern mid tempo song. When it comes to lyrics I had the title in my head and then just wrote a story around it. It's up for everyone to make it their own, but for me it's about someone who's been hurt by love before, and now that person meets a new love but he/she is afraid to take the steps because of what the person's felt before".
Greta interprets the song as saying I Love You , but that's all that's coming from this love. Tonight in a costume of a furry crimson coat and matching boots that went on forever, we were seeing Greta Zazza-Zoom. She looked amazing. This song is so addictive and tonight's performance was a real step up from three weeks ago.
Aistė Pilvelytė – I'm Like a Wolf (Aminata Savadogo, Kaspars Ansons)
I'm not afraid of dark nights since I met…. I'm not afraid of dark nights. OK, a little insider Lithuanian joke there, but this song and act is deadly serious. Miss Pilvelytė is circling the competition ready to eat anyone prepared to get in her way this year. With winning songwriter Aminata behind her, she's howling to get to Kyiv. Co-writer Kaspars said of the song "This is another dark sounding song, which I generally like". Kaspars does not like to boast generally about his songs, but there are plenty going around in the Eurovision heats this year, and not just in Lithuania. Stand back, this pack is coming to get you.
Another contest that Lithuania could win is best hair. Everyone in these heats have shiny locks and Aistė is no exception with her dark shiny black hair, ready for anything that Greta will whip back at her. Tonight's performance was incredible compared to the poor start she got in the first round.
Evaldas Vaikasas – Fire Kisses (Ashley Hicklin, Kim Nowak-Zorde, Soren Pagh)
Unfortunately in a field of such strong songs, someone is going to get lost in the mix. It seems this dubious honour falls this week to Evaldas and his Fire Kisses. This is a very musical effort with a lot of instrumentation in it. The pop anthem is very similar to a lot of the songs, that Scarborough born, Ashley has in several finals. There was nothing wrong with the performance at all, but the power of the wolf  was still in everyone's minds.
Neringa Šiaudikytė – One More Night (Vytautas Bikus)
This is an excellent ballad sung by Neringa, which on its own would make a very good entry for Lithuania. However there are so many other good songs in the final, that it seems this one too, is going to get lost. This was not Neringa's first choice of a song for the contest. However, at the last minute, she changed her mind about singing a song by a foreign composer, and instead decided to choose a Lithuanian writer.
The ballad is already radio-friendly with a very strong chorus. Neringa used a lot of enthusiasm to sell the song, but maybe she already suspected that the odds were against her. Very good.
Queens of Roses – Fisherman (Christopher Wortley, Mahan Moin, Kaspars Ansons)
For anyone missing Girls Aloud, there's a new bunch of queens in town and they bring roses instead of  fighting unlike Cheryl and Nadine. Of Fisherman the ladies told EuroVisonary "The song can be understood in many different ways. Some see it as catching a fish of your life, like achieving your goals. We also heard opinions that the song is about guys fishing for ladies at night. We believe that we actually see this song about a fish, we all tried fishing and we have parents, husbands, boyfriends who love fishing. Why not take it literally then. Of course we also had a question about the initial meaning of the song, so we contacted the authors about what they really thought of when they wrote the song, and not surprisingly – the fisherman has symbolic meaning".
The authors told Queens of Roses " It's that magical moment: – the sun is about to rise and the night is disappearing. An old fisherman is standing alone, looking out across the water. Maybe he's watching the dawn or maybe he's somehow orchestrating it.. magically making it happen. And while he's dancing with the dawn. everyone else is waking up – ready for the day ahead. And absolutely anything could happen today. It's exciting. It's for each and every one of us to go out and catch a new experience, like the old man catching his fish".
So with that in mind, make sure you go out and catch your fish today, whatever that may be. The Queens know the song needs a second play – take that chance, and whether you think the song is genius or crazy.. they say they are cool with that. If Queens of Roses don't make it to Eurovision this year, we beg them, please, more of these crazy records.
Vidas Bareikis & Ieva Zasimauskaitė – I Love My Phone (Vidas Bareikis)
It's good to see Ieva getting a chance to show her lighter side on this song. Despite the outward novelty appearance though, singer-songwriter Vidas told us " I think this song is not just a song, for me it's like a social project. With possibilities to talk about phone addiction paradox. This problem is now an issue to so many people in the world and I think it is stupid just to criticize this. So I decided to make a joke out of it, to look to yourself from the inside. For me it's funny, that when I wake up, first thing I don't kiss my wife, but I see my phone and scroll through the news. So this song is like a social message with a funny attitude. Through music, through art".
Tonight the song was turned into a country hoe-down which worked well for the song. Joined by four dancers, this is perfect for a jamboree.
Kotryna Juodzevičiūtė – Love Shadow (Kaspars Ansons, Ashley Hicklin, Nicolas Moulin)
Kaspars Ansons, renowned Latvian writer, has three songs in this final, He told EuroVisionary that he likes this song very much. The reason says Kaspars "I'd like to tell you what Love Shadow means but sometimes nobody knows. I like the mood it sets because generally I like songs with dark moods". To show how much, the acts pay attention, Kotryna acknowledged this week that she's been seeing her act compared to Belgium 2015. So this week it was bye-bye to the white outfits, and all change into black, to better suit the mood of the song – but still to be reminiscent of Loic.
This song particularly shines during the chorus, when the backing singers join in. An unusual song, which like Fisherman, grows on you with each listen.
Golden Monkeys – Septyni dievai (Vilius Krivickas, Edvinas Gurevičius)
The Golden Monkeys are singing the only Lithuanian language song in this final. Co-writer Vilius Krivickas gives a very good reason, why this is so. "The song itself contains strong hidden meaning. Not everybody understands it. To me, it's not only a song. Every time I sing it, it reminds me of our Lithuanian ancestors, old times. It reminds me our old Lithuanian religion – paganism. It's an interesting feeling to move back to those days. The song itself was born not at once. It took time to meditate and compose it. Plus we have one of the oldest languages in the world and it's a big honour to represent it".
The judges appear to have put an end to the monkeys getting the chance to perform Lithuanian at Eurovision for now.  The show was very game of thrones and medieval, a nice change from the bombast of they other songs.
Mia – Sacrifice (Michael James Down, Will Taylor)
Mia is probably the unluckiest contestant in this show, having come second on two prior occasions. This year she has a real Scandi sounding song, which perfectly suits her voice.
Michael James Down, the co-author of Sacrifice, only has nice things to say about Mia. He told us "Sacrifice is about not compromising who you are for the sake of being with somebody else. The lyrics are very personal to me and it's so exciting seeing such a great performer like Mia interpret the song".
The Show
Our glamorous hosts, Gabrielė Martirosianaitė and Ieva Stasiulevičiūtė  chose to wear black and white tonight. The jury this week was made up of Ramunas Zilnys and Darius Uzkuraitis, who have the best job in the world. Joining the perennial pair were rock star Povilas Meškėla and conductor, Vytautas Lukočius.
The Results
| | | | | | |
| --- | --- | --- | --- | --- | --- |
| | Jury |  Public | Total | Place |   |
| Sasha Song | 10 |  2 |  12 |  5 |   |
| Valerija Iljinaitė | 6 |  5 |  11 |  7 |   |
| Alanas Chošnau | 8 |  1 |  9 |  8 |   |
| Greta Zazza | 10 |  8 |  18 |  2 |   |
| Aistė Pilvelytė | 12 |  12 |  24 |  1 |   |
| Evaldas Vaikasas | 1 |  0 |  1 |  12 |  OUT |
| Neringa Šiaudikytė | 5 |  0 |  5 |  10 |  OUT |
| Queens of Roses | 3 |  10 |  13 |  4 |   |
| Vidas Bareikis & Ieva Zasimauskaitė | 4 |  4 | 8  |  9 |  OUT |
| Kotryna Juodzevičiūtė | 7 |  7 |  14 |  3 |   |
| Golden Monkeys | 2 |  3 | 5  |  11 |  OUT |
| Mia | 6 |  6 |  12 | 6  |   |
Lithuania at the Eurovision Song Contest
In 2008 Lithuania reached a new low depth with Jeronimas Milius and Nomads In The Night. It seemed hard to believe that anyone in Lithuania would have voted this as their entry – never mind receiving votes from the European public. However their old count on Latvia awarded the song 12 points, and Georgia threw in 10. With 8 points coming from the United Kingdom, the song ended up with 30 points in the semi final. This was not enough to send the song to the final. At the time Jeronimas had been the lead singer of the band Soul Stealer for five years.
The following year, Lithuania sent probably their first serious contender to win Eurovision in Sasha Son. The song Love was very melodic and had a strong message in its lyrics. Lithuania had threatened to boycott the Russian hosted contest, due to perceived abuse of its power – so as you can see this has been going on for a long time. However in the end, Sasha was sent to Moscow, where he sang the last lines of the song in Russian.
Only receiving 23 points and finishing 23rd, the result was put down to Sasha having to open the show in a very strong year. Although Ireland gave the song 12 points in the semi final, they had lost a little love by the final, by awarding the song 7 points, which was its highest score, matching the 7 also received from Latvia.
Below you can watch the new remastered video of Sasha Song's entry Never Felt Like This Before.