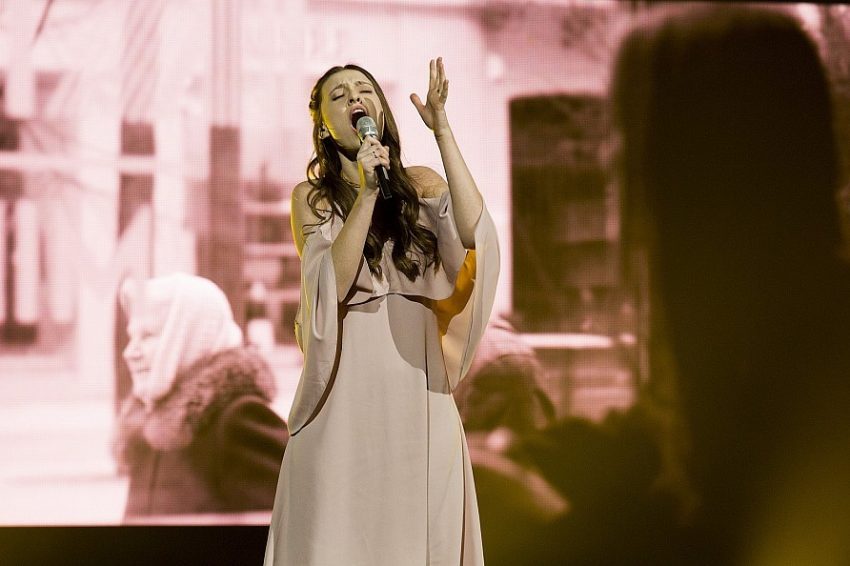 Tonight in Lithuania, the Euroviziojos Atranka continued with six more acts qualifying for what is understood to be the week before semi-finals.
We will need to see what LRT plan for next week, as there are now 12 acts going through to the next stage, so it is unclear now how the eliminations will proceed.
Let's for now though rejoice in the wonder they called the Atranka Šeši Savaitė. And Happy 100th Birthday to all you wonderful Lithuanians.
The Hosts
No legs on show this week for Ugne, as she decided to pay tribute to the Little Mermaid, but without the tail. How we long to be part of her world. Mantas went for a grey suit this week – sort of as if he was heading out to a Wimbledon tennis match, right after the Atranka.
The Songs
Živilė Gedvilaitė – Melody
With a beautiful song written by Rūta Ščiogolevaitė-Damijonaitienė, try having to spell that name all your life, Živilė opened tonight's show. During the Voice of Lithuania, Rūta promised she would write a song for Živilė to sing at Eurovision. The song is very personal to Živilė, as it maps out her life. Living through a divorce, Živilė felt the pain of her daughter growing up without a father. The song is a hope that they can forget the past and focus on future goals. Very Abba Slipping Through My Fingers.
Tonight's commission was very impressed with Živilė's performance. She was described as perfect, last time it was Disney, so she can be Lithuania's new princess, The judges did think the song may not be suitable for Eurovision but would let the audience decide Živilė's fate.
Audrius Petrauskas – In My Bones
The jury was delighted with Audrius's performance and hoped he'd proceed in the show. As a little bit less known as some of the performers, Audrius really impressed. There should be no doubt Audrius is on the Eurovision wish list. In My Bones is written by Ash Hicklin, writer of Tom Dice's Me And My Guitar. Audrius loved that song and is delighted that Ash has now written a song for him too. Audrius says that he really connects with the song and sends thanks to Ash for giving him the opportunity to perform this song in the competition. LRT have cut down Viktorija Fusedmarc's dress to make Audrius's red jacket. A great performance with the backing band very engaged in the song.
Agnė Michalenkovaitė – Going On
This is another really nice ballad which bursts out in the chorus. The song was positively evaluated by the judges, so they gave it one point. Agnė was told she has a powerful voice but is not squeezing out everything that she can. The judges did recognize though, that the vast amount of talented women in this show, may be a hinderance to Agnė. Agnė was dressed stylishly all in black and gave a faultless performance.
Saulės kliošas – Įkvėpk ir nepaleisk (Man gaila)
So Sun Clay, and Inspire and Do Not Stop were up next. The song positively convinced the judges that it was heading to Eurovision. Rain Of Revolution's results seem to have passed by these judges. These artists can be trusted, claimed 18th placed Vaidas, as the song is different and would be great to hear on the radio. Singing in Lithuanian was considered a plus this week. The Vaidas that didn't come 18th called the song, a feast.
Greta Zazza – Broken Shadows
Our judges declared that nothing needed to be changed here. That apparently included the awarding of only four points to a song they described as worthy of going to Eurovision. On reflection, the music reviewer said this was the fifth song today worthy of Eurovision. Don't say that Lithuania isn't actually trying to get it right this year, can it be possible. Monika's only reservation was the song was a bit standard, thought for a while, then called it perfect for Eurovision.
Rūta Loop – Positive Thoughts
Amongst all the personal stories, which are all fine too, it's also refreshing to hear that all this song is simply about is positivity. Rūta was thinking about how much negativity there is in the world today and felt it was time for a rethink. The song is about asking people to only concentrate on beautiful things and to give out more compliments. The hope in the song is that positivity can help people reach their goals. Of course, the only people that doesn't work on are our judges, who gave Rūta, only three points. Described by our foursome as a nice taste of sugar, they did actually admit that Rūta's smile had won them over.
Marija – This Love
No orchestra required in this electronic dance song. The judges weren't impressed first time around but the audience loved it. Seems they haven't changed their minds tonight as Vaidas the second said he lost all energy. The visuals also drew complaints, so it seems there's nothing Marija can do to please these people. Marija's over excitement and lack of experience is what seems to have annoyed the judges. To spite the judges, the public loved it.
The Roop – Yes, I Do
Having a different type of performance, worked in The Roops favour, or so it seemed until they ended up mid-table. Either the show was running too long, or the judges ran out of advice, as that was all they had to offer this time. Good for listening, they offered, rather pleased with themselves for coming up with another bit of opinion. The lead singer wore his pyjamas.
Elizabeth Olshey – Bejausmis
Monika particularly likes this dreamy song. She felt that Elizabeth was lacking courage in her performance. The originality of the song drew praise. The judges were delighted that artists like Elizabeth and Lukas from last week had added more depth to the competition. As a reward for delighting the judges, they awarded Elizabeth's song about staying away from senseless people, two points.
Monika Marija – The Truth
Monika angered the judges this week by not returning wearing the cardboard box she wore the last time. That may or may not be the Truth. Instead, she wore a stylish white suit, much more appropriate for the song. The classy performance pleased the judges. The song was described as perfect, as the judges pondered what else could be done to the song. Keep your hands off thought Erica Jennings. The judges took credit for Monika changing her costume, but the reality was any old fools would have told her the same.
Gabrielius Vagelis –The Distant
Gabrielius didn't quite take the judges advice about his costume to heart as he returned with the burgundy jacket. He did make some concessions though by returning to a more modest colour of trousers. The jury stilled called out his stylist. Why waste a top ten haircut on the, well unusual dress wear. This week in the battle of the men, the judges felt Audrius performance was better. Still, Gabrielus vocals were rightly described as strong. The song is perhaps a little too complex for Eurovision.
Ieva Zasimauskaitė – When We're Old
Now, the reason for all these really good songs getting low marks from the judges shows how strong the Lithuanian competition is this year. The other reason is that they are all up against this powerhouse, who has come so close with excellent songs in the past. This year Ieva has a heartfelt song, written, presumably about her husband. This delicate, beautiful song, sung at a quiet volume, captivated the jury. Monika cried. Vaidas said that he'd never seen Monika cry over a song before. A bare-faced lie as she was witnessed crying over Hungary's song in 2015. But back to Ieva – Congratulations were offered all around. Is it too soon?
The Judges
Monika Linkytė – female half of the This Time duo and Mia's best friend
Vaidas Baumilas male half of the This Time duo, and Mia's other best friend
Ramūnas Zilnys – music reviewer and Lithuanian trendsetter. He has grabbed a new sweater from the H and M January sales
Vaidas Stackevičius – director of mp3 and another Vaidas who lives in Lithuania
The Results
Lithuania At The Eurovision Song Contest
After Donny Montell's relative success in 2012, in their minds Lithuania thought they should send a similar entry the following year. However Something turned out to be no Love Is Blind.
Andrius Pojavis looked as if he'd just got out of bed, when Something placed 9th in the semi-final. This was the first year the producers decided the running order. They must have rejoiced when they were able to throw this song into the no hope of winning second position. Sure enough, Someday placed 22nd out of 26, putting Lithuania back tothe placing it was more used to.
Below enjoy the Lithuanian version of When We're Old