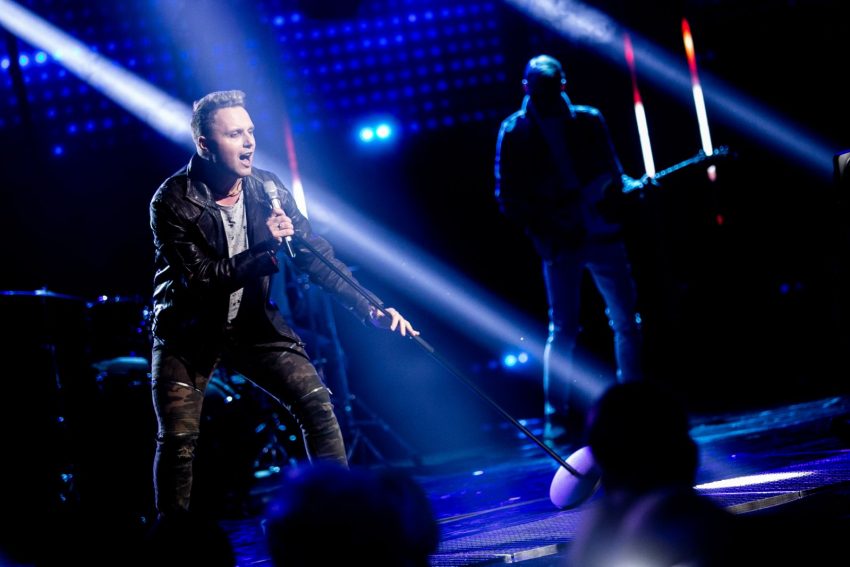 Eurovizijos Atranka 2019 returned tonight, after a one week break. The search for Lithuania's 2019 Eurovision entry continued with a further six acts safely into the next round, while seven unlucky contestants saw their dreams dashed.
This week the competition saw several old favourites return along with a singer who sung backing vocals for Donny Montell at the 2016 contest. The show was filmed on January 9 2019 when the judges awarded their points. Since then the third show has already been filmed. Further, Monika Marija announced she will be performing two songs, and Sasha Son and Erica Jennings have been added as future contestants. For now though, it's week two, so labas vakaras and off we go.
The Hosts
Each week the hosts will be Giedrius Masalskis and Gabrielė Martirosianaitė. Gabrielė was dressed for the summer in the shortest dress possible, obviously unaware of the -2 degree temperature outside.  Maybe it was a black towel as it was accentuated with two giant bath sponges. Giedrius plumped for all in black with a maroon jacket and black handkerchief
The Judges
Tonight's judges were serial adjudicator and professional music reviewer Ramūnas Zilnys. He was joined by singer of the group "Pieno lazeriai", Giedrė Kilčiauskienė, and singer Rasa Bubulytė. If you looked away though for a minute, you'd be forgiven for thinking Surie was there, sitting beside little Swiss girl Heidi, all grown up.
The Songs
Tiramisu – The Smell Of Your Eyes
Despite the eye-catching title, the judges seemed to be unimpressed with Lithuania's version of Naviband and The Common Linnets. The nonsense seemed to hide, that behind the façade, the duo and their savage queens, were actually very gifted musicians. The judges didn't like it and duly awarded the act, one of the three zero points, they were handing out this week. Surely the man in the golden mask and leather coat was worth a point at least, and that Lithuanian public are bound to want to put that injustice to rights. When it finished the audience seemed to pause for a while, not knowing if they were relieved it was over, or didn't want to end up clapping for it by mistake.
Giedrius Nakas – Klaidos
The judges were a little surprised that talented jazz musician Giedrius would take part in the contest. However they were very fond of the song which featured added vocals from a delightful female duo, who may have included Isabella Starinskaitė. They wished for the vocals to be a little stronger in subsequent rounds. This was a very pleasant ballad to be enjoyed best at a Vilnius piano bar.
Justina Žukauskaitė – Hit Me Harder
Returning from last year, Justina was the first of many strong female vocalists this week, with long hair. The problem for the judges this time was that Justina needed to have a little bit more around her on the stage. However in general, our trio seemed to enjoy this performance. The song is a potential grower so you'd need to hear it a few times, but when our delightful LRT backing singers came in towards the end, the song came to life.
Lukas Bartaška – River of Hope
One of our female judges wasn't so keen on jazz music, of which Lukas, was the second performer of that genre this evening. The judges were curious to see how Lukas would come over on television.  Well he came over very well, dressed in a suit, that looked like he'd just come from an audition from the new Mary Poppins movie. A mouth organ interlude added to the appeal and whilst unlikely to be Eurovision 2019 winner, it was very enjoyable. The lyrics of the song were also highly praised.
Paola Hart – I'll Be Alright
Another Lithuanian female singer blessed with a golden voice. Paola did not offer enough drama for the judges tastes. This was a fault they have aimed at Ieva in the past, so hopefully Paola will take the advise and come back stronger. The judges though were pretty sure Paola would be back for the next heat. The song had a very powerful chorus, that has the potential to be well loved over Europe. Paola has been living in Scotland for a while and has picked up wearing knitting needles in her hair, which is something all us Scots do.
Valdas Lacko – Dare
Valdas, returning for a fourth time, just can't seem to do anything right for the judges. This very commercial and well sung song didn't meet with much approval. Valdas was wearing a yellow leather jacket, and a top ten Lithuanian haircut – the first of this season, and sang a song that One Direction could have had a chart topping entry with. The judges urged Valdas to sing more traditional type songs, which they thought suited his voice more. Therefore it seems likely Valdas is not heading to Eurovision again this year, unless these Lithuanian's sitting at home text the correct digits for him.
Emilija Gogolytė – Riddle
The judges cleverly, or so they thought, claimed that Emilija was a puzzle just like the title of her song. The judges loved the way that Emilija played to the camera, and generally were fond of the performance. They felt though that a bit of work was needed to get all the way to Tel Aviv. This was as jazzy as jazz can be with the finger clicking and the New Orleans sound. Emilija cut quite the groove which the public liked even before they'd heard it. Oh those Lithuanians.
Edgaras Lubys – To the Sky
Edgaras's creative song reminded the judges of 1993 and their childhood. That would mean it was back in times before Lithuania even entered Eurovision. However the song sounded more aligned with the early eighties when Yazoo and A Flock of Seagulls ruled the airwaves. Despite the retro feel, this song belonged right now and was by far the most lively of the evening, and indeed of both weeks so far. A true pop star. The judges had no doubt that Edgaras would be back in a few weeks with this song.
Donata Virbilaitė and Bing Bang – Doing the Loop
Lithuana's answer to the Spice Girls were next. The performance was described as enthusiastic but the judges were still reluctant to award Donata many points. Totally missing the point, the judges said this type of song was very popular, which then usually leads to doing very well at Eurovision, so they gave it one point. Donata is another great singer, but this jazzy song ( yes again) was missing something, and in fact was reminiscent of that awful Dutch entry from Mrs Einstein.
Gražvydas Sidiniauskas – Another Movie
Having painted the sky blue in 2017, Gražvydas is back with another song and another movie. The singers nerves seemed to be present although the judges didn't know why for such an experienced singer.There appears to be some room for improvement so the judges have left it to the public to see if they want to see this song again. This has an electronic feel to it and another song that probably needs a few listens.
Juna – Strength of a Woman
This performance was described as simply amazing. The judges loved the Donny Montell and Echoes penned song. This was the best of the week and heading straight to the finals, they declared. Once again showing off the immense amount of female talent in Lithuania today. Juna was dressed with the left over police tape from Gaga's Telephone video. Also very influenced by Lithuanian darling of the last two years Paula, perhaps there wasn't room enough for both of them this year. Juna was one of the four backing singers for Donny in 2016 in Stockholm.
BANZZZAI – I Don't Care
BANZZZAI can't fool us – we know who you are despite the dyed grey hair and beard. The Twosome/Justin3 stalwart tries here with a catchy fun little song, but after listening to eleven other songs and having come off a good one from Justina, the judges are just not in the mood for it. In fact the judges were irked that BANZZZAI has so much time that he was able to appear twice in this years competition. The dancing was applauded but the judges were out to do what they could to make sure this was a one time appearance.
Original Copy – Power of Sounds
Finally after a marathon, this group had the unfortunate task of closing a long show and with the odds against them, the judges praised their energy and fun. However they felt that this was not clicking with the audience. The group was praised more than the song. Audrius Petrauskas made his second appearance of the year, with four delectable ladies, and surely must get to represent Lithuania some day Then this weeks show came to an end.
The Results
J

udges

Public

Total
Position
Tiramisu
0
8
8

Giedrius Nakas

4
0
4

Justina Žukauskaitė

2
4
6

Lukas Bartaška

8
5
13
4

Paola Hart

8
0
8
6
Valdas Lacko
0
3
3

Emilija Gogolytė

6
10
16
2

Edgaras Lubys

10
12
22
1

Donata Virbilaitė

1
6
7

Gražvydas Sidiniauskas

5
1
6

Juna

12
2
14
3
BANZZAI
0
0
0

Original Copy

3
7
10
5
Lithuania In The Eurovision Song Contest
Although Lithuania debuted in the contest in 1994, this will be their 20th appearance at Eurovision. This is due to a four year gap, between their first entry in 1994 Lopšinė mylimai by Ovidijus Vyšniauskas and and their first scoring entry Strazdas by Aistė Smilgevičiūtė in 1999, and several relegations during the "not scoring enough points" years of the early two thousands.
Still looking for an entry of the calibre of We Are The Winners, which took them to sixth place in 2006, Lithuania is the only Baltic state waiting for a win, when they broke the Estonia-Latvia-Lithuania streak in 2002 when Happy You by Aivaras placed 23rd and saw them miss their chance to participate in 2003, when Turkey achieved their only win.
Six of the Lithuanian entries in the Grand Final have placed below 20th position, while a further six have failed to qualify since the introduction of semi finals in 2004. Let's hope for a better placing this year.