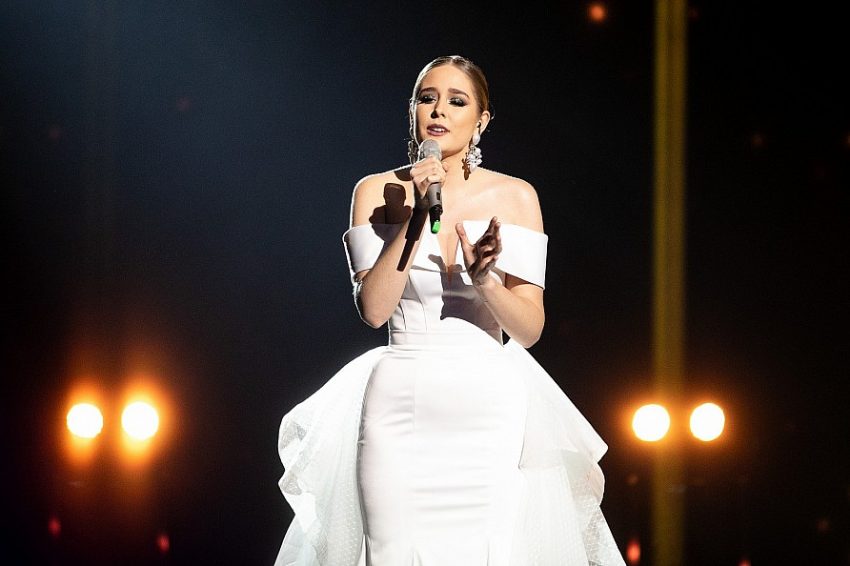 Finally tonight, LRT broadcast the last of the heats to find a song to represent Lithuania at the Eurovision Song Contest 2019. Everyone was looking forward to hearing Sasha Son's new song in Eurovizijos Atranka but in the end he was a no show.
So no-one knew how many song would be in the final heat. In the end eleven acts competed, with six going through to join the other eighteen songs, in the next two week's semi-finals.
The Hosts
Our charming hosts Giedrius Masalskis and Gabrielė Martirosianaitė are working up quite the double act as they get used to working with each other. A white jacket and black ensemble was Giedrius outfit of choice this week. Sadly Monika's spider web in the hair fashion statement hasn't caught on, with Gabrielė choosing a tin foil dress instead.
The Judges
Tonight's judges were superstar Ramūnas Zilnys, who is practicing for when the next opening becomes available in America's Supreme court. His partners in crime this week were Erica Jennings SKAMP colleague, Vilius Alesius and singer Jurga Šeduikytė
The Songs
Valerija Iljinaitė – Scars Are Beautiful
Valerija, the first powerhouse female vocalist of the evening, has a very personal and easy relatable song. The dramatic yet dark performance was praised, along with the addition of the very nimble dancer. The opening monologue was used to create a dynamic effect. This is a song you need to hear a few times before really getting into it. Landed with the disadvantage of opening tonight, this could get accidentally lost.
Indrė Juodeikienė – Bad Option
This was a light dance song, where Indre was accompanied by two slithery dancers, never a good idea at Eurovision, but still many acts fall for the ploy. This was a very nice little song, maybe too lightweight but definitely one that could be transformed into a twelve inch mix for the club. The ensemble all looked as if they were enjoying themselves, as was the audience.
Alen Chicco – Your Cure
Alen gave a very original performance. He was accompanied by a man in a wheel chair who thanks to Alen's cure was able to rise from it and dance. Tasteless or genius depending on your opinion. Alen's boldness was praised and the judges thanked him for giving them something a little different. Alen has an exceptionally good voice. Midway he took to the wheel chair to allow the dancer to take the stage.  Highly entertaining.
Queens of Roses – Runaway
The queens who used to be 4 Roses, then became three, and are now two, tonight added to the confusion by adding three new roses for tonight. So now there are five – confused, don't be the girls are what's missing since Girls Aloud split up. The vocals here were perfect and a joy to watch, all dressed in red. Surely they have to represent Lithuania one day,
Živilė Gedvilaitė – Learn from Your Love
Živilė is another great female Lithuanian singer who was removed from last years contest too early. This is not the greatest song but listening to Živilė sounds like the taste of sweet honey. Surprisingly the judges agreed. She shone in a bright red dress.
Elizabeth Olshey – Never Enough (Of Your Love)
Then came Elizabeth, yet another great Lithuanian talent. They are pulling out all the stops tonight, what a shame anyone has to be eliminated tonight. Two dancers accompanied Elizabeth which the judges liked, but again Eurovision doesn't usually reward  such staging. The judges though said that they made Elizabeth look as if she lacked energy. They awarded Elizabeth zero points, a grave injustice.
Gabrielė Rybko – Lay It Down
More slithering dancers to accompany Lithuania's answer to Rihanna. Yet another power vocal, all the ladies should get together to form one group so they can all get a chance to go to Eurovision. This was a very modern song but yet again our judges totally missed it. The public at the point of performance had given this song zero points for some odd reason. It turns out this song was disqualified.
Saulės Kliošas – Laiko mašina
The judges who have sent so many classics in the past had the audacity to tell Saulės Kliošas that they wouldn't be ashamed to send them to Tel Aviv. This group were one of the early favourites last year but dropped out of sight. The old Eurovision favourite of people standing on stage wearing a bicycle helmet made a welcome return which should help its chances. Sung in Lithuanian, this was off-beat as expected but was good enough to watch and listen to.
Soliaris – Song of My Life
Not sure if the clothes were praised or scorned in this performance, but the young man who had his back to the audience didn't go down too well. Who comes up with these ideas – are Twosome involved here too? The song though after all that was highly presentable and so by giving the song seven points tonight, along with two others, the audience are definitely the deciding factor tonight.
Monika Marija – Light On
With only seconds to spare, Monika managed to get her hair untangled from last weeks cob web in time to turn the Light On. This is a song you think you've heard before, but you probably haven't unless you've been catching up with it on YouTube. What's to say, it's just perfect like Criminal was last week, but it didn't win its heat. The only disappointment was that Monika was wearing a half sensible dress, no gimmicks like a light bulb. nothing. Hope this doesn't do a Zazza and peaks too soon.
Henry & Tommy Modric – Neverpart
So we come to the last song Neverpart, but part we must if we want to get to the semi finals next week. In the judges words how about ending with some jazz gourmet. The sound was a little low thought the judges, but were equally pleased with the duo's effort. Not sure if this was a serious effort or some fooling around to end the show, but with that it is was labas vakaras to the end of the first heats.
The Results
| | | | | |
| --- | --- | --- | --- | --- |
| | Judges | Public | Total | Position |
| Valerija Iljinaitė | 2 | 1 | 3 | |
| Indrė Juodeikienė | 1 | 2 | 3 | |
| Alen Chicco | 4 | 8 | 12 | 6 |
| Queens of Roses | 7 | 4 | 11 | |
| Živilė Gedvilaitė | 7 | 5 | 12 | 5 |
| Elizabeth Olshey | 0 | 6 | 6 | |
| Gabrielė Rybko | 3 | 0 | 3 | |
| Saulės Kliošas | 10 | 3 | 13 | 4 |
| Soliaris | 7 | 7 | 14 | 3 |
| Monika Marija | 12 | 12 | 24 | 1 |
| Henry & Tommy Modric | 8 | 10 | 18 | 2 |
Lithuania In The Eurovision Song Contest
This year will be the 20th appearance for Lithuania at the Eurovision Song Contest. Long considered one of the lesser successful countries at the contest, Lithuania has been pulling out all the stops more recently.
Last year the head of delegation confessed that there had never been so much press interest in a Lithuanian entry than with Ieva Zasimauskaité and the song When We're Old. Despite very strong competition in her semi final, Ieva made it to the finals and came 13th, which is the third best placing ever for the country.
This year Lithuania has an excellent draw. Historical voting from United Kingdom, Ireland and Latvia put them in a semi where a lot of their best friends vote. Add many ex-Soviet countries who have also been kind to Lithuania in the past, can they Dare To Dream, that they might even win their semi final this year. Let's hope in three weeks time, they have picked the right song.