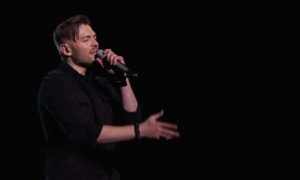 Tonight the second semi final of the Eurovizijos Atranka 2019 took place, sending four more acts to join last weeks qualifiers, into next week's final.

Eight acts will now compete in the final to see who will be chosen to represent Lithuania at the Eurovision Song Contest 2019.
The  Hosts
As usual our hosts were Giedrius Masalskis and Gabrielė Martirosianaitė. Tonight's show opened with a sombre musical tribute to Lithuania's service men. What a joy to see Gabrielus and Kotryna as the interval act.
The Jury
Tonights jury were
Ramūnas Zilnys – music reviewer whose bottom is stuck to that lead jury seat
Vytautas Bikus – author of last year's Lithuanian entry
Ieva Narkutė – Lithuanian singer songwriter
Deivydas Zvonkus – from the group B'Avarija
Sigutės Stonytės – Lithuanian legend
The Songs
Original Copy – Power of Sounds
This performance despite being about The Power, has very little power about it whatsoever. This is a pity because the idea of four women and one man is indeed original. With a better song there is definitely potential, but this song is a non starter. The group were all dressed in black tonight and there was definite improvement from the semi finals. Maybe a little more rehearsal they can have a great entry next year.
Živilė Gedvilaitė – Learn from Your Love
Živilė was carried on to the stage tonight and sung part of the song in her beau's arms. Dressed in a bright red dress, once again her vocals shone above the tune. This probably isn't going to be enough to make the final, but it is always good to heat her vocals
Šarūnas Mačiūlis – Traukinys
Šarūnas seems like the good old dad who wants to impress his children by appearing in the Atranka. This guitar driven melody about a train is definitely one from the nineteen seventies, but the song is quite easy to follow.
Paola Hart – I'll Be Alright
For some reason the public weren't to keen on this song first time round, so the jury had to save it. The verses may be a little weak but the chorus is a blast of power. Paola was all in white tonight, while a dancer pranced behind her. This was a vocally perfect performance and surely the judges will recognise this again tonight. Problems with the first performance, gave this one a second showing.
Alen Chicco – Your Cure
A very original performance again from Alen. In his red PVC boots and red costume he put on a terrific show accompanied by a dancer and several backing singers. The audience loved it.
Aldegunda – I Want Your Love
Coming out from  under that radar, this act and performance is going to crawl right under your skin and never leave. This could well end up being Lithuania's entry this year with its understated performace, taboo subject and irresistible melody, Don't; count this one out, very likely to be seen in the final. Aldegunda was joined by two dancers tonight which greatly enhanced tonight's performance.
Soliaris & Foreign Souls – Song of My Life
It's been a while since a yellow checked suit appeared on TV but here it was tonight. The backing group were having a ball with this song, dancing along to the rhythm. Some rapping in the middle altered the mood but kept it upbeat. A great collective work.
Monika Marija – Criminal
Indeed Monika is a criminal if she doesn't let this get through to the final. This was a fab fave before Light On came on the scene. Nice ti have two songs good enough to go to Eurovision that you can just throw one away. Let's hope it doesn't backfire.
Antikvariniai Kašpirovskio Dantys – Mažulė
This song has a bit of a Turkish beginning, before it bursts into whatever its trying to be. The collective as a group work well together, but on what planet is this a potential Eurovision song. Pure nonsense to be quite frank, and following the classic performance that came before it, great there's a lot of diversity but that's about it. Watch it sail to the final.
Jurijus – Run with the Lions
This gentle soft song seems to be the main contender to stop Monika  from heading to Israel. Jurijus has a very broad vocal range and uses it throughout the song. The song builds gently without throwing it in your face.  Jurijus was all in black again tonight. A grower which probably has lasting appeal but is it instant enough for Eurovision.
MaNNazz – Blind Bird
This is as indie as it gets at Eurovsion, and of course can come from nowhere else but Lithuania. Dark mysterious and with absolutely no nod towards Eurovsion, this is a slow moody number. The beat box in the middle further enhances its originality. One of a kind.
Jurgis DID & Erica Jennings – Sing!
The problem with this song, is that they want you to Sing, but sing what. This is the type of song that thinks its so clever, but it's unbearably grating. More annoying because Erica is a fantastic singer. Someone seems to love it though. Jurgis had a wonderful Lithuanian bow tie on, though.
MaNNazz – Blind Bird
The Results
| | | | | |
| --- | --- | --- | --- | --- |
| | Jury | Public | Total | Position |
| Original Copy | 3 | 1 | 4 | 10 |
| Živilė Gedvilaitė | 0 | 0 | 0 | 12 |
| Šarūnas Mačiūlis | 0 | 5 | 5 | 9 |
| Paola Hart | 2 | 0 | 2 | 11 |
| Alen Chicco | 6 | 6 | 12 | 5 |
| Aldegunda | 1 | 4 | 5 | 8 |
| Soliaris & Foreign Souls | 4 | 2 | 6 | 7 |
| Monika Marija | 10 | 7 | 17 | 3 |
| Antikvariniai Kašpirovskio Dantys | 10 | 8 | 18 | 2 |
| Jurijus | 12 | 12 | 24 | 1 |
| MaNNazz | 5 | 3 | 8 | 6 |
| Jurgis DID & Erica Jennings | 7 | 10 | 17 | 4 |
Lithuania In The Eurovision Song Contest
This will be Lithuania's 20th participation in The Eurovision Song Contest. They are the only Baltic state still awaiting their first one.
After debuting in 1994 and scoring zero points, it was not until 1999 when they made their second appearance, and scored 20th place with Aiste and Strazdas.
Tonight's contestant Erica Jennings led the group SKAMP in 2001 where a much improved 13th place was reached with the song You've Got Style.
In 2006 the country achieved its best  placing with LT United and We Are The Winners, which placed 6th.
They have yet to match that achievement .Last year Ieva Zasimauskaitė  came 13th with When We're Old.