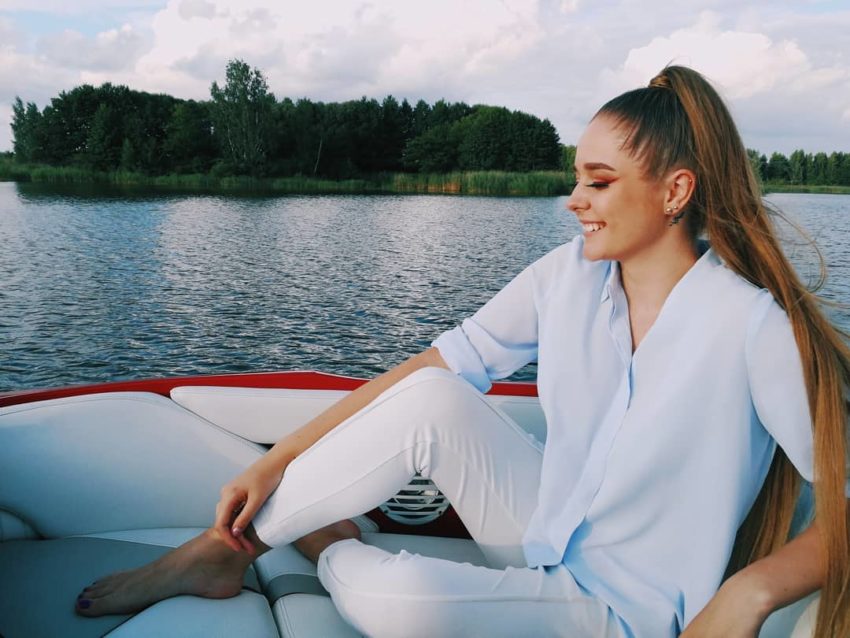 The first semi final of Lithuania's Eurovizijos Atranka 2019 took place tonight with four artists making it to the final in two weeks time. For eight more acts it was the end of the line for this year.
For the last four weeks all the possible entries for Lithuania have been recorded and broadcast at later dates. Tonight the semi final was live, so the public received no hints in advance what the judges had voted for.
The Hosts
Giedrius Masalskis and Gabrielė Martirosianaitė continued their Saturday night jobs, which will be coming to an end soon. Gabrielė wore a purple dress where the material didn't quite know where it wanted to be. Giedrius wasn't quite so daring with his fashion statement, though a suit and sneakers?
The Judges
Thankfully the labas vakaras's were kept to the minimum as it was revealed, horror of horrors there was to be five judges. All five sitting there like wolves ready to get their jaws into the contestants. First of was old chestnut, Ramūnas Zilnys who did actually look a lot older this week. Judging these songs is doing nothing for him.
Next up was keyboardist, Arnoldas Lukošius, which if Ramūnas looks round at, he can see the Man In The Mirror. We then had Vytautas Bikus, and since he wrote When We're Old, he knows something about getting a song to Eurovision.
Next up was Liza Minnelli, but out hosts introduced her as Julija Ritčik. Some of you may remember Julija's classic Eurovision entry Love Or Leave, which in an ironic turn of a group name, came 21st in 2007 with 4Fun.
Finally our jury was completed by famous DJ Jonas Nainys who swore he'd be spinning these twelve songs at his next party.
The Songs
Emilija Gogolytė – Riddle
Young Emilija could be one to watch for the future, in jazz clubs, if this song is representative of the songs she usually sings. This is a good attempt with the beloved backing singers bump bump bumping along. A nice lacy black dress went well with the song, and the performance was miles better than her first attempt. Two tiller girls danced in the background. Not an extremely memorable song but Emilija is confident in her performance and keeps you interested for the full three minutes.
Henry & Tommy Modric – Neverpart
The first word that comes to mind is Why? Then it hooks you in for fortunately its short duration. Not sure if the song is serious or not, probably not but remember this is the country that thought Nomads In The Night and Eastern European Funk was worthy of sending. Arnoldas loved it as the other contestants looked on from the green room in horror.
Saulės Kliošas – Laiko mašin
The Sun Clays always seem to be a favourite of the judges too and its a little hard to see why. Maybe its a Lithuanian thing, but the song just meanders along until its three minutes are up. Still twelve points for sure for the boots which never ended. The stooges were back with the bicycle helmets on their heads. Perhaps a native Lithuanian could explain why. The public put a bit of the kibosh on this first time round, so if they stay true this time, this will be the song's last week.
Edgaras Lubys – To the Sky
That electronic keyboard sound and you knew it was time for Edgaras. This would sit really well on a synthesized eighties compilation album. Edgaras is another great Lithuanian talent, always coming up with something different. This should make it to the final. This is the first song of the night with any life in it. All lights, keyboards and great vocals.
Glossarium – Anyone
Is heavy metal, is it rock, but AWS and Lordi have a lot to answer for this year. In this show its a wake up moment for all those audience members that have fallen asleep. If you like this type of music then you'll want it to win. If not its removal from the contest will be your dream come true. At the same time this was being performed Hatari were doing their thing in Iceland, which shows how much musical diversity there is in Eurovision.
Migloko – Rožės
Talking of diverse, Lithuania is always unpredictable in what it sends and this, either alternative, or a sixties record B-Side is different enough that the judges will drool all over it. Very minimalistic in the music and original enough to reach the final. The judges compare it to Godo from last year which is no bad thing. Of course not a Eurovision winner though, but that won't stop them making a go of it.
Twosome – 1000
A bit of fun after the commercial break to get everyone back into the spirit. Despite the novelty of the song, this has been well choreographed, and the backing ladies have a difficult job to reach the high notes. Justin has the same issue but doesn't seem so bothered about quite getting there. A good number to open part two but maybe not a Eurovision winner. An earworm nonetheless.
Lukas Bartaška – River of Hope
More jazz like music, proving very popular this year. The star here is Lukas's voice which is so powerful and strong. The song is missing a huge choir which could lift it to where it could go. The mouth organ keeps the song on a mellow footing all the way through. Lukas could silence a noisy bar to make people listen. And the icing ion the cake, the song was sung all in sepia.
Justina Budaitė-Junà – Strength of a Woman
This is an entry that offers so much with the involvement of Echoes and Donny Montell but it just misses the mark. There is no problem with Juna's singing or very assured performance , but it's not the stand out hoped for. This probably won't be the entry this year, but the team need to keep working together as there is so much potential. Juna wore a pink leopard patterned co-ord. She had four male dancers behind her, who have been seen in the Eurovizijos Atranka before.
Monika Marija – Light On
Well you can say all you like that Monika won't win or this is just a fan favourite. But here's the facts, this is world-class, Eurovision or not. Monika's singing is up there with Celine and Whitney. The song is catchy, meaningful and worth repeated listens and just a whole league above all the others. If Lithuania are serious about really winning Eurovision, they have their chance at last. Will they follow through. Monika's hair was in a bun this week, She was accompanied by four terrific backing singers. Simply the best.
Jurgis Brūzga – CTRL ALT DELETE
This is nowhere near as good as 4Love from last year, which is a shame because Jurgis has the potential to represent Lithuania, someday, but it will be unlikely with this. The tune is a bit off beat and not very cohesive. The break in the middle seals its fate, but hopefully Jurgis will be back, another year with a true smash. Tonight he was helped by four male dancers who looked like they were all going out to rob all the houses in Vilnius after the show.
Cheri – Again
Cheri seems to be the underdog this year, but this is a very good attempt and easy to see why she made the semi finals. She has gotten rid of the unfortunate trousers and is here tonight in a sleek black trousers and top. Lights shone her name in the background and was easy to mistake they just said CHER. A nice song to end tonight's contest.
The Results
| | | | | |
| --- | --- | --- | --- | --- |
| | Jury | Public | Total | Position |
| Emilija Gogolytė | 1 | 10 | 11 | |
| Henry & Tommy Modric | 7 | 7 | 14 | 4 |
| Saulės Kliošas | 5 | 2 | 7 | |
| Edgaras Lubys | 4 | 6 | 10 | |
| Glossarium | 0 | 1 | 1 | |
| Migloko | 7 | 3 | 10 | |
| Twosome | 0 | 0 | 0 | |
| Lukas Bartaška | 2 | 8 | 10 | |
| Juna | 10 | 4 | 14 | 3 |
| Monika Marija | 12 | 12 | 24 | 1 |
| Jurgis Brūzga | 10 | 5 | 15 | 2 |
| Cheri | 4 | 0 | 4 | |
Lithuania In The Eurovision Song Contest
For a country so proud of their We Are The Winners, so much so, they still play  it in their weekly Atranka, Lithuania are now the second longest running competing country to never make the Top 5, with their Winners song finishing in 6th place in 2006. This remains the country's best placing 13 years later.
Donny Montell has probably become the best known Lithuanian act, outside of his homeland thanks to his two relatively successful attempts with Love Is Blind in 2012 and I've Been Waiting For This Night in 2016.
On ESC radio's top 250 favourite Eurovision entries, last year, Donny was the only entry from Lithuania in the chart. This year Donny fell out the chart, leaving last years entry When We're Old by Ieva Zasimauskaité to be the sole representative for Lithuania at number 61.
Will this year become the one that turns Lithuania into become one of the major players.