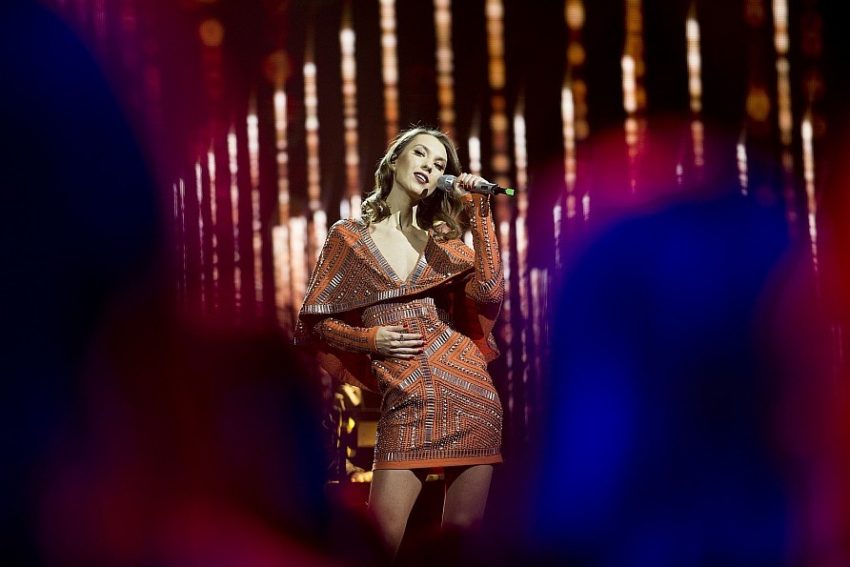 Tonight the Lithuanian Eurovizijos Atranka continued after a one-week hiatus, as last week, Lithuania celebrated its 100th year as a nation. The singers, songs, hosts, judges, and haircuts have all returned.
The Hosts
Ugnė Skonsmanaite was dressed in a short-ish black dress with shimmering silver sequins. Manto Stonkaus was all in black. They are doing a terrific job between them. Good choice LRT.
The Singers and the Songs
Juozas Martin – Don't Give Up
Opening tonight's extravaganza, song nulys vienas, Juozas was told that his song is very creative.The transitions in the song were applauded by the judges, as was the production. The ending though caused disappointment through the lack of a climax. Juozas was given the ultimate comparison – Ed Sheeran. Juozas wore a better hat than Ed though. Good opening number.
Justina Žukauskaitė – Love Doesn't Lie
Justina told Eurovisionary that the song is mainly about falling in love. The song reflects the emotions of how someone's mind goes crazy and the body works like never before. Justina continues that once this happens things will never be the same. In that moment you want to stop everything and enjoy your feelings. Justina says that every person who knows what love is can relate to the song and lyrics. The jury said they didn't understand the song. A-ha.
Elvina Milkauskaitė & Balys Kulikauskas – So Long My Love, My Lover
This Phil Spector type song seemed valued but Elvina and Balys were criticized for the overall production. The song about separation had also been heard before. It was then revealed that the song was written by Aminata. Suddenly its genre was described as a different style for her. Balys wrote a letter behind Elvina's performance but was warned not to do theatrics. Balys told Eurovisionary that he trusted his own instincts with the song and everyone should look for their own truth in it. Balys said that his heart has been broken so many times, it feels like it's now made of steel.
LJ – Over Now
Lukas performed a rock song, which is apparently Vaidas's favourite genre. Despite this, he said that there is no place in Eurovision for a song like this. Lukas was told that his music would be more appropriate for live rock concerts. Ramūnas said the performance was so 1987, from the clothing to the posturing. Even in 1987 it would seem unlikely this would score any points at Eurovision.
Rūta Kotryna  – Ghost
Rūta's song was described as very stylish and pleased the judges. The vocal was described as low but would attract a wide audience. Despite this, vocal improvement was advised. Rūta was also asked to rethink the visuals, and rehearse in front of a mirror. This was a slow-burning song, which had some spooky appeal.
Saulės kliošas – Man Gaila
The judges appreciated the use of electronics in this song. However, the group was advised to prepare an English version of the song. Also, lead singer Juste at times gave the appearance that she didn't know what to do. Then another judge said they were glad the song was in Lithuanian and in fact it was the band that was static. The judges awarded this top marks, but in week two already the public disagrees.
Twosome  – Hello
Anyone wanting to learn how to say Hello in 35 languages – this is your song. Despite its comedic undertones, our grumpy faced judges lapped this up. Possibly referencing, Lithuania's best scoring performance to date, We Are The Winners, the judges said comedy usually doesn't do well in Eurovision. Twosome are Justin3's lead singer, Justinas Stanislovaitas and his mate who he taught to sing in three weeks. Behind them was the air drummer from last week, and an inflatable flamingo. We Are The Winners fades into history.
Paula – 1 2 3
Last year's breakout star, Paula returns with 1 2 3. For some reason, the judges thought the Balkan countries would like this, so too bad, western countries. Also, Paula was told to find a place to dance. As per last year though, Paula was told she has a song that would be popular around the world. Last year they placed Paula last in the final, remember the song  Let U Go, despite the fact they thought it too could be a worldwide hit. Paula is a natural live performer, and always performs well on stage.
Audrius Petrauskas – In My Bones
Audrius was well complimented for his performance. His style was compared to Ed Sheeran.  The judges must be planning to do this to all the men this year. The vocals were praised for being good and clean. Although Audrius did not write the song, the judges felt every word he was singing. One of the best declared Vaidas. The song started at a steady pace but changed direction to give a more passionate feeling mid stream.
Elizabeth Olshey – Bejausmis
Elizabeth sang her own self-penned song.  Her vocals were well praised as was the text of the song. Elizabeth was also told her performance was enchantingly different. One of the judges complained that the text was too heavy. Elizabeth explained to Eurovisionary that her song title in English means Senseless. Singing the song, Elizabeth has put all her feelings into the song. The song is about her life and is about all the senseless people who have been part of it. The song asks the simple question Is it worth it to love a senseless person.
Mia – Arrows
Mia has returned with a song that was described as strong by the judges. Mia has rocked the boat in Lithuania with her candid interview with 15min.lt about her awful experiences in the competition in 2015. She has to be admired for returning, but it seems this may be her last time. Mia's black costume didn't go down so well with the judges. They were also disappointed by Mia's pronunciation of some of the English words. If this goes sideways she should apply for Melodifestivalen. She is a great singer with a very Scandinavian sound.
Emilija Valiukevičiūtė – Bye Bye
The judges were unclear what they thought of Emilija's performance. She was told that her song very much belonged to the nineties. However, the music was very much the sound of today. The general performance was described as gorgeous and memorable. Emilija had attitude in her tiger print dress, so who cares what the judges thought, as she owned that stage.
The Judges
This week the judges were
Ramūnas Zilnys, our favourite grey haired musical know it all
Gerūta Griniūtė, a director of LRT television and radio
Aleksandras Pogrebnojus, costume designer and proven finder of Eurovision winning songs
Vaidas Baumila – Lithuania's Eurovision entrant from 2015, who came 18th in Vienna with This Time.
The Results
The top six qualify for the next round
Lithuania In The Eurovision Song Contest
Having not had the best of times in Eurovision so far, we arrive at 2001. Behind closed doors, the jury chose Skamp and the song You've Got Style. Lead singer of the band was Erica Jennings. Like Mia, Erica has also been creating news in Lithuania, by withdrawing her song The Truth from this year's competition. She cites the inexperienced and harsh judging panel as part of the reason.
However back to 2001 and Skamp performed in position 8 out of 23 songs in Copenhagen, Denmark. The first jury, The Netherlands awarded Lithuania 5 points and things started to look good.  Russia, the sixth jury, awarded the song 10 points and at this time, Lithuania was sitting in seventh place. After that, the other countries weren't so fussed for the song, with only Latvia's 5 points being significant. The song dropped down the scoreboard to 13th place. Not great, but certainly the best for Lithuania so far. With neighbours Estonia winning and Latvia about to win the following year, what was the future of the third Baltic state?
Enjoy this week's winning performance from Saulės kliošas.