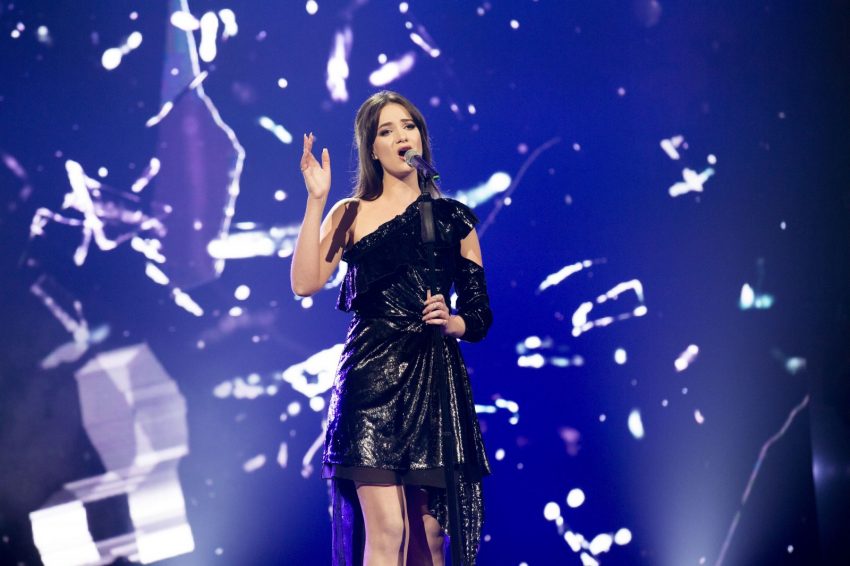 Tonight, the third week of Lithuania's Eurovizijos Atranka was broadcast. Six more acts proceeded to the next round, with some past fan favourites making an early exit.
The eventual winner of Eurovizijos Atranka 2018 will represent Lithuania at the Eurovision Song Contest 2018 in Lisbon, Portugal.
The Hosts
Mantas Stonkus was in a purple suit and burgundy shirt this week. Ugnė Skonsmanaitė had a silver chain mail dress. Again both hosts were wonderful. Another pair who could host Eurovision. So now Lithuania has the best haircuts, best backing singers and now hosts. Labas vakaras.
The Songs and Singers
Vidas Bareikis – Pusvalanduko
The back wall video of the crazy opening number was described as merry and colourful. It was the best ever seen in the competition Our kitchen expert called Vidas, a honey tortoise, something you don't get called every day. The eighties electro song was Vidas with his usual fun number. The judges said he could raise everyone's mood. The biggest negative was that the message may not be understood outside Lithuania. The song has been drastically cut from its original five-minute length.
Donata Virbilaitė – Powerful
The judges felt that the song title did not represent the performance. It was described as very safe, certainly suitable for Eurovision on its own, but it didn't stand out.  Donata told EuroVisionary that the song describes her life, always in the shadow but never giving up. Donata says that one day the power she has in her, will blow up loud and clear. Donata took the low score from the judges humbly. saying it's only their opinion and it does not change how much the song means to her. The song had hints of Taylor Swift's Blank Space in it. The backing singers were having a blast on this song.
Agnė Michalenkovaitė – Going On
Agnė was very nervous but the judges saw no reason for her to be. As a first time performer, the judges were very impressed. Agnė also had the longest hair in the contest so far. The song has a great chorus, very anthemic and Scandanavian. Agnė's voice was described as excellent and very romantic. All of this going on, while the singer was suffering from bronchitis. Could be a dark horse.
GeraiGerai & Silvija Pankūnaitė – More than you know
The beginning of the song drew approval due to its mystical nature. However, the end seemed to get the thumbs down. Silvija has been the singer with SEL and the judges were glad she was getting a chance on her own. Silvija was wearing an eye-catching pair of red tights, to match her grey and red jacket. GeraiGerai looked like he'd been down a dumpster trying to compete with Dolly Parton's Coat of Many Colours, his coat was a coat of many items. Very modern, very artistic, very stylish.
ELEY – This is my life
Eley was described as talented, but the song caused doubts in the judge's minds. The song about rebellion was not rebellious enough. The song had a wide range and Eley was complimented on her vast vocal range. ELEY showed us how to look stunning in green. It sounded as if someone was playing a wash-board all through the song. Another good one for the backing singers to get involved.
E.G.O – Shake The World
The judges said that they really like this group. This group generally shows how difficult it is for Lithuanian acts to break worldwide. Had they been American or British, they would be up there with One Direction or any of the other successful boy bands. This performance was energetic, but the dancing caused criticism. The band was described as three Donny Montell's. who gave Lithuania one of their best results ever. So the judges gave them zero points. Having said that this early Depeche Mode throwback was not their best.
Živilė Gedvilaitė – Melody
This song was written by Rūta Ščiogolevaitė (United 2016).  The structure of the song was compared to ABBA, which would have made Bjorn and Benny happy, as the song only received two points. One of the judges couldn't get over that they saw Rūta's face in the performance. It was like a princess from a fairy tale. Then they declared the song was old fashioned. A ballerina girl danced in the video in the background, but towards the end she'd had enough and cleared off.
Joyce – Breathe
Poor Evelina Jocytė confused the judges so much that they had to turn around – yes really. The foursome didn't understand the song but they were fond of the arrangement. It was a slinky little number, at the beginning it looked as if Ursula the Sea Witch was about to appear. This is a song that needs a few listens, which probably isn't good for Eurovision, but it's a good one to listen to in the car. If things don't work out this year, Joyce should try the LittleMermaid.
Valdas Lacko – Dying Inside
The judges joked that Valdas's hometown should construct a monument to him. Valdas was again praised for his excellent voice. The song, however, seemed to be a collection of twelve other songs that we've apparently already heard before. Valdas was described as a drama prince. The song was extremely dramatic with nuclear fireballs and extreme weather in the video wall. However, it seems this isn't going to be Valdas's year.
Milda Martinkėnaitė – Hurricane
Milda was told off for lacking energy. More criticism was dished out for the song being too much like past Eurovision entries. Then Milda was told that her performance was very good and that the jury would like to see her on stage more often. It seems though that the jury would like to see more movement, less stagnancy on stage. Milda really came into her own at the end, where the song reached Hurricane proportions.
Gabrielius Vagelis – The Distant
So glad that Gabrielius must have been paying attention to this site, as he's been down at the famous Vilnius barber shop for a top ten haircut. Not only that but Gabrielius also wins the prize for the best suit – not quite pink, more fuschia. As all good things come in threes, the jury also thought this was Gabrielius strongest ever performance in Eurovizijos Atranka. This boy is on fire. The song had strong spots and, said the jury, interesting curves. During the song critique, Mantas stood beside Gabrielius and the whole colour purple spectrum could be seen.
Greta Zazza – Broken Shadows
This lady simply oozes star quality – Eurovizijos or not. The song was described as a good pop song. The judges refused to say it was a genius song – so be happy with good. One stern judge was irritated by Greta's over-dramatics with her face. However knowing that they were going to give the song, dvylika points, the jury suggested they were sure Greta would be in the next round.
The Judges
Beatrice Nicholson – Beats Kitchen director and Eurovision expert
Victor Diawara – singer and producer, so he has musical experience
Giedrė Kilčiauskienė – jazz singer who released album Optinė Apgaulė and could be mistaken for Annie Lennox
Ramūnas Zilnys – Ramūnas has been superglued to his seat, so he can't leave. This week he made an attempt at a top ten haircut with a new comb over
The Results
The top six songs go through to the final.
Lithuania At The Eurovision Song Contest
After reaching the glorious heights of 13th place in 2001, Lithuania was fighting and ready for 2002 with We All by B'Avarija. Not so fast though said the EBU, as they remembered they'd been listening to that song on their CD players way before the allowed entry dates. So B'Avarija was shown the door and second choice Aivaras received a phone call from LRT. Head honcho of LRT told Aivaras that he was going to make him a Happy You.
So Aivaras, quickly made his wonderful backing group knit up some warm comfortable colourful sweaters for the show. Aivaras performed last at the contest held in Estonia. Either the judges were still reeling from the previous singer, Latvia's Marie N's change of clothes, or they didn't like Aivaras song. Only the friendly neighbour Russia, and the Baltic pals Estonia and Latvia, could round up 12 points for the song. Lithuania finished in 23rd place. Enough was enough, Lithuania wasn't even allowed to compete in neighbouring Latvia the following year.
Here's Greta Zazza's Broken Wings for you to sing a long to.