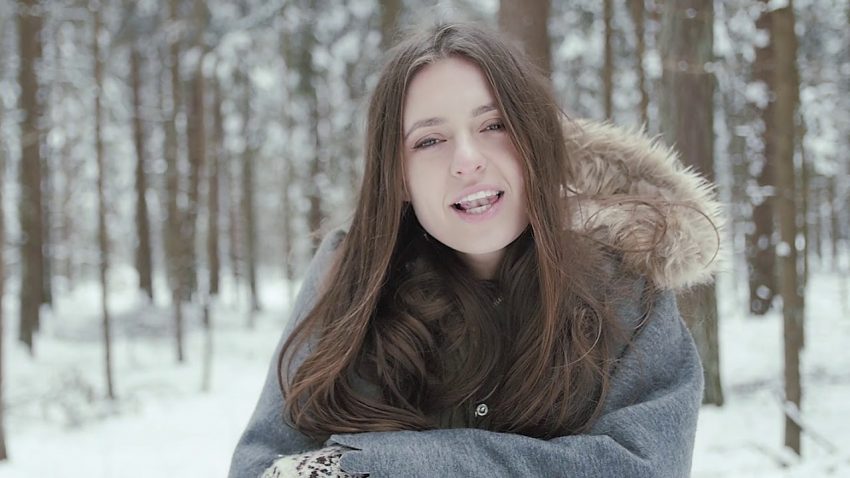 It's almost over for another year. Tonight the last semi-final of Lithuania's Eurovizijos Atranka 2018 took place. The last three acts have been sent to the final.
Next week Lithuania will hold their final in Kaunas, as part of the country's Centennial of the Restored State of Lithuania. Pray they choose well.
The Hosts
Ugne was a vision is a well-draped red costume tonight. Mantas wore a light grey suit and white shirt. The show opened with a solemn tribute to Lithuanian tenor Virgilijus Noreika.
Vaidas Baumila performed while the votes were tallied.
The Songs
Marija –This Love 
For some reason, the judges want this song out. The public though seems to love it, although there have been some accusations of cheating. All that aside this is a very radio-friendly pop song. The introduction is a bit like Kids in America. There is a very hooky chorus and it's hard to see what the judges don't like about it, However, it seems its days are numbered.
Twosome – Hello
If Lithuania wants to keep its lunatic reputation then this is their song. Not that it's not fun and endearing, but Justin himself knows this is a bit of a joke entry. Irritatingly catchy, if Lithuania sends this, then they are forever doomed as having the inability to find a Eurovision winner. Two extra males joined the regulars tonight and the song had a new arrangement, with a trumpet thrown in. The type of song Sweden would have as the Eurovision interval number.
Ieva Zasimauskaitė – When We're Old
Extremely intimate and sweet in English, this is outstanding in Lithuanian and Ieva treated us to a few lines in Lithuanian at the end of the song, Ieva sings this song better each week, knowing her Eurovision life depends on it. The only criticism is that we are seeing the same dress each week. Surely this has to be heading to the final though.
Paula – 1 2 3
This isn't as good a song as last year considering there are about one hundred writers including Donny Montell. The star here though is Paula herself. The girl is world-class and able to carry any song. Hopefully, if Paula doesn't win she'll be back, as surely she deserves to be at Eurovision. Tonight a vision all in white, the song has a new ending which included the loss of a chair. The judges loved it.
Saulės Kliošas – Įkvėpk ir Nepaleisk (Man gaila)
If this song has a tune, it's pretty hard to find. Some people reckon this will be the winner. OK if they want another Fusedmarc. The subtle melody is a kind of laid-back background music tune. There is a long electronic instrumental break, where lead singer Justė doesn't know what to do with herself. Forgotten by the time it's over.
Ruta Loop – Positive Thoughts
Back as a wildcard, this is a bright, breezy happy song. It would be nice if Ruta could surprise and make the final, as there is nothing wrong with the song. The competition is just too good though. The judges were correct that she doesn't need stage props. Instead this week a female trio were brought along to add backing vocals. Maybe another act to represent Lithuania in the future.
Monika Marija – The Truth
At the end here comes trouble. As a  late entry to the competition, this presentation wasn't quite polished yet. Not anymore and here is Monika ready to shake the final up. The song is amazing and now Lithuania is left with a difficult decision. Let's hope Lithuania looks for a potential winner this year, and not just be a filler to make up the numbers at Eurovision 2018.
The Judges
Ramūnas Zilnys – He who shall not be moved from that chair looking exceptionally smug tonight
Dalia Ibelhauptaitė – opera, theatre, film director and playwright no less
Darius Užkuraitis – head of LRT and Eurovision fanatic
Arnoldas Lukošius – musician, keyboardist, and hold your breath, member of LT United – We Are The Winners
The Results
| | | | | | |
| --- | --- | --- | --- | --- | --- |
| | Jury | Public | Total | Position | |
| Marija | 5 | 8 | 13 | 5 | |
| Twosome | 8 | 7 | 15 | 4 | |
| Ieva Zasimauskaitė | 12 | 12 | 24 | 1 | Final |
| Paula | 10 | 6 | 16 | 3 | Final |
| Saulės Kliošas | 6 | 5 | 11 | 6 | |
| Ruta Loop | 4 |  4 | 8 | 7 | |
| Monika Marija | 7 | 10 | 17 | 2 | Final |
Lithuania At The Eurovision Song Contest
Let's just say it. Lithuania's record at Eurovision has been appalling. With all these selection shows you would think that they would get it right everytime.
Instead LT United and Donny Montell are the only two acts to finish in the top 10. The first was caused by Lithuanian's working in other countries voting for their homeland.
So these poor results need to end. It is time for Lithuania to shine. They have a good line up for the March 11 final. Let's hope they choose well.