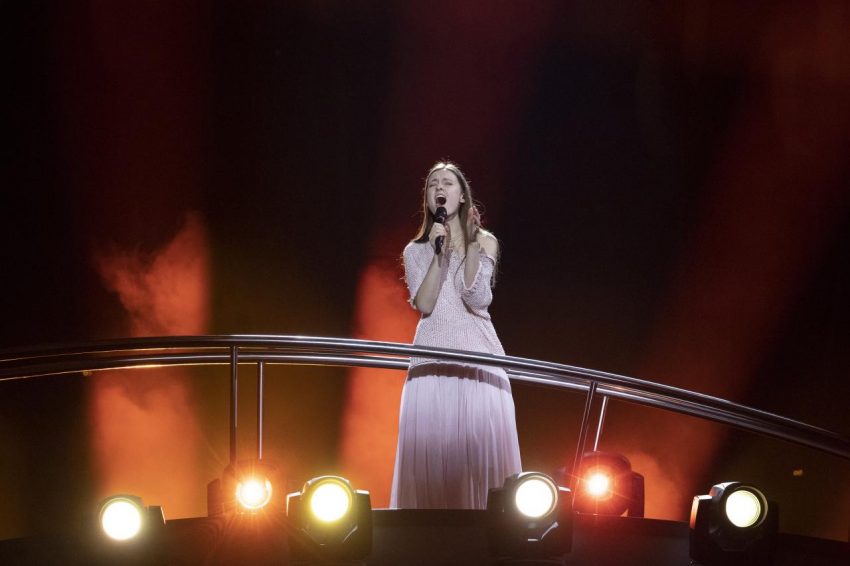 It's a love gift we would all love to have: our loved one bringing us on stage of Eurovision. That's what Ieva Zasimauskaitė will do at this year's competition. Take a look in our gallery or watch our interview.
When We're Old
, which is written by Vytautas Bikus.
Interview
Gallery
Second rehearsal
Opinions expressed during our second rehearsal coverage are personal from the mentioned writers.
Jens-Erik, Denmark (in the presse centre) To be honest, I'm a bit bored. The performance is very simple and straight forward and the song is not bad. However, I'm still missing something. I'm not sure what. A song like this should be able to give me goosebumps, but it doesn't. With a happy song just before (Lie to Me from Czech Republic) it's difficult to change your mood for a song like this – at least it is to me. But I must say, Ieva has a great voice that gets my attention and makes me listen.
Michael, United Kingdom (in the arena) Warm, inviting and intimate, Ieva's delicate voice fills the whole arena, as she brings it to silence. With a timeless song that will live on through generations, Ieva had a unique voice that seems really quiet but this adds to the appeal of the song. If this does not qualify, the final will be missing a gem, but hey it's qualifying. With the two Goliaths coming before and after her, like David, she will still fight them off.
First rehearsal
Ieva Zasimauskaitė will probably remain sit when the qualifiers for the first semi final are announced as she will struggle to qualify. Judging from the first rehearsals, Ieva's pretty romantic ballad will most likely get squeezed by the two giants Israel and Czech Republic.
As for the performance itself, it'll probably be uneventful for people at home. In her performance, the Lithuanian singer remains sit until the song's second chorus which may lose people by then. While she is sitting, there are holograms of couples holding hands and showing love which may not be a benefit the performance as it overall doesn't look that good.
The performance is, nonetheless, saved by a cute moment towards the end, when Ieva's husband meets her in the Eurovision bridge and share a cute lovely moment, it'll melt people's hearts at home if they're still watching. Nothing to critique when it comes to vocal performance.
How Ieva Zasimauskaitė was chosen
After six heats, an online wildcard rounds, two semi-finals and a final, Lithuania had a long selection. They reached the end of the process on the 11th of March where the final of Eurovizijos took place.
In the final, the jury points placed Jurgis Brūzga ahead of Ieva Zasimauskaitė, but as tele voting placed Ieva first and Jurgis only fourth, Ieva is representing Lithuania at the 2018 Eurovision Song Contest. This was Ieva's fifth participation in the national selection of Lithuania.
Lithuania at the Eurovision Song Contest
Back in 1994, Lithuania joined the Eurovision family, but their first representation by Ovidijus Vyšniauskas placed the country last with zero points. After that, it took another five years before the country returned to the 1999 contest. Aistė did do a little bit better with her song in the Samogitian dialect, but the country did once again pull out. The same thing happened in 2003, but since then, Lithuania has been a steady participant.
In 2006, LT United scored a 6th place with We Are The Winners. To date, that entry is Lithuania's best Eurovision result.
Over the years, the country has shown that they aren't afraid to try different styles, and that has given mixed results. Since the introduction of semi-finals in 2004, Lithuania has failed to reach the final on six occasions.