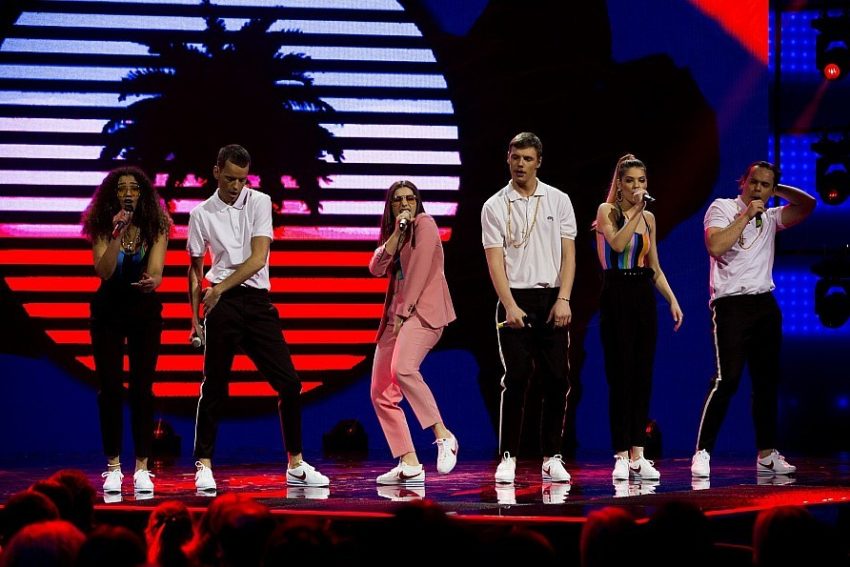 Twenty four acts made it to the next round of Eurovizijos Atranka 2018. Now six must leave and six continue, in a battle to win the chance to represent Lithuania at Eurovision 2018.
Its Lithuanian Atranka games, not Hunger games, as six acts proceed and six acts leave, where the public and jury choices are not the same. Let the Atranka begin. Teenagers beware.
The Hosts
Mantas was very smart tonight, as a Week Five show deserves, dressed in a grey pinstripe suit. Ugne must feel the heat in the studio. She wore a black sparkly dress, with a split right up to her head. Again the pair delighted audiences. After giving out the telephone numbers, the first duty of the twosome was to introduce twosome.
The Songs
Twosome – Hello
A light novelty opening number got the judges into a good mood. Not all songs need to be serious they chided. The song has potential to get to Eurovision, both as an introductory language lesson and also as a knowledge test on Europe's flags. Unicorns were mentioned which is always a good thing. Congratulations were offered all around. Sveikinu, if you want it in Lithuanian.
Milda Rasilavičiūtė – I Think About You
With the jury on a high after Twosome, you'd have thought Milda would get a free ride. Certainly, Milda was complimented for bringing more drama. In an unusual comment, the judges, who've already seen all the songs, could not offer comment on Milda, as they were unable to know what was to come. They were undecided on whether Milda would travel to Lisbon. They thought she was over stretched.
Silvija Pankūnaitė and GeraiGerai – More Than You Know
Last week, unfortunately, Silvija was eliminated with her solo song Real. This was a bit unexpected as the judges had previously been delighted she was in the competition. Silvija told EuroVisionary that More Than You Know is about people who cannot see between the lines. She explained that the look from the outside is full of sparkles but it may not be so rosy inside. Do not judge a book by its cover, is the main idea behind the song. The song was created to be catchy, with two verses and chorus, and the third part is Disney. Seems our judges were playing Scar, Captain Hook, Ursula and Jafar, as they only awarded the song, three points.
Lukas Norkūnas – Tegu
T, being a songwriter, felt that Lukas was even better than him. No beard this week, Lukas must have splurged on a razor after his success in Week One. This week the song simply came to life, with a lot more movement from Lukas. The song had a slightly different arrangement too.T loved all the words in the song, particularly how many there are, and how, outside Lithuania, the words may not be understood. Well courtesy of Lukas himself, here's whats going on.
Aš! na bent jau aš…Kai būsiu pagyvenęs, galbūt netgi žilas,
kitaip tariant… – Aš, kai būsiu senas -vistiek ateisiu šokti pas jaunimą,jau manau jūs manot, kad varys mane.., sakys:- Čia ne vieta, Seneli, tau, arrivederci, Seni, ciao
I… well, at least I…when I'll be elderly, maybe even gray-haired, in other words…:I.. when I'll be old,
regardless of it I'll come dancing to the young people.
Already I think you're thinking, that they'll try to drive me out, saying:"This is not a place for you, old man, arrivederci, old man, ciao"
Now not wanting to totally destroy the mystery of the song itself that's all your getting.
Paula – 1 2 3
Paula was complimented for being good, two years in a row. Dovilė, though said she was tired of this virginal sexuality. She scolded Paula for portraying a sexual image beyond her years. Lady Dovilė continued that she didn't just mean Paula, but all young girls of her age with the same image. She urged the viewers to look for character and colour. Oh dear, Paula performed perfectly by the way, though this year's song is not as good as last year.
Benas Malakauskas – My Memories
Benas was praised for his charisma, which he definitely has. The judges thought that the song was not expressive and so it looks like the end of the road for Benas this year. Our judges said that this song won't be going to Eurovision, but praised his courage. So we are losing Benas for 2018, but he has a lot of potential for future years.
Godo – Fire Fountain
Godo was praised for her ability to focus on stage. Drawing inspiration from Talking Heads, Godo indeed puts on a show. The originality of the song drew the judges opinion that she will be heading to the next round. For all its mystery, Godo, real name, Goda Sasnauskaite, says the meaning of the song can be taken as a symbol. However, she laughs, the truth is " I was sitting in front of fire rising and these words came into my head". Brilliant in every way from the video wall to the performance.
Germantė Kinderytė – Turn It Up
Ooh, the judges must hate having this song in the final, as they never give it any points. Observant Ramūnas, ever the expert on teenage pop, noticed this was produced by the same team as Paula. He prefers Paula's song, which he doesn't really like anyway, so poor Germantė is doomed. The biggest challenge facing this song was Germantė's lack of experience. Go out and learn, she was told and come back when you reach our age, the judges advised.
Vidas Bareikis – Pusvalanduko
You know in their heads these judges are thinking they want novelty to represent Lithuania again. You can see this would fit well with Eurovision they claimed. To the disappointment of the judges, Vidas translated his song to English, as they had previously asked. Half A Day is the English translation. Vidas said next week he's going to do a Portuguese version.
Juozas Martin – Don't Give Up
Good, but with something lacking, thought the judges. They did praise Juozas though for coming with his own self-written song.
Talking to EuroVisionary, Juozas says of his song " It is a positive song about not giving up on your dreams. It speaks about that great feeling – a huge boost of confidence when you get an idea to do something, to make something or create something and it is usual that when you start to reach for you aims – it gets hard. So that's what I'm telling, be strong, don't give up and you will live your dream". Right back at you Juozas, if this year it's not to be, make sure we hear from you again next year.
Kotryna Juodzevičiūtė – That Girl
What on earth happened in a week. From being good last week, Kotryna just crashed through the ceiling this week. The whole performance, image, voice, the choreography was top notch. This probably cannot be improved. Are we seeing a new front-runner.  The whole perfomance radiated cool.
Jurgis Brūzga – 4love
The judges heaped a lot of praise on Jurgis, telling him he is right where he should be on that Eurovizijos stage. Stylish, contemporary, Jurgis added a class to the competition. T pleaded to the public, who do you want at Eurovision – a teenager or Jurgis? The judges thought he was a risk free option.
The Judges
Ramūnas Zilnys – music reviewer extraordinaire
Darius Užkuraitis – head of LRT, he's been hiding for a few weeks
Dovilė Filmanavičiūtė – performer
T. Sinickis – musician
The Results
| | | | | |
| --- | --- | --- | --- | --- |
| | Jury | Public | Total | Position |
| Twosome | 7 | 4 |  11 | 5 |
| Milda Rasilavičiūtė | 1 |  2 | 3 | 9 |
| Silvija Pankūnaitė & GeraiGerai | 3 | 8 | 11 | 6 |
| Lukas Norkūnas | 5 | 3 | 8 |  8 |
| Paula | 6 |  6 | 12 |  4 |
| Benas Malakauskas | 0 | 1 | 1 |  11 |
| Godo | 10 | 7 | 17 |  3 |
| Germantė Kinderytė | 0 | 0 | 0 |  12 |
| Vidas Bareikis | 5 |  5 | 10 |  7 |
| Juozas Martin | 2 | 0 | 2 | 10 |
| Kotryna Juodzevičiūtė | 12 | 10 | 22 |  1 |
| Jurgis Brūzga | 10 | 12 | 22 | 2 |
Lithuania In The Eurovision Song Contest
Towards the end of 2011, LRT advertised in the local paper that they were looking for someone willing to wear a blindfold with some summersault experience preferred. A young, Donatas Montvydas, read the advert in the school playground, and headed to the LRT studios, bouncing his basketball all the way there.
Featuring a video wall similar to Jailhouse Rock, Lithuania's answer to Elvis Presley, sang Love Is Blind, last in the Baku 2012 semifinals. Finishing in an impressive third place, Donny Montell brought credibility back to Lithuania's Eurovision selection. In the final, Donny finished in 14th place, and became the most searched Donny on the internet, until he was overtaken last year by the U.S president.
Four years later, Donny returned with the even better, I've Been Waiting For This Night , finishing 9th. Superstardom beckoned. Donny cannot go anywhere in Lithuania now without being mobbed by thousands of crazy fans. Probably.
Below you can watch Donny's 2016 backing singer and this week's winner Kotryna with That Girl.