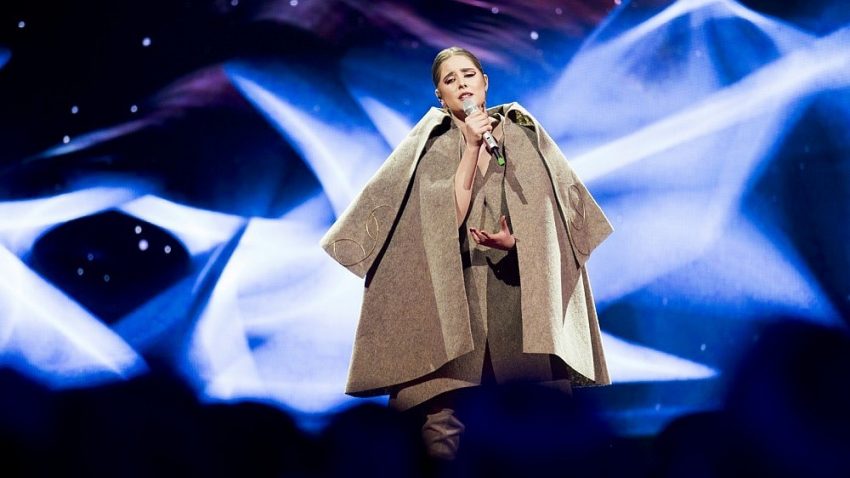 This week saw the final preliminary heat of Lithuania's Eurovizijos Atranka 2018. The show is used to find Lithuania's Eurovision Song Contest entry 2018.
The Atranka saw more surprises this week, with late announced entries, no females on the judging panel tonight, and a low score for an early favourite. What's going on, Lithuania?
The Hosts
Someone has obviously been donating a lot of purple cloth to LRT, as the colour keeps appearing week after week. Given a limited allocation Ugne clearly asked the costume department to do their best. Sadly they must have run out of material, as there was none left over for her shoulders. And let's face it, the dress ended up not being very long either. Mantas had similar problems, as his jacket stopped halfway down his arms. He complemented it with an H an M sweater.
The Songs
Rūta Loop – Positive Thoughts
The vibe from this song gave the judges positive thoughts, due to the energy. The problem was that they didn't like Rūta's box which prominently featured. Realising it's not easy to hide her box, the judges asked that it featured less in any future performances. The judges should also have suggested that Rūta find a pair of trousers that fit. The back wall video was lips with the Union Jack flag.  Very bright and breezy.
Jurgis Brūzga – For Love
A subdued performance pleased the judges, who also liked the arrangement. Visually perfect and some good singing delighted our foursome. Hidden nuances drew some disgust and Jurgis was asked to show them in future. Jurgis was very smartly dressed in his blue suit, ready to head back to the office if the singing doesn't work out. His dancing waiters added extra visual delight.
Ofelija – Butterfly
Ofelija's controversial performance was likened to school theatre. The performance was described as blank. The butterfly wings didn't please anyone either. While Ofelija may have talent, the judges felt they did not see it tonight. So that Ofelija didn't feel left out, she had dyed her hair purple. This record is a gangster production but it really didn't feel that way. It was all spacey and indeed confused. The audience loved it though. It was the first time in four weeks they proved thay were alive.
Dainotas Varnas – Merry-go-round
As this song sounded like Diane Warren had wriitten it, the fearless judges couldn't find anything wrong with it. Fans of John Legend will love this romantic song. The performance was described as quiet, cultured and best of all – cozy. Will it play at Eurovision pondered, Lithuania's Simon Cowell. Then Ramūnas remembered that Dainotas was Ruta Loop's lover – are children watching – and should only one qualify, will the other be made to sleep on the couch. To try to avoid any lover's spats, the jury marked both songs equally low.
Rugilė Daujotaitė – Love Is The Flower of Life
Most of this song is sung in Lithuanian, so what a waste of time giving it such a long English title. It could have been called Busy, as the judges described it as that. Too much going on scolded the judges. The Oriental images pleased our hard to please panelists though. Interesting, Lithuanian, complicated, said Arnoldas. Rugilė has a future as a seamstress as she turned an old pair of curtains into a nice long blue stage costume.
Kotryna Juodzevičiūtė – That Girl
If you were watching last year, surely the words " I'll Be Your Love Shadow" are still ringing in your ears. Well she's back. the Love Shadow herself, with a different type of tune. However, the judges thought it was a good one. Kotryna did not smile enough though, but that was the only problem. Oh yes, apart from that should Kotryna win, she will need to give up her studies. They can wait, said Kotryna getting her priorities right. Eurovision is a dream and way more important. A very colourful performance of an up-beat song, Kotryna wore the best boots of Eurovision 2018 season so far.
Marius Petrauskas – Kol Meilė Gyva
Death by a Kiss for all you non-Lithuanian speakers out there. The song was described as not bad. Again singing in Lithuanian drew much pleasure from the judges. These same judges usually chastise the singers for singing in Lithuanian, as the rest of Europe won't understand. The language though is not the issue, this was another of those slow mournful ballads that Lithuania won't let go. Great to end an out of control party.
Silvija Pankūnaitė – Real
Early favourite, Silvija told GeraiGerai to stay home this week, as she fancied trying out as a soloist. Razzy, that's what his friends call him, or should call him, felt this song did not let Silvija project her voice the best. He preferred last weeks song better. Another judge felt a stronger vocal performance would have livened up the song a bit. Silvija is certainly a fashion icon wearing an unusually shaped white combination.
El Fuego – I Do Believe
One of the chappie's wives wrote this song. Women, said Vytautas, would love this song. The vocal skills of the trio were highly praised. Flashbacks of Il Volo came to mind. The song was described as a little too complicated and deep. The group was also given the advice all teenagers get when they go to their first disco – don't dance and dress a little differently. Pop opera.
Marija – This Love
Arnoldas could not see himself listening to this song in his car. The song failed to allow Marija to shine. L had a different view though. He thought it was one of tonight's strongest pieces and felt he would see it in the final. Razzy felt the song would be performed better by an international star. All synthesizers here, the Lithuanian public loved it before they even heard it. The judges got into a bit of an arguement causing poor Marija to break sweat. A face towel was needed quickly.
Rasa Kaušiūtė – The Silence
An abstract text spoiled this dreamy song. The judges felt that the lack of screens and video projections in Lisbon this year would hinder the dynamics of the song. Arnoldas was particularly taken with Rasa's voice. This was a very strong, powerful and meaningful ballad. Lithuania will have no use for it.
The Roop – Yes I Do
What would have been better if our lovely hosts were able to announce Rūta Loop and The Roop. Sadly not to be this year, so here we are with The Roop all on their own. L liked the image of the rock band. The repetitive nature of the song made it memorable. Suitable for Eurovision, agreed all our judges. They could be right but can Lithuania risk two groups in successive years.
That was it then, all the songs. Not so fast, came a voice from mid-air. Remember that song The Truth by Erica Jennings that she withdrew as the judges are nasty. Well turns out Erica is fine with the judges being nasty to someone else. So step in Voice Of Lithuania, Monika Marija, why don't you give The Truth a try.
Monika Marija – The Truth
The judges all agreed their hearts were broken when Erica withdrew from the show. But, here comes a star, shining even brighter. The judges loved the voice and the song. The audience waved their Lithuanian flags. The judges said Monika must be a favourite to go to Lisbon. Erica sat watching at home regretting she could have gotten a free trip to Lisbon. Then she remembered, hey I can go as the songwriter. Monika could have flown herself to Lisbon with costume she wore tonight – it looked like a Boeing 747.
The Judges
Ramūnas Zilnys – Lithuania's answer to Simon Cowell, in guess what – a bright purple polo shirt, with a jacket to match his hair colour
L. Somov – music producer
Arnoldas Lukošius – musician
Vytautas Rumšas actor and video producer
The Results
The top six acts go through to the next round.
Lithuania In The Eurovision Song Contest
After Lithuania had to miss out in the 2003 contest, the EBU introduced the semi-finals so Lithuania would never be demoted again. Something like that anyway.
Realising they could no longer be demoted, Lithuania no longer cared what kind of nonsense they sent. So began, the "what were thinking years", ]2004-2011. During those years Lithuania sent a bunch of songs, possibly with the exception of 2009, that had no chance of winning whatsoever.
What's Happened to Your Love in 2004 was followed by Laura and The Lovers in 2005 with Little By Little. Despite a good performance, Laura and The Lovers, finished last in their semi-final. Then came We Are The Winners by LT United. No-one thought that song had a chance, originally. Ireland though, thought the song was so good, they gave it 12 points. Ireland has never won the contest since. We Are The Winners came sixth and is to date Lithuania's best showing ever.
Love or Leave, Nomads In The Night, Eastern European Funk and C'est Ma Vie seldom appear on Eurovision fans all-time favourites – if at all. In 2009 Lithuania didn't play by their own rules, and sent the respectable entry Love by Sasha Son. Opening the show, and up against some of Eurovision's strongest entries, Sasha could only manage 23rd place.
Below is the original version of tonights winning song