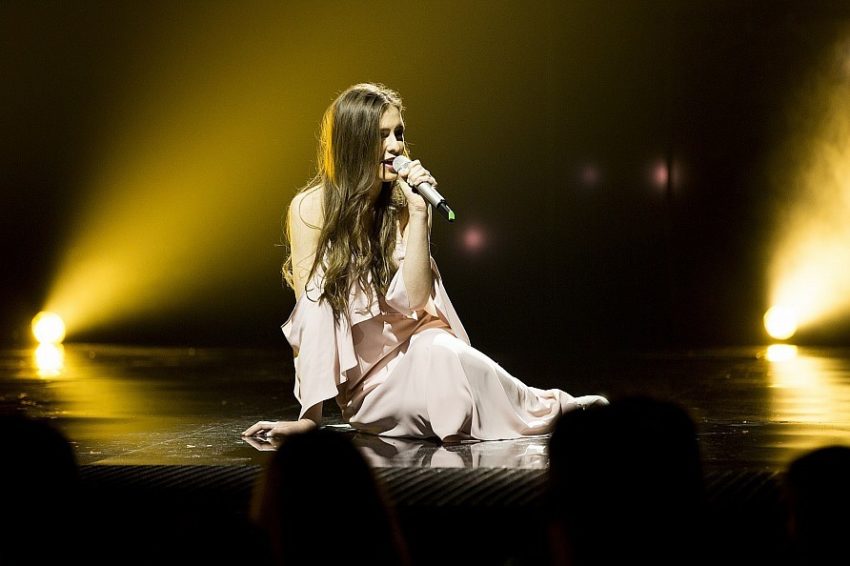 Tonight it began – Eurovizijos Atranka, the competition to find Lithuania's Eurovision entry for 2018. Our wonderful judging panel is back and the search for the perfect song begins.
How did the evening fare for the first thirteen contestants?
The show started with a recap of what was to come rather making it seem as if we'd missed the whole show. Te Deum played and then Trys, Du, Vienas – it began. Welcome to two hours of stunning women, great backing singers and tip top haircuts.,
The Hosts
Our two hosts made a promising debut at the Eurovizijos Atranka. Ugnei Skonsmanaite was dressed in a somewhat unusual light tan gladiator type pantsuit. Mantui Stonkui obviously had planned the costume with her, as he too had a matching tan suit. Not his colour.
The Singers and Songs
Justin3 – Born to Be Wild One
For the second year in a row, Justin3 opened the competition. The song is a well constructed smooth mellow sound. Justin's voice is totally suited to the song. The judges commented on the air drum stunt, saying if hot air balloons can be used, then why not an imaginary drum.
Monee – Standing Here
Monee's slow burner of a song was described as a little unbalanced. Monee, in a long flowing purple skirt, was told that she lacked the authenticity and character needed to send her to Portugal. Monee's vocal prowess was highly praised. However, when Monee said that if she doesn't get through this year it will be her last attempt, Aistė reminded her of her hundreds of attempts and not be discouraged and try again.
Germantė Kinderytė – Turn It Up
The youngest contestant in tonight's show was compared to Paula from last year. However, the panel generally thought Germantė was not quite as good. Germantė and her dancers stole Greta Zazza's coats from last year, and dyed them green, purple and orange. Our judges felt the dancers were enjoying the performance more than Germantė. Nevertheless, she was praised for performing a bouncy dance song, suitable for a young sixteen year old. Note the difference between the judges and the public on this one.
Godo (Goda Sasnauskaitė) – Fire Fountain
Godo went down well with our panel. They felt this was the best performance and song so far. Godo's voice was rightfully praised and the song was structured well. Godo reminded Aistė of Loreen as she slithered around like a reptile. Dressed in what looked like a couple of expensive garbage bags and a couple of zip-locks, Godo was praised for her originality. Conversely, her representation of alternative music was cited as a reason voters may not get behind her. A very good performance.
Lukas Norkūnas – Tegu
On the one hand, Lukas was criticized for looking strange in a suit. He was told to wear jeans. However, another judge came out and said that last year a weird performer with a weird hairstyle and a weird haircut won Eurovision. Lukas was complimented for singing a song of a different genre. The song was aiming to get upbeat, the backing singers just needed to look a bit more enthusiastic.
Meda Meškauskaitė – Blood Roses
Sadly Meda was told that a lot more work was needed in her performance. She was told that her vocals were quite weak. The biggest criticism though was for the dancer. One judge said that the dancer looked so out of place, that he could be mistaken as a stage intruder. He joked that this way Meda could get to perform the song multiple times, until it was discovered he belonged to the act. Meda was told it is too early for her to go to Eurovision. Never mind she is young enough to practice and come back even stronger. Meda wore a blood rose red dress, almost purple.
Benas Malakauskas – My Memories
Benas split the judge's opinion. Our digital expert felt that she had forgotten the song by the time it was over and was bored. The song though was described as having a lot of dramatic moments. The fault then lay in the visuals which lacked the impact at the right moments. Benas was told to create more impact in the song. Benas was the first contestant tonight to have one of Lithuania's ten out of ten haircuts. He also looked very smart in his purple suit. Purple is the in colour in Lithuania this year.
Milda Rasilavičiūtė – I Think About You
Milda was told that she has a beautiful song and a beautiful voice. However, it was unclear what the judges actually wanted. The performance made them angry for some reason. Perhaps the props were to blame, as there followed an outburst about fire loving Balkan neighbours. The song was described as very American like and would surely find an audience. Milda's been down to H&M with her fancy white blouse and grey pants. Another good performance that could improve with a little more power.
Dangė – Netikra Laimė
With the song title translating to Inconvenient Happiness, the judges complained that sending this song to Eurovision was unimaginable. Alas the striking red dress may never be seen again. The song was described as very feminine and delicate, but not for Eurovision. The song was described as being more appropriate as a charity song. Lithuania would have chosen this song in the past. Very dreamy and listenable.
Natalija Khareckaya – Serious
Natalija was praised for singing her own self-penned song. The song has a very jazz feel and was described as a lot of fun. Natalija's stage moves were also complimented. Again comparing the performance to Salvador's, Natalija hit the right mark by knowing what she wanted to show on stage. Not quite sure if Natalija's suit was pink, or whether the purple had faded from it. Sounds of New Orleans,
Aušra Difartė – Someday
Aušra's song drew ire from the panel as they didn't understand what she was trying to achieve. Aušra was chastised for not bringing her singer-songwriting husband on stage with her. The judges felt that their two voices blended together would make a more appealing sound. However, the instruments were very refreshing and the song had a beautiful summery feel. Perfect for the white shimmery dress, Aušra wore.
Evaldas Vaikas – Blind
Evaldas was told by Aiste, that his excellent voice deserved a better song. Zilnys disagreed although he did concede the song needed to be constructed better.The judges wondered if Evaldas was blind to the suit he was wearing. The good news for Evaldas was that he was told he has everything needed to be a star. The song is listenable enough but lacks punch.
Ieva Zasimauskaitė – When We`re Old
Ramūnas came straight out and said that he needed to wait until the end to find his favourite. The song was described as passionate, precise and well produced. It also was delicate and brittle and captivating for the full three minutes. Aistė declared rather graciously that it was time to give Ieva, the Eurovision. Ieva no doubt would have had to give her pink dress a clean when she got home. She performed sitting on the floor,
The Judges
Last year the judges sent Fusedmarc and Rain of Revolution to Eurovision. While the song was a grower, only San Marino placed lower in the semi-final. Despite this LRT have two of the same judges yet again. Haven't they heard of don't do the same thing twice if you want different results?
Ramūnas Zilnys – our favourite silver-haired music reviewer took the first chair, offering tips and advice to the contestants.
Darius Užkuraitis – the head of LRT who likes to offer his opinion annually.
Dovilė Filmanavičiūtė – the CEO of Miss Sheep and a digital advisor.
Aistė Pilvelyte – good old Aistė, after failing to qualify for Eurovision with many good songs,  she has decided to get her revenge this year by judging the acts. Don't be surprised if she is a late wildcard entry and finds a way to send herself to Lisbon.
The Results
The top six acts progress to the next round
Lithuania In The Eurovision Song Contest
Lithuania debuted in the Eurovision Song Contest in 1994. Their first representative was Ovidijus Vyšniauskas singing the song  Lopšinė mylimai. Ovidijus performed in 16th place, in a field of 25. Not one of the other 24 countries saw it in their hearts to give Lithuania a point that year.
It took Lithuania 5 years to get over the snub. In 1999 Lithuania decided to return. It held its first-ever National final on the last day of 1998.
Our favourite judge from this year, Aistė Pilvelytė made her debut with the song Nubudusi širdis, but finished a disappointing 11th out of 12 songs. A different Aistė, Aistė Smilgevičiūtė won the honour with the song Strazdas.
She opened the show in Jerusalem performing solo on stage. Five countries saw the song worthy enough to be in their top 10, Cyprus, Israel, Croatia, Latvia and Malta. The song received 13 points and finished in 20th place out of 23. Lithuania was told to pack its bags in 2000 and return in the new millennium with something better. Did they succeed?
Enjoy this weeks winning performance below