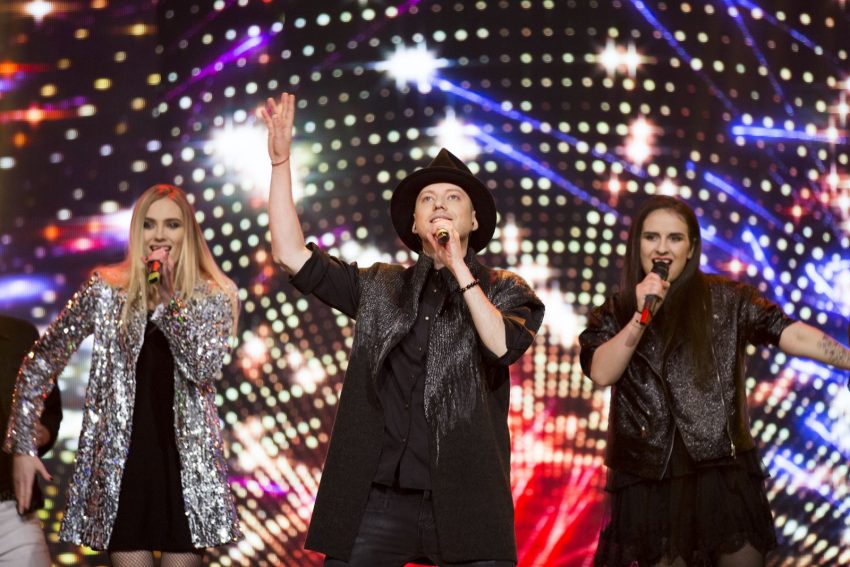 Tonight, Lithuanian TV (LRT) broadcast the recording, of the first twelve acts hoping to represent Lithuania at the Eurovision Song Contest 2017. Some familiar faces performed while six lucky contestants continued to the next round.
Twelve artists presented their songs and were critiqued by a professional judging panel. Over the next four weeks, 51 acts will perform in the preliminary rounds.
The Songs
Justin3 – Streets of Vilnius
Justin3 were given the task of opening the show, leaving judge Ramunas to acknowledge how difficult it was to critique a song after only one hearing. The song is a drum and keyboard driven pop song described as pleasant but not memorable enough. The two male, one female act were all dressed in black. It was suggested that the band look into becoming travel agents for their home town. The backdrop video of Vilnius invites Eurovision to head here in 2018.
Ruta Andruskeviciute – The way to your heaven
Ruta was complimented on her fabulous figure considering she was a mother of an 8 month old baby. She wore a white dress and leather jacket. Although the praise was there for her voice, the dance type song did not draw much enthusiasm. However the judges wished Ruta luck and hoped to see her return in future years.
Paula Valentaite – Let U Go
In black boots and a black dress that had been through a shredder, Paula sang her self penned song. The song was complimented for having strong verses but was scorned for lacking a chorus. Another judge compared the song to Rihanna and Shakira. When the judges realized that Paula was only sixteen years old, they were impressed by her professionalism.
Golden Monkeys – Septyni Dievai (Seven Gods) 
Vilius Krivickas, lead singer was praised for being the first to sing in Lithuanian. However that was as good as it got as the song was described as rather monotonous. Keeping the song in Lithuanian though gave it an added element of surprise to the Eurovision audience.
Auguste Vedrickaite – It's not over (not to me)
Augustė's sound was complimented but again the song was not considered good enough for Eurovision. The power ballad song seemed to stop and start. However the judges hoped Auguste would work hard to realize her Eurovision dream, as they saw some potential.
Sasha Song – Never felt like this before
Adding a "G" to the end of his name Sasha Song came armed with Eurovision experience. However, while using the miramba left a pleasant impression, Sasha was criticized for not producing as complex a production as he usually creates. Nevertheless, Sasha was told he should sail through to the next stage. He was accompanied by four backing singers and dancers.
Dagna Kondrataviciute – Feel It
Dagna was criticized for being too over the top and it was suggested she mellowed a little in future. The judges said that as a novice singer she was trying too hard to impress with the vocals. She was giving little thought to the melody. Generally the sultry song was not considered a good choice for Eurovision.
Audrius Petrauskas – Shine like gold
Audrius was given the biggest tongue lashing of the night for singing a totally uninteresting song. The judges were left feeling nothing and actually said they regretted he had a song. So as not to leave Audrius's feelings hurt too much, he was told he had a nice voice and gave him 5 points.
Benas Malakauskas – Rolling
In the meantime, youngster Benas was told he had a very good chance of getting to the next stage. The song was described as a lot of fun and was for a younger audience. Benas was compared to Justs.This is a good Eurovision song which could do well for Lithuania if it is chosen. Benas wore a denim jacket and red boots.
Tadas Rimgaila & Samanta Tina – Tavo oda (Your skin)
Latvia's favourite crazy lady from last year, Samanta, was given great praise from the judges. They loved her performance with Tadas, yet they only gave the song 2 points. The dark and intense ballad has a great hook and the judges felt the duo worked well together. In addition the pair added some minor ballet dancing moves at the end of the song.
Otreya (Ugnė Smile) – Last Two Weeks
Previoulsy named Ugnė Smile, her song was written in the school class room. The song is more aggressive than the other eleven entries. It had a feel of Avril Lavigne. The chorus though was considered a little dull. Otreya was told that she should proceed to the next round, as there was no other song like it this week. Her three piece backing band made the song the most energetic of the evening.
Edgaras Lubys  (Amberlife) – Could it be?
The harmonic sound of the last song tonight was heavily praised. The slow song has a modern electronic feel to it.  Edgaras was cautioned though that this does not necessarily mean that viewers will vote for it. Edgaras was reminded that as his alter-ego Amberlife, he has had a long and difficult path to fame. This song though, is one to watch.
The Show
All the acts were recorded performing their songs on Wednesday night. The hosts for the evening, and indeed for all the shows are Ievai Stasiulevičiūtei and Gabrielei Martirosianaitei. Tonight both were dressed in white. After some banter and introducing the judging panel, a blast of We Are The Winners preceded the introduction of the scoreboard. The Lithuanian public got ready to call in to support their favourite.
A brief video was shown about the preparations for this year's contest and after that, it was time for the first act. After each performance, the acts had to stand and face the stern panel. The artists were given a chance to convey their thoughts as they left the stage.
The Results
The professional judging panel includes opera singer Sigutė Stonytė, music reviewer Ramunas Zilnys, musicologist Darius Uzkuraitis and singer Neda Malūnavičiūtė who all gave the singers constructive criticism.  All the jury results were accumulated together and translated to the 12-1 system.
Artist
Jury
 Public
 Total
Place
Justin 3
1
2
 3
 11
Ruta Andruskeviciute
0
 0
 0
 12
Paula Valentaite
5
12
 17
 3
 qualified
Golden Monkeys
7
 7
 14
 4
  qualified
Auguste Vedrickaite
3
3
 6
 8
Sasha Song
10
8
 18
 2
  qualified
Dagna Kondrataviciute
4
 0
 4
 10
Audrius Petrauskas
5
 1
 6
9
Benas Malakauskas
8
 

4

12
 6
  qualified
Tadas Rimgaila & Tina
2
5
 7
 7
Otreya
6
 6
 12
 5
  qualified
Edgaras Lubys
12
10
 22
 1
  qualified
Lithuania In The Eurovision Song Contest
Lithuania has performed at the Eurovision Song Contest seventeen times. They made their debut in 1994 with six other countries, Poland, Russia, Estonia, Hungary, Romania and Slovakia.
Their first entry was Ovidijus Vyšniauskas singing Lopšinė mylimai. The song received the dreaded nul points making for a not very spectacular debut. At the time the song seemed quite old fashioned. Having said that, the contest was won that year by Rock N Roll Kids by Paul Harrington & Charlie McGettigan, which was hardly representative of the music scene around the world at that time.
As time has progressed though, the song and melody is well suited to Ovidijus's voice. Now aged 59, Ovidijus lives with his wife Ausra in Lithuania and has managed to keep a generally low profile since 1994. Keep up with the history of Lithuania in Eurovision by continuing to follow our coverage of this year's  Lithuanian competition. In the meantime enjoy last years Lithuanian entry I've Been Waiting For This Night from the second semi final in Stockholm.