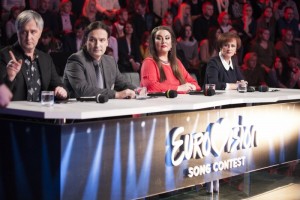 Yesterday, The final twelve performers were presented to the jury and studio audience in Lithuania. These were the performers who did not come with a song, so they were given a song to choose from a selection that LRT had received from different songwriters. Lithuanian TV grouped the contestants as the Second Divison.
Twelve acts presented their chosen songs to the four judges, Ramunas Zilnys, Darius Užkuraitis, Nomeda Kazlaus and Laima Lapkauskaitė last evening. The juries critiqued each song, but LRT have not revealed any scores to date.
Leva Zasimauskaitė: Life
This song was described as a lyrical ballad, to challenge Erica Jennings.
Baiba: Mayday
The juries saw this as fun but needed to be more interesting.
Evelinos Jocytės: When It Sings
The Italian opera singer had her performance described as obvious she only had two days to prepare.
E.G.O: Long Way From Home
This young four boy band are expected to do better next time they perform.
Berta Timinskaitė: Stars In A Rainbow
Oh dear, this was described as a bit boring from the experienced singer.
Deividas Žygas: Survivors
The performance lacked experience and not good on the vocals.
Neringa Šiaudikytė: Never Knew Love
The song was described as perfect for the singer.
4 Roses: Butterfly
This three piece was described as fun but not for Eurovision.
Saulenė Chlevickaitė: Strong
This also was described as a bit green and boring.
Milda Martinkėnaitė: If Tomorrow Never Comes
A song of fun with a country flavor which could do well in Germany.
Ruslanas Kirilkinas: In My World
A golden voice and a worthy entry.
Aistė Pilvelytė: You Bet
The singer was sick but was praised for fighting through it.
LRT have not announced whether this will be the show we will see on Saturday, or whether it will be another elimination round of the previous ten acts who performed the last two weeks.
While they decide, let's listen one more time to This Time , last years entry from Monika and Vaidas