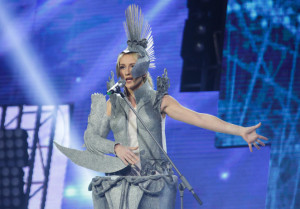 Tonight, in Lithuania, after nine heart pounding weeks, the final six acts have been selected to go forward to next week's Eurovizija 2016 final competition to select who will represent the hardy nation at the Eurovision Song Contest in Stockholm, Sweden, on May 10th, 12th and 14th.
No internal selection happening here, folks – these acts have been put through the wringer only to find that, next week, five of them will have got so close.
The Songs
Ieva Zasimauskaitė – Life (Not That Beautiful)
This song is doing better with the international jury, which should be taken note of if Lithuania wants to win Eurovision. This is the best ballad in the contest. The chorus really builds and, with the backing singers, the harmony is perfect. Will need a sudden change of fortune to win now – but this is good.
Valdas Lacko – Stay Tonight
A piano plonks all the way through this mid tempo pop song. This will probably be the most likely to go home tonight, not because there's anything wrong with it, but that the others are so good. Lithuania has a really good final this year.
Catrinah – Be Free
Catrinah certainly wins the Eurovision Costume Of The Year award. Dressed in what looks like bathroom tiles but missing a leg, you don't see this on the High Street often. The singing performance gets better week after week. In fact, the clothing distracts from what is a powerful mid tempo dance number with a pleasing chorus.
Erica Jennings – Leading Me Home  
A bit Niamh Kavanagh in places, this starts off like a gospel song, but the tempo never lifts. It's pretty slow-paced all the way through. This is another national jury favourite.
Donny Montell – I've Been Waiting For This Night 
The song definitely most suited to Eurovision in the 21st century. A Swedish production, every note placed exactly where it should be. Slow starting verse leading into a big chorus and made for streamers falling down from the ceiling when it wins Eurovision.
Aistė Pilvelytė – You Bet
A big violin intro starts this National jury favourite. It seems that Aistė just misses the high notes every time. A very dramatic piece and the standard long note leads up to the final chorus.
Ruslanas Kirilkinas – In My World      
This music box song would be perfect in the musical Ghost. It is a very sad ballad but very sincerely sung. In the eighties this would have ended up Top 5 and if Eurovision wants to turn away from EDM then this is the one to do it.
Rūta Ščiogolevaitė – United 
And it doesn't get anymore music box than this. There's nothing wrong with this whatsoever. It's a very nice uplifting song, good drum beat through the chorus, all the key changes in the right places, and it should do well at Eurovision, but Russia should have grabbed her instead.
The Show
For the ninth week hosts, Andrius Rožickas and Gerūtai Griniūtei returned, it's not real to think that there's only one more week to go to see those charmers. As hosts for this competition they get an A+, they are terrific.
After introducing the judges, Europe's 2016 most-seen scoreboard is still holding up well. They should start looking for a museum to preserve it for life. The hosts wasted no time in introducing the first song and short videos introduced all the artists before each of the performances. After each performance, the national judges gave their constructive criticism to each artist and the artists were also interviewed, smiling to the cameras and thanking the judges for their advice.
After the final song and critiques, it was straight into the reprise and then no time wasted in giving the results.
The Results
The Lithuanian jury consisted of Darius Užkuraitis (LRT Opus director), Nomeda Kazlaus (opera singer), Ramūnas Zilnys (music reviewer) and Tomas Sinickis (musician, singer-songwriter).
The international jury only gave an appraisal of the songs tonight – no voting.
| | | | | | |
| --- | --- | --- | --- | --- | --- |
| |  Jury |  Public |  Total |  Place | |
| Ieva Zasimauskaitė |  7 |  6 |  13 |  5 | |
| Valdas Lacko |  3 |  3 | 6 |  8 |  OUT |
| Catrinah |  4 |  4 |  8 |  7 |  OUT |
|  Erica Jennings |  12 |  12 | 24 |  1 | |
|  Donny Montell |  10 |  10 |  20 |  2 | |
|  Aistė Pilvelytė |  7 |  7 |  14 | 4 | |
|  Ruslanas Kirilkinas |  5 |  5 |  10 |  6 | |
|  Rūta Ščiogolevaitė |  8 |  8 |  16 |  3 | |
Lithuania In The Eurovision Song Contest
Five acts out of the seventeen entries from Lithuania have failed to reach the final, since the introduction of the semis. The first act taking an early flight home was the duo Linas and Simona in 2004 with What's Happened to Your Love?  in 2004, when there was only one semi final. They reached 16th place, but worse was to come for poor Laura and Her Lovers , who ended up in last place the following year with Little By Little.
It wasn't until 2008 when Lithuania, again failed to make the final with Nomads in the Night by Jeronimas Milius
The final two non qualifiers were pretty unlucky , getting so close coming 12th and 11th. In 2010 Inculto opened the second semi final with Eastern European Funk , but by the end of the show the public had heard songs they liked more.
Vilija didn't quite get there with Attention in 2014.
Never mind though, lots to celebrate in these past clips from Lithuania's entries. Next week, can Lithuania choose the winner of the Eurovision Song Contest 2016?