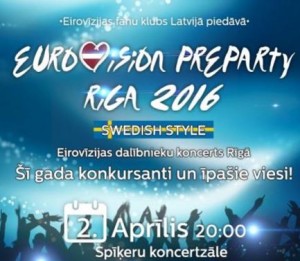 Tonight, the first of the big 2016 preview parties will kick off. Latvia is hosting and 10 of this year's Eurovision participants are confirmed, plus the 1984 Swedish winners as a special guest act.
April is usually a busy months for the Eurovision participants. Lots of rehearsals are taking place in order to fine tune the small details which will make their Eurovision Song Contest performance stand out, and for many of them, various promotional tours are scheduled as well. The big preview parties organised all around Europe are a big part of that.
Tonight, Saturday the 2nd, Latvia opens its doors for the first of these preview parties. 10 of the 2016 participants are in the line up, and if that wasn't enough, the 1984 Eurovision winners Herrey's from Sweden will appear as special guest act.
The 2016 participants appearing in Latvia preview party are:
Belarus: Ivan
Bosnia & Herzegovina: Dalal & Deen feat. Ana Rucner & Jala
Bulgaria: Poli Genova
Estonia: Jüri Pootsmann
Israel: Hovi Star
Latvia: Justs
Malta: Ira Losco
Serbia: Sanja Vučić ZAA
Spain: Barei
Switzerland: Rykka
The party will take place at Spikeri Concert Hall in Riga and with kick off at 20:00 CET (19:00 local time).
Below you can test your knowledge about the 10 participants appearing on stage in Riga in our quizzes. Go through the slideshow to find a specific quiz or take them all – and of course don't forget to brag about your results afterwards.
IVAN (Belarus 2016)
Which former Eurovision entry was written by the same composer as who wrote IVAN's entry? Check the answer in this quiz.
Dalal & Deen feat. Ana Rucner and Jala (Bosnia & Herzegovina 2016)
What does the song title Ljubav Je mean in English? Check your knowledge in this quiz about the act from Bosnia & Herzegovina.
Poli Genova (Bulgaria 2016)
Which year did Poli Genova first time take part in the Eurovision Song Contest? Test your knowledge about her in this quiz.
Jüri Pootsmann (Estonia 2016)
Is jüri fluent in Icelandic, Danish, Dutch or Portugese? Check your knowledge in this quiz.
Hovi Star (Israel 2016)
Which reality show did Hovi Star compete in before Rising Star for Eurovision? Check the answer in the quiz.
Justs (Latvia 2016)
Which city did Justs hitch-hike to with his guitar? Check if you guessed right to this and other Justs questions in this quiz.
Ira Losco (Malta 2016)
Do you know what Ira Losco do just before she goes on stage? Check your knowledge about Ira Losco in this quiz.
Sanja Vučić ZAA (Serbia 2016)
How many languages do the Serbian participant speaks fluently? Take the quiz to brag about your knowledge!
Barei (Spain 2016)
Which famous artist influenced Barei? Check if you are right in this quiz.
Rykka (Switzerland 2016)
Under which name did Rykka start her career of a folk artist? Check your knowledge in this quiz.
A playlist with the official videos for all the acts appearing at the Riga preview party 2016 can be seen below. Watch them all, or skip straight to your favourite song.