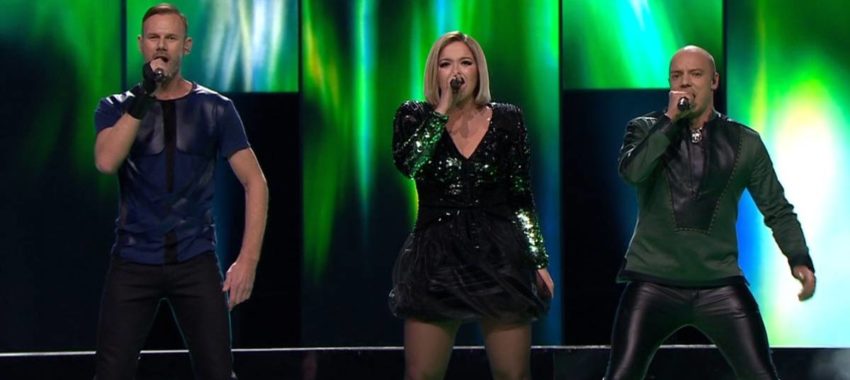 Tonight, one of the most anticipated National Finals of this years Eurovision season took place in Norway. Ultimately KEiiNO won the Melodi Grand Prix 2019 and will represent Norway at Eurovision in Tel Aviv in May.
Several fan favourites appeared tonight in the competition but sadly only one could be chosen as the winner.
The Hosts And Show
This years hosts were Heidi Ruud Ellingsen and Kåre Magnus Bergh. Heidi came to prominence in Norway when she won the role of Kathy Selden in the Norwegian version of Singing In The Rain, via the reality show Dream Role. She also starred in the 2012 movie Hjem. She is the voice of Peaches in Ice Age 4.
A native of Hamar, Norway,  40 year old Kåre Magnus Bergh is also best known for being an actor. He starred in the Norwegian movies  Showman and Side on Side.
Alexander Rybak opened the show with a performance of last years entry That's How You Write A  Song mashed up with his winning entry  from 2009 Fairytale.
After the international juries gave their results. Heidi put on an ESC-burlesque show singing Eurovision favourites Euphoria, My Number One, Satellite and Rise Like A Phoenix.
There then followed a totally unexpected fan mob singing Let It Swing to Bobbysocks. Tor Endresen was then saluted with a tribute to some of his Norwegian entries in Melodi Grand Prix, and Heidi sung a lullaby to him.
After the Golden duel, Netta continued her European tour of National finals performing last year's winning song Toy.
The Songs
Chris Medina – We Try
Chicago bon Chris has appeared in American Idol and has already reached number one in Norway with the song What Are Words in 2011. This year's entry We Try is a contemporary pop song which would stand a good chance in any countries National final, The chorus is a good piece of Electronic Dance Music and makes a great opening number. What a shame if after this competition the song just gets buried and dies. Excellent stuff though Chris should have stood up instead of sitting at the piano while the dancers danced around.
D'Sound – Mr. Unicorn
The duo of Jonny Sjo and Kim Ofstad have been together as a group for 25 years and Mirjam Omdal joined last year. They describe their music as a mix of pop and jazz. Mr Unicorn is another get up and dance number, also fit for purpose in 2019. A little vocal trickery is taking place to enhance the sound, but again is a very worthy entry. Tonight all in white the group performed in cages.
Kjetil Mørland – En livredd mann
Mørland  has returned after his success in 2015 with A Monster Like Me, with another classic piece of pop music. This is a superb dark sound with an absolute killer chorus. It would be great to see Mørland back at Eurovision again, but he has chosen a really strong year to try to make this happen again. We will need to wait and see if the Norwegian public ar ready to send Mørland  again. The stage performance tonight started with white noise on several TV screens leading into the dancing that happens on the official video that was made for the song.
Anna-Lisa Kumoji – Holla
Anna has appeared in several shows and movies in Norway, the latest being the stage version of Flashdance. This is a get down and dirty dance hip hop number sung with plenty passion. Anna wore an oversize red fake fur coat which she quickly lost to reveal a black pant suit. She was joined by Alexander Rybak's dancer from last year along with four other jungle babes crawling about like leopards. Attitude with fun.
Erlend Bratland – Sing for You
Erlend won Norske Talenter in 2008 and has released one album True Colours and four singles. Sing For You is a powerful anthemic like song and Erlend sings it particularly well. He stood in the centre of an empty stage with smoke swirling around him. Half way through a lady with a white cello appeared from out of nowhere and when the camera pulled away you could see she was alone on a satellite stage. Very good indeed. This song was performed again at the end due to some staging issues on the first run through.
Ingrid Berg Mehus – Feel
Ingrid is an experienced violinist and is also well-known for being Alexander Rybak's ex girl-friend.Ingrid showed tonight that she is also an excellent vocalist. This is a pop  song with a dance rhythm chorus with high screaming vocals. Of course the violin features heavily in the middle of the song. The sixth great song of the evening, with Ingrid all in red tonight to match all the red smoke on the stage. A man danced some distance from her on another satellite stage, though he made it over beside her at the end.
Hank von Hell – Fake It
Hank is well-known for being the ex lead singer of the band Turbonegro. If rock music is your thing then this will be your favourite. If not though, it says a lot about this years competition that even if this is the winner, Norway will be sending a good song to Eurovision, This is a bit like some of the early punk records rather than total hard rock. There was lots of fire during this performance and the audience were loving it, Hank and his band of four guitarists and a drummer  were all in white and added much needed life to this year's National finals.
Carina Dahl – Hold Me Down
Carina was born in Trondheim and has been a successful model, singer and songwriter in Norway since 2006. This ia strong pop song with a touch of electronic music. Carina felt she needed eight dancers to help her along, immediately breaking the Eurovision people on stage rules. She started of wearing a white jacket but lost it to reveal an orange pant suit so she could gyrate along with her fellow foot tappers. Lots of fire and antics going on under a massive sheet, Carina had the audience dancing along with her. Impossible to guess the results at this time.
Adrian Jørgensen – The Bubble
This ex- Voice alumni also sang backing vocals for JOWST in 2017 and appears tonight with  a Mørland and Aleksander Wallman co-written song. And what a song it is. One Direction would have had a number one hit with this song. Anthemic, catchy, modern, this one could go all the way. Adrian just stood on stage with his guitar wearing a yellow jacket and was accompanied by his female helping hand from a distance. Plain and simple.
KEiiNO – Spirit in the Sky
Fred Bujlo, Alexandra Rotan, and Tom Hugo make up the Norwegian-Sami trio. Tom and Alexandra were both in the Norwegian final last year. Aside from celebrating  the Sami culture, this is a song just made for Eurovision. Impossible not to love, this is the song that was expected to win, but they have a lot of tough competition. The trio were all in black ,with green lights on the stage. Two dancers were in the background, and then they had the nerve to have a dozen drummers join them – the EBU will be crossing that trick right out. What a pity they can't all go to Eurovision.
The Results
The international juries announced the song they liked the most. Georgia, Spain, FYROM and Ireland preferred D'Sound. Denmark went for Mørland. The Danish jury included Kirsten Siggaard from Hot Eyes, who represented her home land in 1984, 1985 and 1988.
Italy liked Anna. Portugal, Switzerland and Hungary liked Adrian. Israel's favourite was Keiino.
The hosts then announced the Top 4 acts combining the jury and public vote.
In order of announcement it was Adrian Jørgensen, Anna-Lisa Kumoji, KEiiNO and D'Sound.
The acts were then split into two halves and one of the two was sent into the Golden battle where the Norewgian public were to vote again for their favourite.
Battle One was : Adrian and Anna
Battle Two was KeiiNO and D'Sound
Adrian and KEiiNO went into the Golden final and performed their songs again.
In the end, the winner was KEiiNO.
Norway In The Eurovision Song Contest
This will be the 58th appearance for Norway at the Eurovision song contest following their 1960 debut, since then they  have only not participated in 1970 and 2002.
Norway has had mixed results in the contest and has finished in every position in the Top 20 over the years except 19th.
They have won three times, The first was in 1985 when Bobbysocks sang La Det Swinge, then ten years later Secret Garden received the gold prize with Nocturne.
Their third win was Alexander Rybak with Fairytale. Alexander tried to repeat that success last year with That's How You Write A Song, but instead ended up in 15th place, which was until last year the only other position in the Top 20 that Norway had not finished.