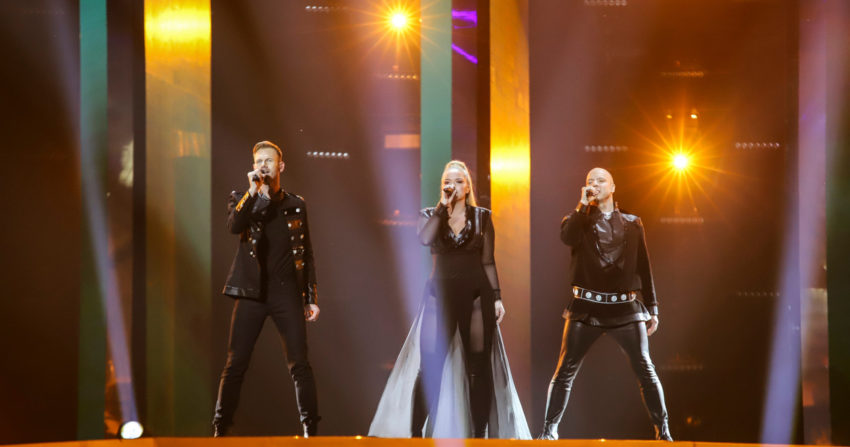 Today, Norwegian band KEiiNO have released their first song since winning the Eurovision televote last month and finishing 6th overall. The song titled "Praying" is an upbeat tempo track about never giving up and keeping the faith.
Just like KEiiNO's Eurovision entry Spirit In The Sky, their new song is an anthemic and encouraging track with a clear message: if you have to fight alone, do it, but don't let anybody hold you down. Furthermore, KEEiiNO emphasizes the importance of never losing hope in life as they are singing: "my light is never-ending, there will come a day for me."
Although Praying contains a very deep, melancholic and spiritual reflection about afterlife, the melody is cheerful and positive and invite you to dance as well.

Praying is written and composed by KEiiNO alongside Alexander Olsson, Henrik Tala and Rüdiger Scramm. It is exactly the same team that worked together for KEiiNO's Eurovision entry.
Portuguese visual director Eduardo Lobo, who produced the graphics for KEiiiNO's LED wall in Tel Aviv, has produced the lyric video, which you can watch below:
KEiiNO – Praying lyrics
Wherever I go
Whenever I sleep
Whatever I do
You always linger with me
I'm drying my tears
I'm facing my fears
Got nowhere to run
You always gonna find me
But my body feels so strong tonight
A chaos born in candlelight
Don't wanna go home
A darkness waiting on a throne
Been fighting shadows all alone
I fear them tonight
Should I be praying
I found my grace in staying
True to every bone in me
Please don't call me down
I'm not pretending
My light is never-ending
There will come a day for me
But sing it to me carefully
Should I be praying
Am I lost, I don't wanna go home
If I must, I'll be fighting alone
Won't let anybody hold me down
Should I be praying
Am I lost, I don't wanna go home now
Won't let anybody hold me down
Whatever I've known
Wherever I've been
Whomever I loved
You wanna take it from me
But my body feels so strong tonight
A chaos born in candlelight
Don't wanna go home
A shadow I can feel alone
Can't shake it off or calm me down
I fear them tonight
Should I be praying
Am I lost, I don't wanna go home
If I must, I'll be fighting alone
Won't let anybody hold me down
Should I be praying
Am I lost, I don't wanna go home now
Won't let anybody hold me down