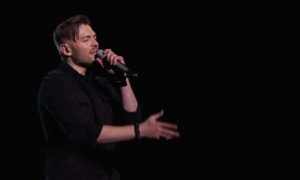 After seven weeks of intense competition, scandals and withdrawals, Lithuania's Eurovizijos Atranka 2019 final took place tonight with Jurijus being chosen to represent the country at this years Eurovision Song Contest to be held in Tel Aviv, Israel on May 18. He will sing Run With The Lions.
Lithuania have drawn well this year in the second half of the second semi final so Jurijus will perform on May 16.
The Hosts
For the last seven weeks Giedrius Masalskis and Gabrielė Martirosianaitė have hosted the Atranka and it will be time for them to say goodbye after tonight.
Giedrius is a 47 year old presenter on Lithuanian television and will most likely return to this after tonight. Amongst the shows he has hosted are Aquarium, Aquarium 2 and Woman Of The Year. He is married to fellow TV presenter Asta Stašaitytę and they have two sons Emilio and Danieliaus. Giedrius had his tuxedo on for this prestigious event.
Gabrielė is a 28 year old native of Kaunus, also the birth place of last years Lithuanian entrant. At the age of  seventeen, Gabrielė was crowned Miss Lithuania 2008. She presented the Eurovizijos Atranka in 2016.Gabrielė wore a metallic bodice, ready for the gladiators.
The Jury
Seven panel members sat there ready to send the contestants to their fate. Heading the panel was smug regular Ramūnas Zilnys, who has yet to identify a winning Eurovision entry. He was joined by Vytautas Bikus, writer of last year's Lithuanian entry When We're Old.
Next up was musician Leonas Somovas who has also been a judge on the voice, but his acts usually get beaten by Donny Montell's. Simona Albavičiūtė-Bandita was next and incase you are interested recently vacationed in The Maldives.
The fifth judge was Eurovision commentator Darius Užkuraitis making a welcome return. DJ Jonas Nainys wanted to get in on the action too, so he took the sixth judges chair, leaving Mykolas Katkus as the last executor.
The Show
So eight songs made the grand final tonight. Monika Marija should have been singing two songs, but withdrew Criminal. Sasha Song could have been in the final, but he withdrew both his appearance and song, gaining a 1000 euro fine. Poor Gabrielė Rybko didn't get the chance to make the final, after her parents offered discount toys to anyone who voted for her. Yes it all happens in a Lithuanian final.
The TV broadcast began with a recap of last years Eurovision and this years Atranka, showing various clips of highlights and low lights. There then followed a parade of this years entrants.
After all the songs had been performed the interval act began with The Roop with one of last years potential entries Yes I Do.
Neighbours Latvia were next and Carousel gave a run through of their entry That Night, similar to when they won Supernova 2019 last week. Monique and Mantas, supposed Lithuania favourites followed with a vocal performance.
Finally we said goodbye to last years entrant Ieva Zasimauskaité who gave a reprise of When We're Old.
The Songs
Alen Chicco – Your Cure
Opening tonight's show was Alen Chicco who participated in Lithuania's X-Factor in 2017. Alen came fifth in the second semi final last week, but due to the withdrawal of Monika Marija's song Criminal he was asked to return to the final. You can certainly say that Alen is an extremely talented and original performer. However Your Cure is not the greatest of songs. It is only Alen's fascinating stage presence and voice that draws you in.
Tonight Alen had jewels all over his head and was accompanied by three dancers dressed sort of in traditional Lithuanian costumes. Two babooshkas stood to the side presumably providing backing vocals. Good performance and would definitely be worth seeing in a full concert.
Justina Budaitė-Junà – Strength of a Woman
Justina won series 3 of the Voice of Lithuania and sang backing vocals for Donny Montell at Eurovision 2016. In fact Donny is one of the co-writers of this song. The only thing wrong with this, is the song, which is not quite up to par, which is a real shame as the whole team involved with this are really talented. It's obvious why Justina won The Voice and with a better song she must represent Lithuania at Eurovision one day.
Tonight's performance belonged more in a gym than the stage, with her three slithery dancers, but Justina sold the song as best she could. Vocally perfect in her long silver boots, this is one hidden Lithuanian talent.
Henry & Tommy Modric – Neverpart
There is just no excuse for this being in a Eurovision National final. While better songs and acts have fallen by the way side, this joke jazz piece is one example tonight why Lithuania have never reached the Top 5. This is a fine song for a couple of drunks late at a party. Tommy is Tom Sinickis who is better known as lead singer and guitarist with the group, Gravel. Henrikas Piktuižis is better known as a bassist.
The good thing about this song is it lasts for less than two minutes. The duo sat on stools tonight to sing the song, which had a totally different acoustic arrangement than it had in the semis, which actually improved it a bit. The judges will no doubt love it.
Jurgis Brūzga – CTRL ALT DELETE
There is no question that Jurgis is a very soulful jazz singer and as was proved last year, with a good song he is tapping at Eurovision's door. This song though is nothing special yet Jurgis sings the hell out  of it. Lounging on a bench in his pyjama suit again, Jurgis mixed up his two prior performances by having the dancing bank robbers return. Jurgis really has to be admired for managing to sing the whole song because as soon as it finishes it is hard to remember even one bit of the refrain. An excellent staging for sure but hard to see a wider appeal.
Jurgis DID & Erica Jennings – Sing!
If Jurgis is looking for forgiveness for Eastern European Funk he isn't going to find it here. This is a well-intentioned sort of novelty number but it went out of fashion with the afore-mentioned Funk. However where this number shines is the exceptionally great voice of  Irish maiden Erica Jennings, who last year potentially missed out when she withdrew the excellent The Truth, leaving Monika Marija to take over.
At the time of this performance this was leading the public vote by double the votes of the second song. Be afraid.. be very afraid. Please Erica  come back with a great song next year.
Monika Marija – Light On
So this is it. If you are not reading that Monika won this show in the title, then Lithuania can't be serious about winning Eurovision. This is world-class, well sung, classy and an internationally appealing performance. This year with this song, Lithuania has the chance to win Eurovision. If they don't send this, well that would be a huge mistake.
Tonight Monika gave a similar performance to the one she gave in the semi where she was awarded maximum points. Her stylish backing singers just added even more class to the performance. Faultless.
Antikvariniai Kašpirovskio Dantys – Mažulė
This is the kind of dangerous nonsense that Lithuania has been prone to send in the past to no great success. Certainly entertaining enough as part of a bigger concert but equally grating by the same measure. If you are interested the members of the Antique Teeth are Martynas Enčius, Juozis Vytautas Baužys, Daniel Juodis, Karolis Steponavičius, Antanas Ruzgas and Tautvydas Jurkša.
Another colourful performance was given tonight for sure. The group wiggled and jiggled around the stage with a song no better than Twosome or the Modrics. Other than that there's nothing else really to say.
Jurijus – Run with the Lions
This is the only song in the final running that should be any competition for Monika, This is a really good song but it is not quite a Eurovision winner. Therefore it would make a fair enough entry for Lithuania, but would struggle to make the top 10. Jurijus was one of the backing dancers with Lolita Zero's Gravity in 2017, which may be the reason for his popularity.
The performance for the third time was all in black, and the video wall was full of the colours of fire. A good song to listen to let's see what happens.
The Results
| | | | | |
| --- | --- | --- | --- | --- |
| | Jury | Public | Total | Position |
| Alen Chicco | 6 | 6 | 12 | 5 |
| Justina Budaitė-Junà | 3 | 3 | 6 | 8 |
| Henry & Tommy Modric | 5 | 5 | 10 | 6 |
| Jurgis Brūzga | 4 | 4 | 8 | 7 |
| Jurgis DID & Erica Jennings | 7 | 7 | 14 | 4 |
| Monika Marija | 10 | 10 | 20 | 2 |
| Antikvariniai Kašpirovskio Dantys | 8 | 8 | 16 | 3 |
| Jurijus | 12 | 12 | 24 | 1 |
Lithuania In The Eurovision Song Contest
This will be Lithuania's 20th appearance at the Eurovision Song Contest, and despite having the longest lasting National finals, they have yet to impress at a Eurovision final.
Time after time Lithuania have failed to send anything that leaves a lasting impression with either juries or fans. Some of the songs receive diaspora votes regularly from the United Kingdom and Ireland, but generally Europe has not been impressed with their entries.
Lithuania have finished in the Top 10 only twice, We Are The Winners by LT United in 2006 and I've Been Waiting For This Night by Donny Montell in 2016.
Ieva Zasimauskaité finished 12th last year with When We're Old which was the countries third best placing.