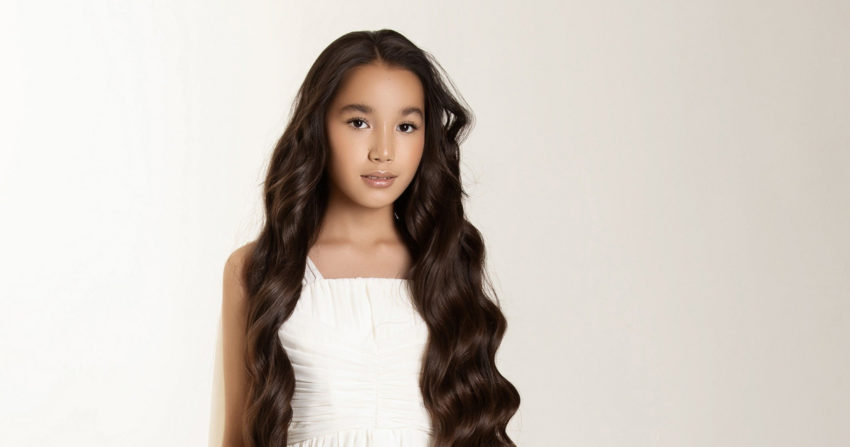 Very keen on participating at at the Eurovision Song Contest, Kazakhstan do take part in the Junior Eurovision Song Contest. 2020 will be their third participation. If it is up to Eurovision fans, this entry will at least be noted for a fantastic video.

On the 26th of September 2020, Kazakhstan held a national final to select it's Junior Eurovision representative. Among 12 participants, Karakat Bashanova was selected to represent her country wih a 50/50 combinaton of professional jury votes and televotes with her power ballad Forever.
Karakat Bashanova was born in the village of Ryskulov, Almaty Region in Kazakhstan in 2008. Karakat is currently studying at a music boarding school named after famous Kazakh opera singer Kulyash Baiseitova. She plays the piano and violin at school. Karakat has participated in several singing contests in the region. She was a finalist in 'The Voice of Children 2018' and also placed third at the open children's vocal festival 'Happy Child 2019'.
Forever – Opinions from fans
In order to find out what Eurovision fans think of this Kazakh Junior Eurovision entry, we asked our Eurovision Fan Panel. It includes team members as well as fans from all over the world.
🇩🇰 Charlotte C. – And the winner of Eurovision Video Contest 2020 is…. Kazakhstan! What a beautiful video. I am captivated and stunned, and rushed to check out the lyrics of the song. Because of the video, I am able to ignore if her vocals weren't perfect – I wouldn't know, I didn't pay attention to that. I LOVE the video, and I like the music… Actually, put an older singer on this one and submit it to Eurovision next year… Oh wait, too late
Looking forward to what Kazakhstan can come up with when (if) they eventually join Eurovision Song Contest.
🇨🇴 🇫🇮 Alvaro S. – I think this could be a potential winner. The voice of Karakat is really beautiful. The only problem I see about this and the Junior Eurovision in general is that the song sounds too solemn, too serious. I highly doubt this is the type of songs she likes to listen to. So why tryi to make these little kids act like adults?
🇹🇷 Gunec G. – Junior Eurovision should be all about kids. I love to listen to talented young people on stage but sometimes I think the songs are not very suitable for kids as they are supposed to be. As per Karakat, she is extremely talented. I absolutely love her voice. I hope the best for her in Junior Eurovision Song Contest on the 29th of November 2020.
🇱🇻 Jānis O. – Its hard to be honest speaking about kids and juniors. This is a nice song and Karakat is a really cute girl. But the voice sounds weak and she is too nervous. I don't think she will win.
🇬🇧 🇹🇭 John E. – I have to keep remembering that the singer is only 12 and that the song is dedicated to her father who passed away a few years back. I love the way the song builds but I found it quite pitchy at times though she has time to refine her live performance. I think this could be a great contender and will certainly pull the heart strings of adult voters. Will younger voters like it as much? Great to see that Kazakhstan are in JSC…hope they make the main contest soon.
🇳🇱 🇩🇰 Wouter V. – If there was an award for the best video, Kazakhstan would win this by a landslide. But the song itself isn't bad at all either, not bad indeed! Whether the Junior audience can relate to this powerful and sad, yet surprisingly uplifting power ballad remains to be seen. The lyrics are at least relatable to anyone who's lost a parent.
🇦🇺 Michael R. – I am a big supporter of Kazakhstan's inclusion in JESC/ESC as they have an incredible music industry and have really brought their A game so far, but I can't get into this the same way I did with the previous entries. Karakat's voice is so monotonous even when singing in her native language and the chorus drones on in a way that makes it quite tedious to listen to. I don't think this will achieve as strong of a result as Daneliya and Yerzhan did. It just doesn't stand out in the same way.
🇬🇧 Michael O. – What a powerful entry here, again like most Junior entries, way beyond its years, don't know why the adult contest can't come up with more gems like this.
🇨🇿 Josef S. – I think that Kazakhstan is doing better and better every year. This year may finally be their year? Forever is a sad song, but with a strong personal story and it will make people cry. Karakat supports the song with a powerful vocals and the combination of Kazakh and English is really nice. Good job, Kazakhstan!
In the video below, you can listen to Karakat Bashanova's entry Forever – and enjoy the great video work, which several fans above paid attention to. Below the video you can read more about Kazakhstan at the Junior Eurovision Song Contest.
Kazakhstan at the Junior Eurovision Song Contest
While still waiting for when and if, Kazakhstan might join the Eurovision Song Contest, the country debuted at the Junior Eurovision Song Contest in 2018 with Daneliya Tuleshova, winner of Ukraine's version of The Voice Kids. Daneliya competed with her midtempo song in her native language Ozine Sen, received 171 points and finished 6th among 20 entries.
In 2019, Kazakhstan took the Eurovision stage for the second time with 12 year old Yerzhan Maxim. Yerzhan performed an ethno ballad Armannyan Qalma and earned the second place with 227 points. Yerzhan's strong voice was the signature of the night.
The country will try for the third time with Karakat on the 23rd of November 2020 and we are looking forward to see how she will do on stage.