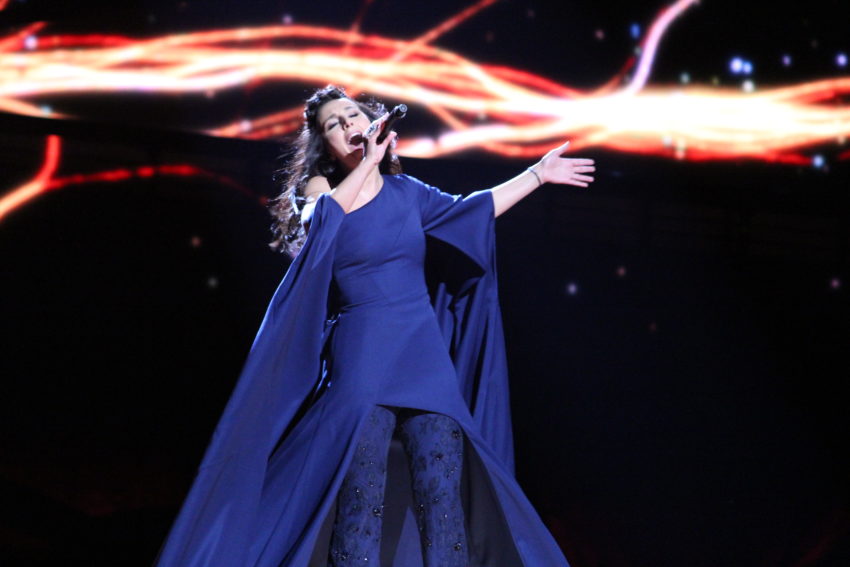 When the The Voice Ukraine kicks off for its 2017 season, Jamala will be teaming up with fellow Eurovision participant Tina Karol, Sergey Babkin and Potap as coach. So far, each season of The Voice Ukraine has featured at least one of their former Eurovision participants. 
Голос країни (The Voice of the country) is part of The Voice franchise which is broadcast in many countries around the world, and in some countries, including Ukraine, there is also a Junior Version.
Eurovision participants and The Voice
With the new season due to start, and the departure of Sviatoslav Vakarchuk and Ivan Dorn from the panel, broadcaster 1+1 approached 2016 Eurovision winner Jamala to fill one of the two vacant positions on the judging panel.
Jamala is not the first Eurovision participant to coach for the talent show in Ukraine. In fact, in each of their seasons, at least one of their former participants have featured as a coach. In season 1, 2004 winner Ruslana was on the coaching panel with her husband, Wild Dances lyricist Oleksandr Ksenofontov as her team mentor. Season 2 of the show saw 2003 Ukrainian debutant Oleksandr Ponomariov join the panel. Season 3 saw Tina Karol join Ponomariov on the coaching line up. She is the joint longest-serving judge on The Voice Ukraine, having been part of the line up for 4 seasons (including the 2017 season). Furthermore, Tina is also one of the judges on the Junior version of The Voice Ukraine which has seen 2015 Junior Eurovision entrant Anna Trincher participate. Check out 1plus1 for the latest information on the show which starts its 7th season in 2017.
Below you can watch Jamala in the role, we know her best – as the singer who won the 2016 Eurovision Song Contest: