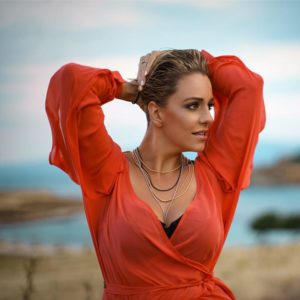 She has participated three times in the Eurovision Song Contest before, but never as a solo artist. Her name is Tamara Todevska, and this evening she was presented as the artist for the Balkan country in Tel Aviv this May. 
This evening, FYR Macedonia announced that it will be Tamara Todevska who will represent them at the 2019 Eurovision Song Contest. It's yet unknown if the country will participate under the name FYR Macedonia or the new North Macedonia, which has now been approved in both Greece and FYR Macedonia. We are still waiting for the official recognition by UN, which EBU will then follow.
Who is Tamara Todevska?
Tamara Todevska, known as Tamara, is 33 years-old. She was raised in a music family. Her father is a professor in a music school and her mother is an opera singer. The most famous member of Tamara's family is probably Tijana Dapčević, who represented FYR Macedonia in 2014 Eurovision Song Contest with the song To The Sky. Tamara's first official song was a duet with her sister Igra Luda, which was released in 1997. She became famous back in 2003, when she came 2nd at the Montenegrin music festival Sunčane Skale with the song 1003.
Just a month ago, Tamara gave birth to her second child – a boy whose name is Daren.
Tamara's participations in the contest 
Tamara is not unknown to the Eurovision Song Contest. She participated first time back in 2004 as backing vocal for Toše Proeski. In 2008 in Belgrade, she represented her country together with Rade Vrchakovski and Adrian Gaxha. They performed the song called Ime Na Ljubovta, but due to the jury decision they failed to qualify for the final finishing 10th in their semi-final. Tamara was also a backing vocalist for her sister Tijana in Copenhagen in 2014.
It's expected that FYR Macedonia's entry for Tel Aviv will be revealed in the end of February. While we are waiting, let's take look at Tamara's sister Tijana's performance at 2014 Eurovision Song Contest: