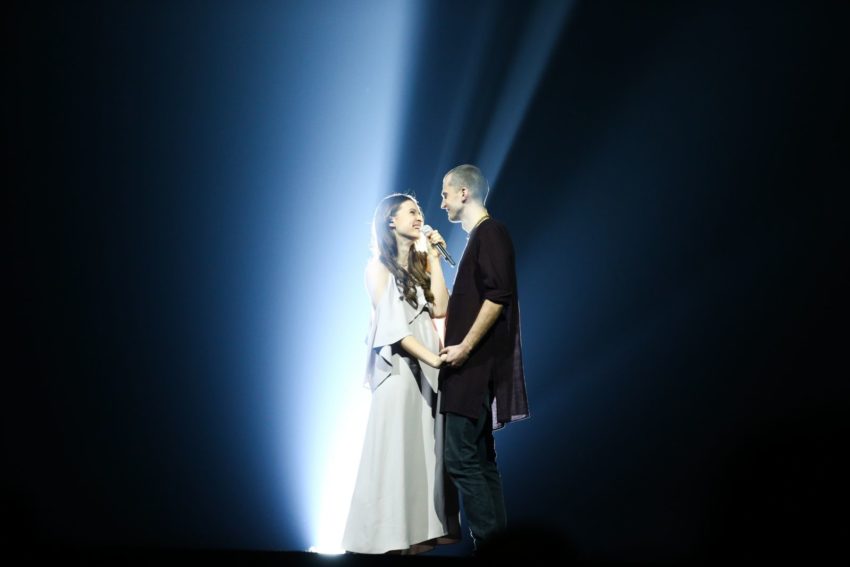 It is over. Since January 16, 2018, Lithuania has been broadcasting this year's Atranka and tonight the esteemed jury and public have chosen a winner. Saturday nights will be so empty for another year.
For now though, congratulations go to Ieva Zasimauskaitė with the song When We're Old. Ieva will be heading to Lisbon to represent Lithuania at the Eurovision Song Contest 2018. Not only that, but she wins a 3000 euros prize, so she can buy a new dress. Here's how the show went tonight.
The Hosts
Getting together for the last time this year, our hosts Mantas Stonkus and Ugnė Skonsmanaitė welcomed the Lithuanian audience, with a Labas Vakaras to Kaunas' Žalgirio Arena. Both were dressed in traditional Lithuanian costumes made of sacks – Mantas, a coat and Ugnė, a dress.
The Show
Erica Jennings and past Lithuanian representatives, SKAMP opened the show with the song Laisvė, a song dedicated to Lithuania's 100th birthday.
Bjelle, in a scarlet red dress, then sang another tribute to Lithuania, Baltas paukštis.
Next up was Ari Olafsson, in a blue velvet suit, with Iceland's 2018 Eurovision entry Our Choice. Vocals were perfect, and the song went down a storm. Lithuania now knew the standard it needed to reach.
A video montage of the past nine weeks was shown next. There were signs here that all that had gone before was pre-recorded because here were our hosts now in smart evening wear. Let the songs begin.
Heck no – here comes Fusedmarc with Rain Of Revolution – robbed in 2017. How will 2018's representative follow this? Well follow them, they must.
After song two, Ugne, interviewed Ari and Saara Aalto, yes she's coming, in the most wonderful American accent ever – what a talent this woman is.
A spectacular hard rock and circus show followed. There was then a touching montage of some wonderful handicapped people, ending in a marriage proposal.
Clips of  Lithuania's Eurovision competitors from semi-final one were shown, from Switzerland to Estonia and everywhere in between.
Lithuanian Monique was next with four dancers and her latest hit.
There then followed a visit to the green room. None of the acts were speaking to each other. Thank goodness they had Sasha Song to bring out to sing the Lithuanian version of his Eurovision classic, Love.
Finally Saara Alto appeared with Finland's entry Monsters. She sang so much better tonight with the pressure of. Three male and two female monsters stalked her from behind.
The Songs
Monika Marija – The Truth
The torn little red riding hood dress made an appearance on Monika. Standing on Zlata Ognevich from Ukraine's rock, Monika gave a vocally perfect performance. This song has just grown to be a welcome Eurovision classic already. Erica Jennings should be proud of what Monika has done to her song. Simply perfect in every way, and indeed The Truth has set us free,
Kotryna Juodzevičiūtė – That Girl
Wearing a white outfit, ready for a workout, with a long grey coat, Kotryna is such a fantastic singer. If this is not her year, she must represent Lithuania someday. Helped by her group who looked like escaped convicts, this is a classy cool dance song. Already it is going to be difficult to choose a winner – and this is Lithuania. At the end, you got a good view of Kotryna's red sunglasses – not sure if they were hiding a case of pink eye. In a totally non-partisan fashion, Sasha, one of Kotryna's best friends gave the critique. At this point, it was getting impossible to count the number of Labas Vakaras. If anyone was taking a drink every time it was said, they'd be drunk by now.
The Roop – Yes, I Do
Lead singer Vaidotas Valiukevičius has finally taken off his pajamas. He replaced them with a smart white shirt and black trousers. Still using the box to great effect, this is a typical song from a pop-rock band. Similar to Lovebugs from Switzerland, so a warning look what happened to them in the semis. The audience loved them so there is a great future for them in Lithuania.
Paula – 1 2 3
Hair up in a bun, Paula has, at her fans request decided to sing the simpler more acoustic version of her song. A frightened white chair stood on the stage knowing in a few minutes it was going to get a good thrashing. As always Paula's performance was flawless. This lady-girl would be great to see in a full-length concert. If she wins it will be a fine enough entry for Lithuania. Another rising star.
Jurgis Brūzga – 4love
Starting off very dark, Jurgis kept the first showing of his new ten out of ten haircut, hidden for as long as possible. The lights came on and the performance came to life. This is very much a work as a group entry, very well choreographed. Jurgis wore an expensive looking dark blue suit with white squares. At the end not realising the show needs no more distractions to prolong its ending, the audience applauded loudly for a long time. Someone is going to have to order these songs. Other countries were hoping they could have had them as their choice.
Ieva Zasimauskaitė – When We're Old
The lady with the hardest job of the evening, to end the competition after hearing the great enthusiasm for the songs which came before. Whether this is her lucky dress or not, Ieva wore the same one that she has used in all her performances. What has changed though is the singing is getting more powerful each week. Lithuania hopefully is going to realise we need Ieva at Eurovision before We're Old. Husband appeared at the end. What an impossible show to judge. Twelve points to everyone.
The Judges
It took 14 Labas Vakaras and about half an hour to introduce tonight's esteemed judges. They were
Ramūnas Zilnys -grey haired silver fox who no doubt will be at a loose end next week
Dalia Ibelhauptaitė – opera singer and playwright
Sasha Song – 2009 Eurovision participant who we Loved
Milda Adomaitiene -music teacher and local business woman
Vytautas Rumšas – Lithuanian actor
Leonas Somovas – musician
Dovilė Filmanavičiūtė – the singing sheep (sort of)
The Results
Lithuania At The Eurovision Song Contest
Here is the list of past Lithuanian entries. Head to YouTube and check them out, and see how this years entry will fare compared to the past. You can print the list out, and keep it in your wallet, in case you need it for any forthcoming Eurovision pub quiz. That's it then folks, one more Labas Vakaras, till next year.
1994 Ovidijus Vyšniauskas – Lopšinė mylimai
1999 Aistė Samogitian – Strazdas
2001 SKAMP – You Got Style
2002 Aivaras – Happy You
2004 Linas and Simona – What's Happened to Your Love?
2005 Laura & The Lovers – Little by Little
2006 LT United – We Are the Winners
2007 4Fun – Love or Leave
2008 Jeronimas Milius – Nomads in the Night
2009 Sasha Son – Love
2010 InCulto – Eastern European Funk
2011 Evelina Sašenko – C'est ma vie
2012 Donny Montell – Love Is Blind
2013 Andrius Pojavis – Something
2014 Vilija – Attention
2015 Monika Linkytė & Vaidas Baumila – This Time
2016 Donny Montell – I've Been Waiting for This Night
2017 Fusedmarc – Rain of Revolution