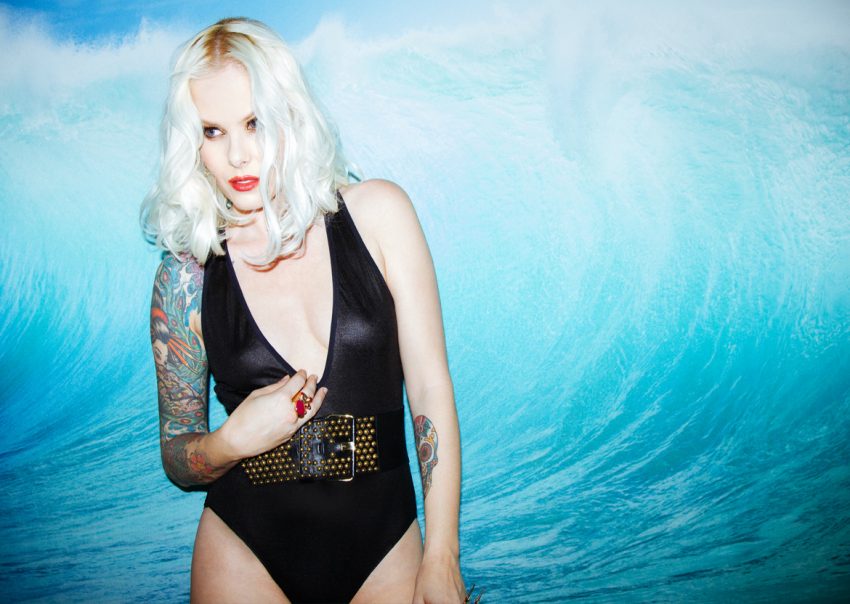 Tonight, the second semi-final of Söngvakeppnin 2017 took place in Iceland. Six songs competed in this semi-final. Through public voting, three more acts will join last week's qualifiers, in the grand final to be held on 11th March in Laugardalshöllin.
All the songs were sung in Icelandic tonight, but next week the singers are allowed to change to any language they want.
The Songs
Linda Hartmanns – Ástfangin 
There have been so many songs in the National heats this year that sound like this one, and some are getting through to Kiev. This is a well sung ballad, but with nothing to make it stand out, though the harmonies in the chorus are quite calming. Linda wore a ruby red dress and was well received by the audience.
Daði Freyr Pétursson – Hvað með það?
A synthesizer and light up guitar introduction leads into this song sung in a bass register. This is another warm soothing song, where Daði is joined by a backing female chorus. Dressed in a green T-shirt more fit for a spot of gardening this was a very arty performance. Three Pollaponk type characters danced around with their instruments.
Svala Björgvinsdóttir – Ég veit það 
So starting out a bit like some of the Latvian entries of late, Svala has a clear crisp voice. The chorus is a real banger. So easy to scream along too, this is perfection in an entry. It has all the right ingredients. Svala was all dressed in white looking very Icelandic with her long pony tail. Fabulous.
 Páll Rósinkranz & Kristina Bærendsen – Þú og ég
If this wasn't written in Nashville, where else can do songs like this. This is old fashioned country like Kenny Rogers and Dottie West used to do. Here's the thing though, despite being so dated, it ends up being modern. What a song like this is doing in the Icelandic competition, who knows. Clear, crisp, pure, it stands out by being so old school.
Sólveig Ásgeirsdóttir – Treystu á mig
A nice string introduction opens tonight's most gentle sounding song, very Icelandic. Before long though, drums and guitar kick in and while still joyful to listen to, the pace picks up a little. Easy listening with a kick, though too many stops and starts to be fully cohesive.
Aron Brink – Þú hefur dáleitt mig
This is a good bouncy song to end the proceedings. Another song with a marimba helping it along to give it a beach type feeling. Aron's experience on The Voice has obviously given him the confidence to perform on the stage. This will surely qualify.
The Results
The public voted and sent the following three entries into the final.
Svala Björgvinsdóttir – Ég veit það 
Daði Freyr Pétursson – Hvað með það?
Aron Brink – Þú hefur dáleitt mig
After the three finalists were announced, the jury wild card, who will also compete in the final was declared as
Hildur Kristín Stefánsdóttir – Bammbaramm
Hildur appeared in last week's heat.
Iceland in the Eurovision Song Contest
Iceland has participated 29 times in the Eurovision Song Contest, debuting in 1986, with the song Gleðibankinn, which ended in sixteenth place. Funnily enough all of their first three entries placed 16th, so the zero points of Daníel Ágúst in 1989 was perhaps a nice change.
In 1990 Iceland showed they meant business, when Stjórnin placed 4th with Eitt Lag Enn. Two years later, various configurations of that band, now called Heart 2 Heart came 7th with Nei eða já.
Selma, in 1999 led most of the way with All Out Of Love but ended up in second place. Yohanna equalled that ten years later with Is It True.
Since then Iceland has had a rocky time at Eurovision placing between 15th and 19th, and worse failing to qualify at all, this past two years. Let's hope this years entry can turn their fortunes around.
Below enjoy one of the finalists, Aron Brink