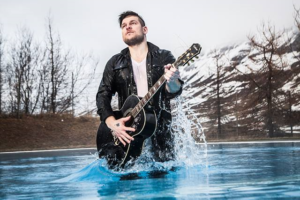 Tonight, the first semi-final of Söngvakeppnin 2017 took place in Iceland. Six songs competed in the first semi-final and three of them, after the public voted, qualified to the final on 11th March in Laugardalshöllin. Next week, six more songs will compete in the second and last semi-final of the country's Eurovision selection.
This is the 12th edition of Söngvakeppnin, the music competition through which Iceland selects its Eurovision entries. The two semi-finals of the contest held in Háskólabíó, while the final will be in Laugardalshöllin. The songs will be performed in Icelandic in the semi-finals and during the final, they will be performed in the language they intend to be performed in at Eurovision in Kyiv.
The songs
You can click in songs' title to watch the live performance
1. Aron Hannes Emilsson – Nótt
Aron Hannes Emilsson is just 20 years old and participates in this year's Söngvakeppnin with the song Nótt. He was born in Reykjavík and raised in Grundarfirði. Aron has appeared in various concerts since 2013. He got second place in a music competition during college and has just completed his training at the academy Complete Vocal Institute in Copenhagen. Aron was wearing a white t-shirt and a white cap. His staging was very simple but the light effects were very captivating. Vocally on spot and with a good stage presence. He was joined by two dancers and was using the whole stage during his performance. The only negative point was the two backing vocalists, who weren't in tune in some parts of the song.
2. Hildur Kristín Stefánsdóttir – Bammbaramm
Hildur Kristín Stefánsdóttir was born in the United States of America but she has been living in Reykjavík for the last couple of years. She is 29 years old and has been making music from a very young age. One of her favourite songs in Eurovision history is Undo by Sanna Nielsen. Hildur was wearing a pink hoodie and a few dancers joined her on stage. There was a big heart in the middle of the stage. Vocally, she was not bad. The chorus of this song was very catchy, but the stage felt a bit empty. It could be improoved.
3. Rúnar Eff Rúnarsson – Mér Við Hli
Rúnar Freyr Rúnarsson, who is 38 years old, is usually called just Rúnar Eff. He is a singer and a musician. He has sung various genres in various places over the years. He has already released two albums. The latter possessed a rock and country mood. So the song with which he is participating in this selection, as stated before during a short interview with EuroVisionary, is a little different from his previous work. Rúnar Eff was in the middle of the stage and was joined by four backing vocalists. At the end, there were some light effects. A simple but beautiful presentation.
4. Júlí Heiðar Halldórsson and Þórdís Birna Borgarsdóttir  – Heim Til þín
Júlí Heiðar Halldórsson is 25 years old and comes from Reykjavík. She is an active student in the second year of the Academy of Arts and a dance teacher. Dancing to the music is of course one of her favorite 'hobbies'. Þórdís Birna Borgarsdóttir is 24 years old and also lives in Reykjavík although born in Keflavík. Apart from music, he has recently finished a degree in psychology. At the beginning of the performance, the screen is divided in two parts. On the left side Juli is with a pianist and a guitarist, on the right side Þórdís is joined by a violinist and a female guitarist. They join each other at the end. A very strong performance and vocally perfect.
5. Erna Mist Pétursdóttir – Skuggamynd
Erna Mist Pétursdóttir is 18 years old and lives in Reykjavík. She decided to make music because she believes that music is her life. She watches the Eurovision Song Contest every year along with her friends while eating pizza and enjoying every song. This is one of the favourites in the icelandic selection. Erna is wearing a white dress and standing in the middle of the stage. She is joined by four male backing vocalists. Her performance is very simple, with a few light effects. In general a good performance but needs a lot of work on her vocals and stage presence if she goes to Kyiv.
6. Arnar Jónsson & Rakel Pálsdóttir – Til Mín
Arnar Jonsson is 31 years old and lives in Reykjavík. He works as a mechanical engineer and is also involved in music, which is his favourite hobby. He is a big Eurovision fan and always wanted to represent his country in the contest. Rakel Pálsdóttir is 28 years old and lives in Grafarvogur. She has never been a professional singer. The two singers have very beautiful voices. Their song is a ballad that builds up very well although the melody is simply. The only problem here is the empty stage as in other today's participations.
Results
After all six of the competing acts presented their songs to the public, the top three entries, which were decided solely by televoting, advanced to the final:
Rúnar Eff Rúnarsson – Mér Við Hli
Aron Hannes Emilsson – Nótt
Arnar Jónsson & Rakel Pálsdóttir – Til Mín
Iceland in the Eurovision Song Contest
Iceland has participated 29 times in the Eurovision Song Contest. The country's first entry was in 1986, with the song Gleðibankinn, which ended in sixteenth place. Since 1986, Iceland has missed only two contests in 1998 and 2002 because of bad results in the previous years. Iceland's best results in the contest were two second places, in 1999 with Selma and 2009 with Yohanna. Iceland remains the only northern European country that has never won the Eurovision Song Contest. Last year in Stockholm, Greta Salome returned for the second time to the Eurovision stage, but she finished in fourteenth place in the first-semi final and didn't qualify to the Grand final.
Next week, six more songs will compete for the last three tickets of Söngvakeppnin 2017. Iceland will choose its Eurovision entry for Kyiv on 11th of March in Laugardalshöllin in its national indoor arena. The final will consist of six entries that, via public televoting and jury voting, will be narrowed down to a top 2. The winning entry will be determined in the superfinal between these two acts. Only public televoting will determine the final winner of Söngvakeppnin 2017.
Stay tuned to EuroVisionary for all the news for this year's Icelandic selection.