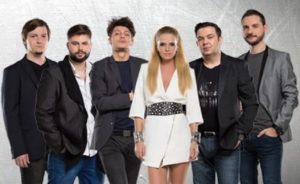 After five weeks with some strange voting by the judges, the Romanian public was finally able to vote for the song to represent them at Eurovision 2018.
They chose The Humans and Goodbye to send to represent Romania at this years Eurovision Song Contest in Lisbon, Portugal.
The Show
The Selecția Națională 2018 began with beautiful scenery of lovely Romania. Soon we were in Sala Polivalentă in Bucharest. A traditional Romanian dance troupe opened the show, featuring both old style and modern movement. All the acts were introduced in the order they performed in the semifinals.
Each act was introduced by a postcard, and all acts were introduced by the hosts in groups of three.
During the voting period we were treated to performances by Alex Calancea Band and Moldova's entrants, DoReDos
The Hosts
Just as in the five selection shows, the hosts were Diana Dumitrescu and Cezar Ouatu. There were two green room hosts tonight, Ioana Voicu and Sonia Argint-Ionescu. The host's costumes proved that anything can pass for fashion these days.
The Songs
Rafael & Friends – We Are One
Rafael had five friends during this sit around the campfire and sing-song. Everone was dressed in black, a guitarist and keyboardist and three female singers. The ladies did some opera notes, Cezar style, while an invisible drum could be heard. Nice enough opener, but probably the last you'll hear of it.
TIRI – Deșert de sentimente
TIRI brought quite the circus show along with him. Two backing singers, a violinist and two winsome dancers performed behind him.The song is a slow ballad which the violin helps. TIRI still had the best hair of the competition. A fire burned and soon the song returned to ashes.
Claudia Andas – The One
An absolute powerhouse of a vocalist. The song starts at a nice pace before bursting to life, Claudia has four wonderful backing singers helping her along. Extra guitar also adds to the chorus. Only the last line lets it down. Other than that – fabulous.
Echoes – Mirror
This is a pretty powerful song for Romania. The all in black leather group are very tight together and look as if they know what they are doing. Romania has been prone to send songs like this before so don't rule it out.
Dora Găitanovici – Fără tine
Dressed in a long white dress, Dora sang her song while a dancer, also in white pranced all around her. Dora's vocals were exceptional this time around. A strong ballad that would be better replacing the dancer with some powerful backing vocalists.
Eduard Santha – Me som romales
The gypsy was on next all wrapped up in chains. The verses march along but when he sings in gypsy language the song takes multiple turns. The backing ensemble added to the fun, but it seems Romania's love is going elsewhere.
VYROS – La la la
This was a bit of a surprise qualifier but Moldovan Vyros held his own tonight. While unlikely to win, Vyros gave a good enough performance of the song. The beret was the star hat of the evening.
Feli – Royalty (Bună de iubit)
Translating the verses to English seems to have made this song and performance a real favourite. All hail the Queen and indeed they did. Hard to see anyone beating this now, but you never know. All Latin rhythms.
Teodora Dinu – Fly
Teodora has a great supporting act with her. The song has been beefed up a bit since the last time and she is singing really well. As an extra trick, Toedora takes to flight during the high notes adding more spectacle. The audience loved it.
M I H A I – Heaven
All in white Mihai made the mistake of having two floaty dancers on stage with him. People are surely tired of that in a song contest. This is a very gentle song for Mihai which he sings perfectly. A nice pop ballad.
Xandra – Try
From all white, to all black for Xandra. A burning earth rose in the background. More dancers and chains, did TVR have some props they wanted the acts to share, or do they want some 50 Shades action on stage.This was another good vocal performance but it never really bursts into total flames.
Jukebox feat. Bella Santiago – Auzi cum bate
Another really powerful performance. The song with the piano starts out slowly but when Bella and the chorus comes in, it is very powerful, Bella is all in white, while the Jukebox prefer black. Another potential winner.
Alexia & Matei – Walking on Water
This reggae-ish youthful song is another favourite to win tonight. Four dancers were in the background, but this time they seemed to fit in more with the act, though backing singers would have been better. Is Romania going to send a duo again?
Erminio Sinni & Tiziana Camelin – All the Love Away
Another duo, Tiziana stands at the microphone while Erminio plays on the piano. This is more anguish as the singers sings against each other. Very Italian, because it is, but unlikely to be Romania's chosen song.
The Humans – Goodbye
Last on in Romania is often a good sign, so things could look good for the Humans. This song gets better as it proceeds, as the beginning is a bit slow, The ending though is all screaming and shouting, so here is another potential entry.
Romania At The Eurovision Song Contest
Romania has appeared at the Eurovision Song Contest, eighteen times. One of the most successful entries was in 2006, when this years participant Mihai Trăistariu placed fourth with the song Tornero.
Romania is generally considered to be one of Eurovision's most successful nations, having never missed the finals since semis were introduced. Nor since that time, have they placed outside the Top 20.
Last year, one of this years judges Ilanca, along with Alex Florea, who she voted out of this year's competition, came 7th with the musical classic Yodel It.