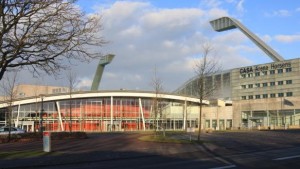 They were in the running, although considered without a chance, to host the Eurovision Song Contest 2014, and now they are getting some kind of consolation as DR this afternoon will announce that the Jutlandic city of Horsens will host the 2016 Danish final, Melodi Grand Prix.
In Horsens they knew from the beginning that they were unlikely to get the 2014 Eurovision Song Contest. Their suggestion with hosting the show in the prison yard was different, but not actually possible. A national final like the Danish one, although being one of the largest in Europe, is of a smaller scale and something which the city can match the requirements for. In half a year we'll see them do so, as DR on a press conference this afternoon will announce that it will be the city of Horsens that will host the 2016 Danish final, Melodi Grand Prix.
Horsens is the 8th largest city in Denmark and located at East Jutland. It has a bit over 55.000 citizens and has lately marked itself as a city that goes to great length to host various large outdoor concerts, and also sport events like the Speedway Grand Prix. Horsens has hosted the Danish final three times before, in 2005, 2007 and 2008 – and now they can add 2016 to that list as well.
The arena is expected to be Forum Horsens which can have an audience of around 4000, which makes it sort of medium arena for a show like the Danish final.
DR's press conference starts at 15.00 CET this afternoon, and at the same time Horsens has their own press conference. When faced with the fact that the two press conferences fall at the same time, chief of Horsens & Friends (The arranging company), Frank Panduro says to the local newspaper, Horsens Folkeblad: "I can't say so much right now, but… ok, you are good at putting two and two together".
The 2016 Danish final will be held on the 13th of February and a week later the same stage will host the Danish Junior MGP final.
Follow EuroVisionary for more news regarding the upcoming Danish final as well as the other national selections leading to the 2016 Eurovision Song Contest in Stockholm.
In the video below you can watch the 2015 Danish entry The Way You Are by Anti Social Media: