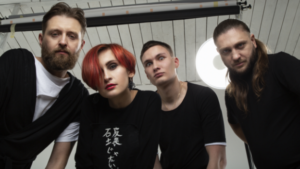 Go_A has won this year's Vidbir final and will represent Ukraine at the 65th Eurovision Song Contest in Rotterdam. They won a combination of the jury and public televote to be crowned the winner of the selection show. Do they have what it takes to give Ukraine it's third win at the contest?
It started off as thousands, then it became 16, then 6 and now the winner has been chosen and one act,  Go_A, will make their way to Rotterdam later this year to represent Ukraine at the Eurovision Song Contest.
As always from Ukraine there were some interesting performances. Unlike previous years where viewers have come to expect to see the same faces almost year after year, this year Vidbir has showcased mostly new talent.
The Finalists
1. KRUTЬ (Krut') – 99
Krut' has brought a very nice ballad to the selection this year, it's very different from anything that Ukraine has brought to Eurovision before. Throughout the song Krut' is playing the Bandura, a traditional Ukraine folk instrument which can have anything between 31-68 strings. The song almost sounds like a lullaby, it's about letting go of your sadness, wiping your tears and your fear and rising above it. Krut's staging of the song matches the official video where a series of hand drawn figures move across the backdrop of the stage. 99 topped the score board in the first semi-final, earning the top score from both the jury and televote. This is a lovely song and I have no doubt this song would qualify for the grand final and i'd be confident enough to say that it would earn a top 10 place. Even though there have been a few slower songs already announced by other countries, I still feel that this track does stand because of it's message and it's charm.
2. Jerry Heil – #VEGAN
Holy moly guacamole. #VEGAN is definitely a marmite kind of song, people either love it or hate it. Jerry's performance was colourful, energetic and on trend though I fear it might be too marmite for Eurovision. Though it's probably my least favourite song from this year's vidbir final I do think that this song is fun enough for fans in the arena to get behind this, but I fear that viewers from home would see this type of song as a novelty act. Would it qualify for the final? Yes I think it would but would it get better than a top 10 finish? Probably not.
3. Go_A – Solovey (Nightingale)
Go_A have brought ethnic chants, flutes and powerful drum beats with their song about Nightingales. Though coming in 2nd place during the semi final 1 results, Go_A has been the fan favourite according to social media platforms. There are elements of the song which remind me of Poland's Tulia from last year, however that might not be a good thing as Tulia failed the qualify for the final in last year's contest. Go_A will need to work on their pitching in the closing lines of the song as they have had a tendency to sound a little screachy. There is an element of risk if Ukraine sent this to Eurovision but could be a risk well worth taking. Personally, this is my favourite out of the Vidbir final songs this year, and the instrumental tune has been playing in my head for days. It's been a while since Ukraine have sent a Ukrainian language song to the Eurovision Song Contest and it would be nice to hear something more traditional from Ukraine as they haven't sent a traditional sounding song since Jamala won in 2016. This song is full of potential and should easily qualify for the grand final. Though I don't think it's a winning song in terms of Eurovision I do think it has potential to do well.
4. David Axelrod – Horizon
David Axelrod has brought a rather generic ballad to Vidbir this year. His vocals leading up to the final have been on point and he has nailed the key change in the final quarter of the song but I feel this would be too bland of a choice for Ukraine who have always had a reputation of sending interesting, strong songs into the contest. Nothing about this song stands out for me. I could imagine that this song would qualify for the grand final but where this would finish on the leader board I don't know.
5. KHAYAT – Call For Love
KHAYAT is the only contestant to have competed in Vidbir before, he participated in last year's controversial edition of Vidbir but failed to reach the final. Like Go_A this song has a lot of promise and KHAYAT's sound is interesting enough that it could finish with a decent score at Eurovision. Last year we looked at how men who have represented Ukraine have earned rather disappointing results compared to the women but KHAYAT could be the guy to change that. I don't think Khayat would have any problems qualifying for the grand final and like Go_A isn't a eurovision winner but has the potential to score well on the night.
6. Tvorchi – Bonfire
The winners of the second semi-final, Tvorchi were the last artists to perform. Another different sound that we have not heard yet from Ukraine at Eurovision, Bonfire is a mixture of R&B and Hip Hop with the lead singer having a touch of soul in his vocals. Though the duo have performed well leading up the final, I do feel that this is lacking in some way and won't capture the audience in the same way that Go_A and KHAYAT would at Eurovision. Bonfire has the potential to qualify for the grand final and do reasonably well. But it just doesn't stand out for me.
The Show
Each of the 6 finalists performed in front of the judges and the live studio audience. Head judge Andriy Danylko was joined by newcomers Tina Karol (2006) and VItalii Drozdov. Serhiy Pritula once again returned as the host. The show was opened Danylko as he slipped into his frock and transformed into his alter ego Verka Serduchka. Serduchka sang a medley of her greatest hits including Tuk, Tuk, Tuk and the famous Dancing Lasha Tumbai. Following the opening number Verka joked that she would re enter eurovision again if she was paid enough. During the interval the audience were treated to a performance by new judge and 2006 eurovision participant Tina Karol as well as 2018 winner Jamala. The show took a lot time to get going with it being on air 45 minutes before the first act performed.
The vote was a 50/50 split between the judges and the public televote, the former being given out first followed by the latter. The Victor's, Go_A earned full marks from both the jury and public televote and were declared the winners. The results were as follows:
| | | |
| --- | --- | --- |
| Artist | Judges Vote | Televote |
| Krut' | 5 | 4 |
| Jerry Heil | 1 | 1 |
| Go_A | 6 | 6 |
| David Axelrod | 3 | 2 |
| Khayat | 4 | 5 |
| Tvorchi | 2 | 3 |
You can watch the winning performance of Go_A by following the link below